National leader Simon Bridges says his party will be placing an emphasis on environmental policies and has suggested he could work with the Greens – are we seeing the early stages of a 'teal deal'?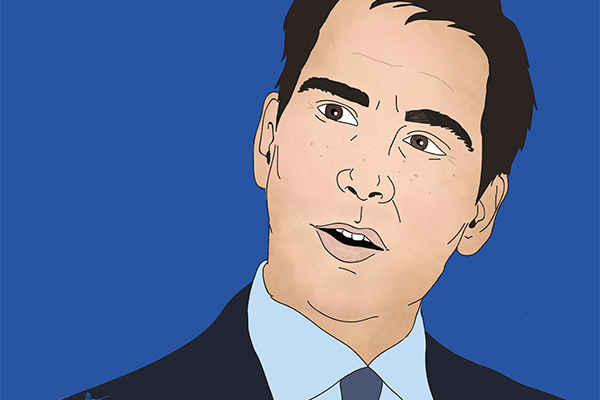 Newly minted National Party leader Simon Bridges was looking a bit green at his first press conference in the job on Tuesday – but he was certainly not feeling sick.
He was firmly planting his "blue-green" flag in the ground and waving it so it could be seen from all corners of the Beehive.
Over the course of his almost 40 minutes with reporters on Tuesday, Bridges was at pains to point out that under his leadership, National will have a strong focus on environmental policies.
When assessing the party's priorities, the environment appeared alongside well embedded National policy strongholds, such as law and order and the economy, as a major area of attention for the party under Bridges' leadership.
"I think the environment is clearly precious to New Zealanders," he said, before moving on to the importance of small businesses and strong regions.
"I have said to you as I said to my colleagues in the lead up to this contest today that I think we do need to look at our emphasis in some areas – I mentioned to you the environment and the regions," he said moments later.
His press conference was heavy on "modernising" the National Party and it is clear the environment will be a major pillar of that approach.
This is the man, after all, who described himself as a "blue-green" just a week ago.
Although it is early days, with the election two and a half years away, Bridges could be positioning National for a potential coalition deal with the Greens in 2020.  
He has already indicated he is willing to work with the Greens, telling the AM Show he would prefer to form a coalition with them rather than New Zealand First.
Backhanded
But his comments at the press conference were seemingly backhanded.
"I think if [the Greens] were a true environmental party that wasn't focused on other bits and bobs, actually they could be a party we could work with, and work with strongly.
"We have shown in the past we would be happy to do that, in terms of home insulation and other areas."
Bridges then went on to challenge the Greens to support National's legislation to set up the Kermadec Ocean Sanctuary, which would make it the largest marine reserve in the world.
"If they do, it shows some promise that they actually are prepared to think independently – but at the moment you would have to say they look a lot more like Jacinda Ardern and Winston Peters' poodles."
It's still too early to say if Bridges' approach to get the Green Party onside early is working, but it is worth noting the Greens were the first party to officially congratulate Bridges on his new role.
"Bridges has an opportunity to redefine his party for the future," leader James Shaw said.
"I hope that he takes this opportunity to work constructively across the House on the most important challenges we face together as a country."
Over the coming weeks, Bridges says the country will "get to know who he is" through speeches he will be making – it's likely he will continue to touch on his "blue-green" side.
As well as this, a major indication of his policy focus will be shown through the party's reshuffle in a few weeks' time and how much importance portfolios such as climate change are given.
But until then, Bridges will continue to wave his teal-looking flag hoping the Greens are watching on from the distance.