One for the commenters... PhD student Kade Sorensen uses 10 interest.co.nz comments to jump into the debate on a fuel tax, B&T sales data, the minimum wage, interest rates and more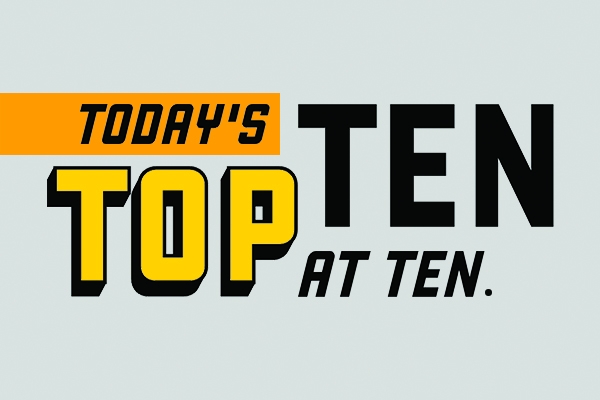 This week's Top 10 is a guest post from Kade Sorensen, a PhD student in the economics department at the University of Auckland. Kade's specific research interest is in empirical urban economics.
As always, we welcome your additions in the comments below. If you're interested in contributing a Top 10 yourself, contact gareth.vaughan@interest.co.nz.
See all previous Top 10s here.

With interest.co.nz I seem to always find myself coming for the articles and staying for the comments.
As such, this one is for you; the everyday commentator. I'll look at a selection of comments from the past few weeks and examine their respective merits.
Disclaimer: I have tried to represent all quoted comments in the spirit that they were presented. None are examined out of context, but some are truncated for practical reasons.
Firstly, a bit of motivation...
1. A comment on why commentators comment
Unsurprisingly, academics are very intrigued by news site comment sections. These reports - here and here - provide some interesting insight into the demographics of news site commentators and the reasoning for posting comments.
Read into them what you will.
2. Another one of those comments
Article: OECD working paper on automation of jobs highlights 'the interesting case' of NZ where growth of cognitive jobs, professionals & managerial roles has workers among the best placed in the OECD
Comment by Gareth Vaughan:
"A reminder. Please try to keep comments on the topic of the article you are commenting on. If you want to make more general comments, or peddle your personal theories about life and the universe, you can do so on 90@9, what happened today & Top 10 when it runs. Thanks."
Exactly.
I guess all comments have their place at least somewhere in the deepest, darkest corner of the internet.
Is interest.co.nz really that dark corner?
So before you post that next comment, stop and think whether a 100 line discourse on Russian spy satellites is going to elicit an audible sigh from Ed. If the answer is yes, perhaps refrain from posting.
The juicy stuff - in no particular order...
3. Fuelling tax and spend policy
Article: Ministry of Transport says the burden of the Auckland fuel tax could actually fall on people in rural communities – Minister of Transport brushes off concerns
Comment by Foxglove:
"New government mission statement. Tax first, think later."
Ugh. Taxes.
Everyone hates taxes.
Though, like you, I have a suspicion that politicians love them. Well, the National Party certainly did.
In saying this, I don't think that taxes are inherently bad. So long as they are levied in a smart and fair manner.
A blanket fuel tax/levy is not a smart tax. This is because the usage of fuel is not limited to only powering road-using vehicles. Think lawnmowers, off-road vehicles, trailer boats, etc. Consumers of fuel for these deserve a tax rebate. The issue is that this rebate is almost always going to represent a substantial administrative burden.
Additionally, it doesn't address the core issue; the improper pricing of road infrastructure. Congestion is simply a supply and demand imbalance of roadways. Both history and economic theory tells us that it is neither fixed by building new roads nor introducing a fuel levy.
The solution is targeted congestion charging. Unlike the fuel levy this sends a direct signal to the vehicle user that certain roads are more costly to use at certain times of the day. Road users then pay commensurately for the imbalance in supply and demand if they choose to drive at that time.
It's simple, fair, and these days relatively easy to implement and administer.
4. Lies, damned lies, and B&T sales results
Article: Barfoot & Thompson's sales finish the summer selling season on a soft note with sales volumes well down for the time of year and inventory levels rising
Comment by Eco_Bird:
"Oh No… Both Auckland average and median prices are higher that July 17… bummer!" (sic)
True. Average or median prices may be higher.
And, a lot of people echo sentiment on the whim of the monthly and quarterly data. However, they do so ignoring some fundamental principles of statistical inference.
At the core of statistical inference is the expectation that characteristics of a given sample converge to the characteristics of the true population. Can we assume this with the Barfoot & Thompson monthly data?
Firstly the average index is hugely volatile, period on period. This is likely stemming from differences in quality and mix among the transacted properties. Therefore the index is measuring different things, period on period. Simply put if you can't guarantee that you are comparing apples in one period with apples in the next, your ability to make inference is hugely limited.
Secondly Barfoot & Thompson account for only 35% of the transacted properties in the Auckland region – a sparse amount of data for a property market with a huge amount of geographic, economic, and demographic variation. What's more, overall lower sales numbers in the market are accentuating this sparsity issue. Less data equals less reliable inference.
Although useful to gauge the market, I think its best that we use REINZ hedonic or QV SPAR indices as the basis for informing any argument or opinion on the direction of the market.
5. KiwiBuild can do no wrong
Article: Getting 4000 homes on the first KiwiBuild site at Mt Albert may not be as difficult as some people are making out, and it could be a godsend for the banks
Comment by Houses_Overpriced:
"People with vested interest who want prices to stay high will discredit the governments efforts to bring affordable homes to the market." (sic)
I think the Government is discrediting itself.
If there is to be any cooling in property prices, it won't be due to central government policy. Why not? The determination is just not there to reduce real prices. Although it is great that a government is finally acknowledging this critical issue, the KiwiBuild solution just doesn't seem to stack up. Their first proposal is a solution that is offering us oranges at apple prices.
I say this because in no way does the Unitec KiwiBuild case address the core issue. This project isn't necessarily making housing more affordable, at all. Although it may be allowing people with tighter income constraints to access ownership, it's doing so by changing the housing stock characteristics and not by decreasing the marginal cost of property characteristics. It should be apparent that a strategy based on successively building lower spec houses has a very limited natural lifespan.
Highlighting this is the fact that the cost of KiwiBuild construction is expected to be on par with the current average cost of basic construction in New Zealand. Plus, Phil Twyford seems to think that removal of the Rural Urban Boundary is the fix all for high land prices. This seems unwarranted because:
1 – The Auckland Unitary Plan (AUP) has a huge amount of land (around existing infrastructure) that is zoned for future urban development.
2 – Removing the RUL simply incentivises sprawl and all the bad things associated with it.
3 – The cost of land is not necessarily the issue. It's the cost of regulatory hurdles that has been the biggest component of property price in Auckland.
Perhaps instead of aimlessly advocating sprawl Twyford needs to be instead focussing on lowering overall construction costs, while monitoring the performance of the AUP in addressing the third point above.
6. Interest rates are no longer mean reverting
Article: Hard on the heels of changes by Westpac and TSB earlier in the week, BNZ strikes with a market-leading low one year 'special' home loan rate
Comment by THE MAN 2:
"Sorry to disappoint but interest rates will not be rising very much at all, if at all!" (Truncated)
It's always interesting when this comment is made.
Firstly, I always find myself asking which interest rates in particular. Then I wonder why people could possibly think that this is a good thing.
Do you mean market interest rates, in general? Or, do you refer to the central bank target interest rate? We only have to look at bond yield curves to see that they are rising overseas. Plus listening to any central banker will highlight that they expect rate rises.
If indeed you ignore this though, the bigger question to ask is whether permanently low interest rates are a good thing.
To answer this, let's simply frame what interest rates really represent; an indication of expected future productivity. In the case that they are high, it implies that we have confidence in the fact that future wealth is increasing. In the case that they are permanently low, wealth has, essentially, peaked.
Neither of these situations are good for us in a housing bubble. On the one hand, think of first home buyers with $800k+ mortgages. Upwards pressure on interest rates will stress their finances significantly. An increase from 4% to 6% on such a mortgage represents around a $1k increase in payments per month.
On the other hand, permanently low interest rates imply that we cannot rely on the benefits of inflation and productivity increases to, effectively, decrease debt burdens over time. Purchasers today, can only expect wage increases to come in the form of hierarchical advancement and not some general benefit from an overall increase in productivity.
So, I say be careful what you wish for regarding interest rates.
7. Minimum wage advice
Article: National's Judith Collins says the likely small size of the dwellings in the new Unitec development housing area will put pressure on borrowers, as it means banks will require a larger deposit
Comment by THE MAN 2:
 "Spoke to an owner of a coffee franchise in a ChCh who told me that when wages increased to $20 he has done the sums and he will need to be charging at least $8 for a coffee." (sic) (Truncated)
It's proclaimed that a 60% (from $5 to $8) price increase in lattes will come from a 25% increase in labour costs. I'd suggest someone checks their sums or refrains from hyperbole.
This does however offer a segue into the debate for minimum wages based on the living wage target. Some think that this is the magic bullet. Some do not.
I tend to fall into the latter category. There are a few reasons for this.
The premise is incorrect.
Wealth isn't generated by simply increasing a price floor in the market.
Disproportionate increases don't incentivise increased productivity.
It can act as a barrier to work for those it aims to protect.
The premise of targeting some living wage estimate as a minimum is intuitively wrong. This is because the two concepts represent different things. Whereas the minimum wage effectively represents the lowest cost to supply labour, the living wage is equated as that cost plus various additional costs. The notion of equilibrating the two to increase overall welfare is something that can only ever work in the mind of an idealist.
Increasing the minimum wage doesn't necessarily increase the wealth of those it affects directly. Workers reliant on the minimum wage also consume products that are heavily affected by minimum wage increases. The only way arbitrage can occur for the low income worker is if existing prices can absorb input cost increases.
The signal of disproportionate minimum wage increases is wrong. It doesn't incentivise the development of one's marketable skills. When minimum wage growth outpaces general wage inflation (as with the living wage argument) it tells workers that they can bank on real wage increases without developing their marketable skillset.
Finally, the minimum wage acts as a barrier to working for those with low skills. Essentially it prevents the person worth $10 p/h from working at that rate. Instead it forces them to compete for work with $20 p/h workers. Who will employ the $10 per hour worker when they can employ a $20 p/h worker for the same cost?
I'm all for increasing our economic wellbeing and wealth. I just don't think the solution is to successively raise minimum wage faster than general inflation.
8. Killing trucks to save cars
Article: Associate Minister of Transport Julie Anne Genter says a target of zero road deaths would be "audacious, but ambitious targets are needed to focus the resources of both central and local government to save lives on our roads
Comment by murray86:
"…Take the trucks off the roads for a start. I heard an interview on national Radio with the chap from the Dog and Lemon Guide and he identified then that trucks figure disproportionately in road accident." (sic) (Truncated)
Proposing to take trucks off the road is not a sensible argument.
Firstly, correct, trucks do account for a disproportionate amount of deaths on the road. In 2016 trucks accounted for 6% of total vehicle miles travelled, but had a hand in around 20% of the road deaths. This doesn't mean that trucks are inherently at fault, though.
Think about what a truck is. It is a large, heavy, vehicle that at highway speeds carries a huge amount of momentum. Thus when they crash into other, smaller, vehicles, they tend to devastate. I don't know why we would assume truck drivers to be worse drivers. In fact given their experience and various competency requirements, they are likely the safest drivers.
In addition, trucks are the primary method by which our goods transport network operates. The rail network is no way developed enough to compensate. Likewise with coastal shipping. Essentially without trucks there is no point in having high quality roads because private and light commercial vehicles wouldn't be able to exist.
The answer, isn't to vilify those who we think are the issue but, as the Minister proposes, to educate all road users through the advocacy of a more holistic road safety strategy.
9. The ministry of mismanagement
Article: Gerry Brownlee speaks out on EQC: "I just think people aren't seeing the wood for the trees here. And in this case the wood - Megan - is making a whole lot of mischief"
Comment by Pharos:
"…There is a cost to taxpayers of $270 mill, and still counting, arising out of gross mismanagement on the watch of the previous government. Not long ago Mr Brownleee palmed this off as in the vicinity of $60 mill." (sic) (Truncated)
I agree.
But are we surprised by the actions (inactions) of politicians without consequence?
I mean. We all seem to be pretty okay with them doing as they please. We don't really appear to incentivise them to do anything productive. About the only thing we do incentivise them to do is to pay off mortgages with tax payer dime and ensure that they are well set up for when it comes time to abandon their electorates.
When issues with their portfolios arise we allow them to explain it away as "a good problem to have" or proclaim a lack of awareness. One of the ways we validate these type of responses is by allowing them to shield themselves from politically neutral advice through a buffer of ministerial staff. Gareth Morgan has written a must read on this.
I'm not sure what the fix all solution is. However I do think it involves the electors paying closer attention to the powers of the elected.
10. That evil leftist agenda
Article: ANZ says first home buyers are becoming more active, but fewer home owners moving up the property ladder in Auckland
Comment by Ex Expat:
 "…I'm sure you know it was a reference to the Leftie bedtime book, 'Of Mice and Men'. My son came home last month asking for $4 to pay for a copy pirated by his teacher for class study. I refused on the basis that it's wrong to pirate, but it was really a passive aggressive way of saying I don't want my child reading that type of literature. He's not destined to be part of the hive."
I agree. It is bad to pirate.
Lessons learned from The I.T Crowd.
As for the real reasoning, though. Is it appropriate to be forcing your opinions and ideology upon your child? Naturally it happens in a subconscious manner, but to actively filter like this is akin to indoctrination.
The formulation of ideological opinions and perspectives is based on the digestion of a range of influences. Personally I would think that reading 'leftist' literature is just as likely to reinforce someone's current perspectives as it is to compel them to the radical left.
Plus, Of Mice and Men isn't an overtly leftist tale. What it deals with is a pursuit common to all of us; our dreams and how difficult it is to attain them in the face of (to us) seemingly random exogenous circumstances. An important lesson, I would have thought.
It sounds like an incredibly narrow minded approach to educating a child. If you were so worried about the influences of that dirty leftie Steinbeck, surely the logical thing would have been to prescribe some Fitzgerald and Hurston to balance it out? The same motifs could then be examined from three very different social and ideological perspectives.
I don't think there is any moral highroad in telling people what to think. Only in being able to accept that they can think for themselves. Children included.