In a new Interest.co.nz series, political reporter Jason Walls sits down with MPs at the pub – he catches up with NZ First's Shane Jones over a Bacardi and Coke the Minister spent the night nursing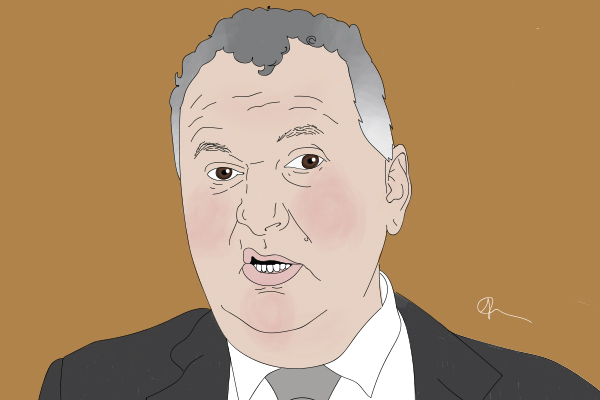 Shane Jones is without doubt one of the most colourful characters in Parliament.  
His use and mastery of the English language has gained him headlines across two political parties over more than a decade.
Jones is often put on people's "which MP I would most like to have a beer with" list, so on a chilly Monday night that's exactly what I did.
"So…" he said to me, grabbing my hand as he walked into the pub, "who's buying the drinks?"
"These are on me, Shane," I said. "Good man!" he replied, as he pulled up a chair.
Before I could sit down, he spots his wife, Dorothy Jones, and Mother-In-Law from across the room. Neither of them knew the others were there.
He called them over, "this is Jason. He is among the new rank of press gallery journalists," he said, pausing to look at me.
"Now, I don't mean rank as a description," he said, glancing over at me again and laughing.
"He just has a few questions for me," he said, settling into his chair and pulling two more out.
"So why politics," I asked, as I pushed my recorder closer to him, to hear over the noise of the bar.
It's a question he has probably been asked hundreds of times before, as all politicians have.
"I was born for politics," he said proudly.
Jones first entered Parliament in 2005 with the Labour Party after being personally wooed by then Prime Minister Helen Clark.
He came in at number 27 on the list – a very high placing for a rookie.
It didn't take long for him to rise through the ranks, being appointed chair of the Finance and Expenditure committee, then a Cabinet Minister in late 2007.
In 2013, he stood for the leadership of the party but lost to David Cunliffe.
A few months later, Jones announced he was leaving Parliament.
'Like a sphinx'
"However," he quipped abruptly while telling me the story – "I am like the sphinx that rose again and Winston Peters provided me with this opportunity for another crack at politics."
He re-entered Parliament last year as a New Zealand First candidate. Although new to the party's ranks, Jones holds key portfolio positions, including regional economic development and infrastructure.
"This is the first time in my life I have consistently listened to anyone," he said, referring to his Rangatira – his Chief, Winston Peters.
"Oh, other than Dot," he said, winking at his wife sitting next to him.
For Jones, it's not just about the politics when it comes to his boss.
The pair have known each other for years. They first met in 1975, when Peters was sent to stay with the local Vicar in Kaitaia, where Jones grew up.
"He was a dashing figure and he is the only person I remember in my life arriving at Kaitaia in a jag," Jones said.
Even back then – when Jones was just 16 – he recognised Peters' ability to win a crowd and hold an audience.
Fast-forward about 40 years and the pair are running the country.

Dorothy Jones and Shane Jones
Jones entered politics at an interesting period, this time around.
He knew he was an NZ First MP, but the Government was still in the process of being formed.
For a number of weeks, NZ First MPs would march back and forth between talks with Labour and National to determine which party they would side with.
Commentators said it was, yet again, Winston who was picking the Government.
"That's not what I saw," Jones said.
According to him, each MP was given a piece of paper which they used to vote – that was then collected by someone trustworthy and then tallied.
"At the end of the day, it is grossly untrue to say that Winston exclusively made that decision."
I took another sip of my beer, as I jotted down some more notes – after 20 minutes, Jones had not touched his Bacardi and Coke. He was doing most of the talking and looked to be enjoying himself doing it.
The First Citizen of the Provinces
"We need to clear something up," I said to him, "what is it; are you the 'Provincial Champion' or are you the 'First Citizen of the Provinces.'"
A few weeks ago, I noticed he had taken to calling himself the latter, after going by the Provincial Champion since the start of the year.
He threw his head back laughing, before launching into an anecdote.
Some weeks ago, in the House, he had referred to himself as the First Citizen of the Provinces in a speech.
On his way out of the House, Finance Minister Grant Robertson came up to him and whispered: "First Citizen of the Provinces, that was Augustus I think Shane, but it's a small step to Emperor God; be very wary, very wary."
The tabled erupted with laughter.
"Grant is a very witty guy," Jones said, as I gathered myself.
 Jones' political career has not been free from scandal.
In 2010, he admitted to using a Crown credit card for personal expenses including, as it turned out, a pornographic film in a hotel.
Then leader, Phil Goff, demoted him and stripped him of his shadow Environmental and Economic Development portfolios.
A few years later, he was back in hot water after granting Chinese businessman William Yan citizenship against officials' advice years earlier.
Then leader, David Shearer, temporarily stood Jones down while an investigation took place.
Jones still speaks fondly of Shearer – "I don't think he should have resigned."
In fact, if he was stranded on a desert island and had to choose one other MP (former or present) to be stuck with, Shearer would be one of his top picks – I told him he could not choose Winston.
After Shearer left and Jones lost the leadership, it was clear the time had come for him to move on.
"I didn't spend much time with Cunliffe, I acknowledge he won the race by a country mile – that was the direction the members of the party wanted to go.
"I wanted no part of it – so I moved on."
So, what's next for the First Citizen of the Provinces?
"Are you the future of New Zealand First?" I ask as I drain the last of my beer and glance at his still untouched Bacardi and Coke.
At 73 years old, Winston Peters is the longest serving MP in Parliament. He has held countless positions over the years and, when Prime Minister Jacinda Ardern goes on maternity leave in a few weeks' time, Peters will become acting Prime Minister.
Many have been speculating this is his last term in Parliament and the man, known to many as the King-maker, will bow out before the next election.
His departure would be one of the most significant things to happen to New Zealand politics in years.
Some have speculated Shane Jones is the man to take over.
"You know," he said to me after a pause, "there is an English term called regicide, that's when you speak with disloyalty about the reigning monarch.
"I don't want to do that with NZ First, because that leads to getting your head chopped off," he said as he finally took a sip of his drink.
"You can quote me on that."