Unlike the worsening average OECD situation, New Zealand is making small progress with child poverty. But it's not enough by miles. We need to rid ourselves of vanity projects and focus on this core, urgent problem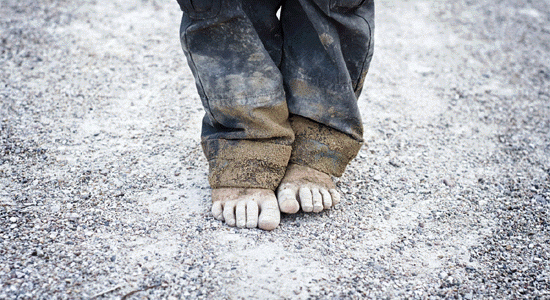 It is the shame of modern society - children living in poverty.
The issue has been politicised in New Zealand by some parties campaigning in a partisan way on the issue. But all parties seem to be working to reduce it.
The OECD has released a paper on the subject which concludes that over the whole group of rich countries the situation is going backwards. Nearly 1 in 7 children lives in poverty on average in the OECD, and children often face higher poverty risks than other population groups.
Child poverty rates have increased in almost two thirds of OECD countries since the start of the GFC.
New Zealand doesn't rank well in this group, being worse than the OECD average.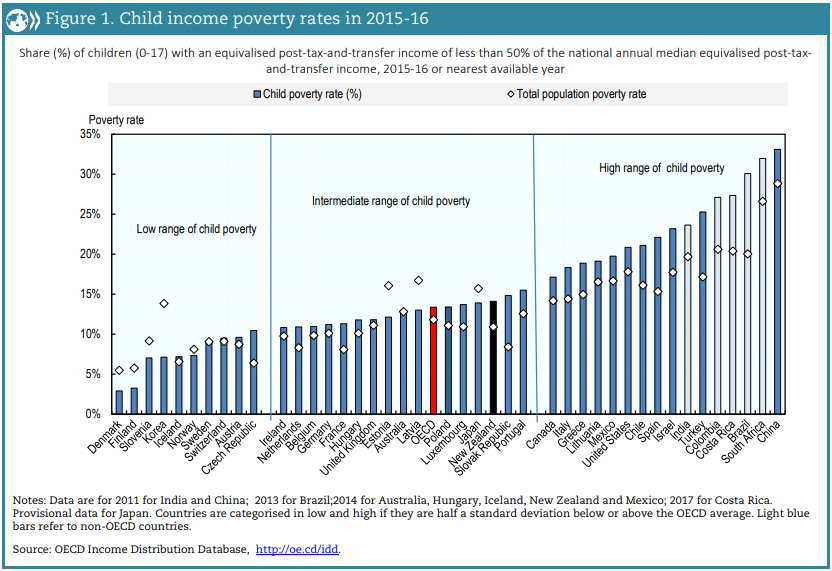 Measurement issues
There are several ways of measuring child poverty. The usual or most common measure is the "relative" child poverty rate. This captures the share of children in households with incomes below 50% of the median equivalised income in given country and year, and is entirely relative. When median incomes change, so does the poverty line: it "floats" over time. This is the way it is presented in Figure 1 above.
The relative child poverty rate is useful for capturing poverty at a given point in time, but can sometimes be misleading when comparing how things have changed over years. Its relative nature means that the threshold for who is and isn't consider poor is always changing.
An alternative measure especially useful for comparing across time is the "anchored" child poverty rate – a rate based on a poverty line fixed at some given income level (though still adjusted for price inflation), such as the median equivalised income in a certain year. Using the anchored rate, it is possible to see how many children are poor today based on the standards of some point in the past.
On this measure, New Zealand has done much better.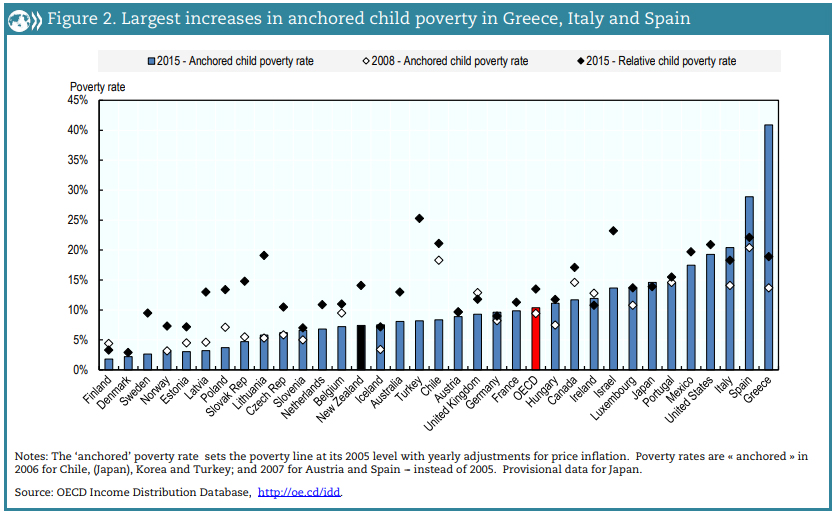 The key is productivity
Parental employment protects against poverty. On average across the OECD, 60% of jobless families are poor compared to only 9% of families where at least one parent has a job.
Increasing parental employment can thus be expected to lead to a major reduction in child poverty.
A basic simulation can  illustrate the point. If all parents were to be in paid employment (and assuming that poverty rates of working families remain at their current levels), this would halve the poverty rate in families with children, from an OECD average of 11% to 5.4% (Figure 4). And if joblessness among single-parents were to be eliminated their poverty rate would fall from 33% at present to 22%.
Obviously, at family level, the risk of being poor or not depends on the quality of the job held by one and/or both parents. The OECD says the risk of poverty will be significantly lower if both parents are in work. Helping parents gain good-quality employment is crucial for reducing child poverty and reversing the decline in living standards experienced by many families. It involves enabling parents to have a stable and if possible full-time job.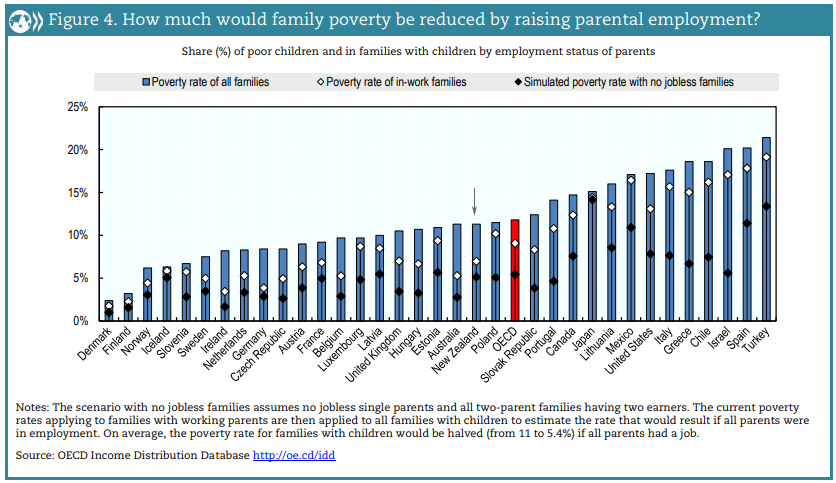 Our already high participation rate and low jobless rate reduces the impact compared with other OECD countries, but the benefits are still worthwhile. And because the OECD data for New Zealand is from 2014 and we have had significant improvements in participation and reductions in unemployment from then, some of the gains suggested have already been acheived.
But New Zealand's core problem is low pay caused by low productivity. Without a sustainable productivity solution, we will be left with the problem of in-work poverty, which itself makes child poverty intractable.
Arbitary pay increases without productivity increases don't really change anything in the medium term. They may give a short boost, but cause distortions and pressures elsewhere in the workforce by lowering the incentives for improving workskills and lowering the premiums for sustainable productive work. (Why add to your skills when those that don't get rises that bring their pay closer to what is paid for your skills?) Those arbitary increases by the public sector just make the issue worse if they aren't accompanies by improving productivity for the whole community. This is because the funds to pay the rises are being taken from those that haven't seen gains, widening the problem. It will build resentment on a large scale.
And children will be at the tough end of all this.
The OECD suggests improving benefit coverage can go some way to easing the stress. Redistributing family allowances, or improving the distribution of housing benefits are options offered. Proper housing is a key thing the State can provide.
And the State can stop doing unhelpful things, like vanity projects in the name of productivity. New Zealand has had a few and is proposing more. Examples that come to mind are the Waterview Tunnel, a multi-billion underground project designed to politcally protect a prime minister when for 25% of the cost the project would have delivered the same benefits above ground (and been completed years earlier). Others include building waterfront stadiums, and shifting the port of Auckalnd hundreds of kilomoeters away from its main market. "Light rail to the airport" is another multi-billion wet-dream that will no doubt be the boondoggle that it is in other cities. It is these types of grand vanity projects that squeeze the resources needed to address the underlying productivity problems that cause in-work proverty, and find children at the short end of how thee benefits of modern society get allocated.
Lecturing by academics in ivory towers is pretty tone-deaf as well.
Housing, education, and individual family mentoring, are the essential investments needed to break poverty's grip. Fortunately, there seems to be renewed progress on some of these. If we can get those in poverty making independent economic contributions to the community well above the 'living wage' levels and outside of State support or public 'employment' then child poverty will become less of a pressing issue.
Until then, it should be a priority, pressing issue. That we have done better than the OECD average, bucking their trend of going backwards in the past ten years, is to our collective credit. But that is a depressingly low benchmark and it is not enough for New Zealand.
Let's forget the political posturing and commit to building on the small but real (and insufficient) progress we have made.