Rodney Dickens thinks he spots a bust about to unfold in the manuka honey market after a strong boom - caused but the usual suspect, fast rising new supply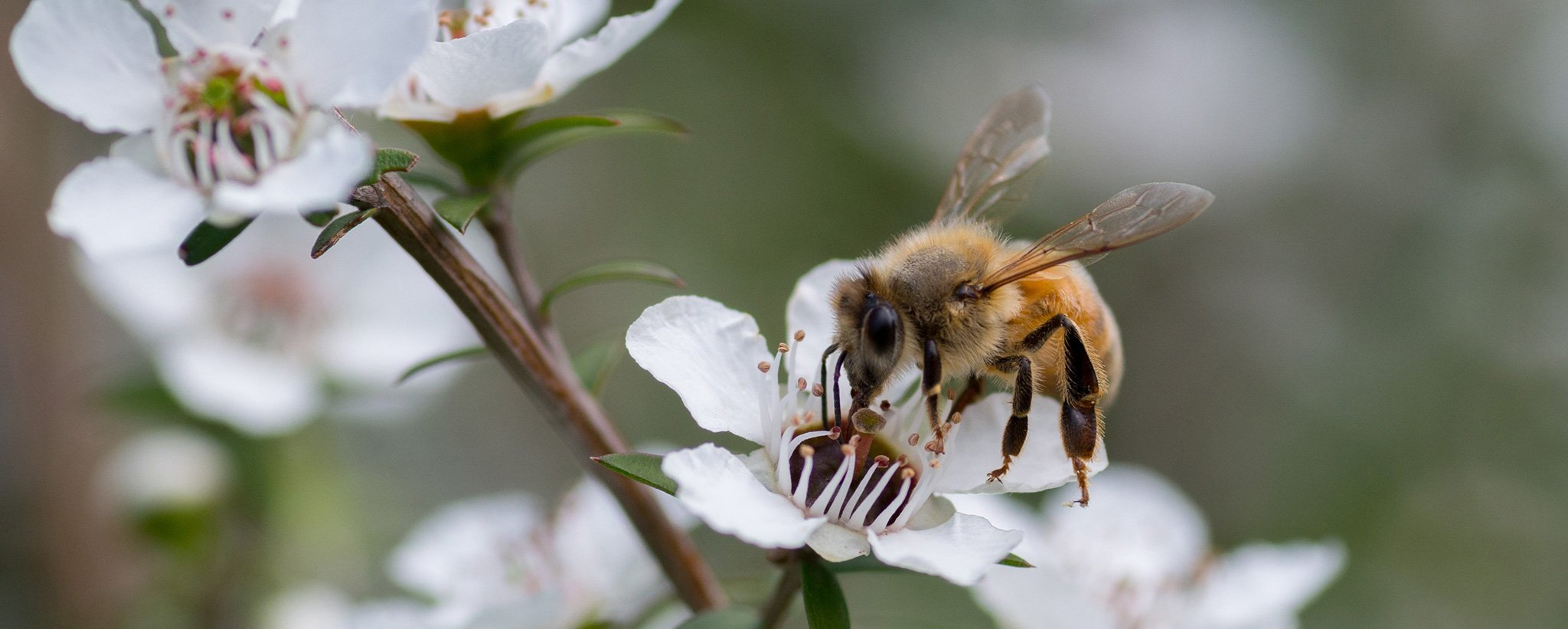 My Pooh Bear physique isn't much to do with my love of honey but as a child on a pleasant sheep and beef farm on Taupo's drought-prone pumice soil, honey was one of the few sweets we got. This was thanks to the beekeeper with hives on the farm supplying a large tin of honey regularly. Filling the honey jar that involved lots of spoon licking was one of my favourite tasks.
Since becoming an economics addict in my teens thanks partly to my father's interest in geopolitics I have observed and commented on a number of rural, property and other boom-bust cycles (e.g. Angora goats and rabbits in the 1980s, tech stocks in the 1990s and Auckland apartment and coastal section markets in the 2000s).
It's been a while since we've had a "good" rural mega-boom followed by a large fall in prices. But it looks like we're set up for having a "Manuka honey" of a one now.
But not all boom-bust cycles are the same as discussed in this Raving. There are a couple of major differences between the current Manuka honey boom and the Angora goat boom but what is the same each boom is a supply response that ends up swamping demand and driving a large fall in prices. In that context the Manuka honey boom looks like all others.
There are hints oversupply has started; it will be aided by a misdirected government tree-planting programme. The questions to me are when and how much will Manuka and possibly other honey prices fall as a result of the supply tsunami in the pipeline.
Honey exports have had a fantastic run but warning bells may have begun to ring
Since the 12 months ended January 2000 the value of natural honey exports has increased 3,291% while the value of total merchandise exports, excluding service exports like tourism, has grown 140% (chart below). To put honey in perspective even after increasing from $10m to around $350m of annual receipts, honey exports only made up 0.6% of total merchandise exports in the last year.
The value of honey exports has fallen this year (blue line, next chart) which appears to be the result of a fall in export volumes (blue line, second chart below). Interestingly, the volume of honey exported hasn't increased since 2015. The recent ups and downs may be due to factors that have impacted on supply of certain types of honey?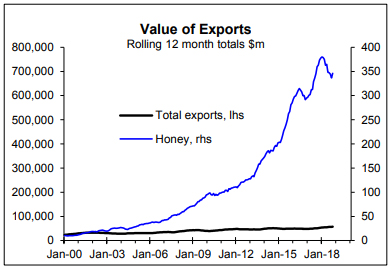 The chart below shows that the estimated export volume for 2018 is down 2.7% on the 2012 level while honey production increased 160% over the same period; especially in 2018. The production and export volume numbers including estimates for 2018 are sourced from www.airborne.co.nz, a family-owned firm that has been "crafting honey for 100 years"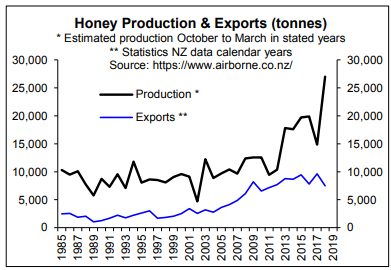 I assume local consumption of honey has increased lots since 2012 rather than the large increase in production resulting in a stockpile of honey, while an increasing amount is probably being used in honey-related products not included in the honey export numbers.
I don't know how much Manuka honey makes up of total honey production? But whatever the current figure it will be in the process of increasing lots. Maybe someone can educate me on this and the other matters I raise above and below for use in a likely future honey Raving?
The spike in 2018 honey production may or may not reflect the tsunami of Manuka honey in the pipeline that will result from the massive plantings; encouraged greatly by the government's plan to plant one billion "trees". Our golf club and many people, farmers, firms and organisations are participating in the planting mega-boom with the help of trees the government has gifted. From the anecdotes I've heard the scale of the plantings of Manuka for use in honey production is massive.
What brought down the Auckland apartment boom (aside from leaky buildings) and the coastal market boom? Massive supply responses overwhelming demand. Whenever there is lots of money to be made existing suppliers will wind up production and new ones will enter the market and they always make the mistake of assuming this won't impact on prices. The current Manuka honey boom isn't likely to be different in part because Australia that has great honey growing conditions is part of the supply response (next page).
As an aside, the chart below shows the breakdown of honey exports for the last year by destination. This roughly matched the countries Airborne Honey exports to. The Airborne Honey website is a useful source of information about honey although the info on honey production by other major producing counties is out of date (up to 2005 for the charts I looked at). It would be interesting to know how many countries in addition to Australia intend to piggyback the Manuka honey boom.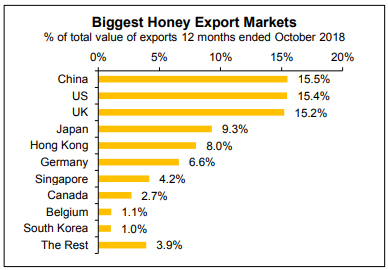 Australian threat to Manuka honey should not be overlooked despite the UK ruling
The following is some general background on the Australia honey industry:
"Commercial beekeeping has been incredibly successful because of the extensive areas of native vegetation, particularly eucalypts and other members of the Myrtaceae and Proteaceae. This abundant native floral resource produces large quantities of pollen and nectar, making this continent an ideal climatic and geographic region for the honey bee. The Australian honey bee industry produces between 20,000 and 30,000 tonnes of honey annually. [NZ is catching or has caught up] Australia is one of the top ten honey producing countries in the world, with a large amount of honey produced in Australia exported to a variety of countries overseas in both bulk and retail shipments."
http://beeaware.org.au/industry/
Australia may be the fourth largest honey exporter after China, Argentina and Mexico.
NZ won a UK ruling over the use of Manuka but Australia is reported to be contesting it based in part on claims it started producing "Manuka" honey before NZ.
This hasn't stopped Australian honey companies from marketing "Manuka" honey including some claiming their Manuka honey is the highest quality in the world.
I don't know how much of a threat Australia is to the NZ honey boom but where there is money to be made in a global market you can be certain much more than NZ producers will be responding.
The chart below is sourced from Google that like economists knows everything although it doesn't seem to know that Australia should be included as one of the top ten. There was no indication of what year the production numbers are for. But it may be of relevance that China is both a major producer of honey and a major consumer of NZ honey. Maybe China will piggyback on the Manuka honey boom; noting its penchant for pinching IP etc.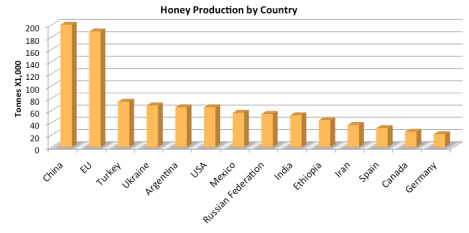 https://www.google.co.nz/imgres?imgurl=https://lyn nwalsh.files.wordpress.com/2013/04/world-honeyproduction-by-country-andtonnage.jpg&imgrefurl=https://lynnwalsh.wordpress. com/2013/04/23/on-bees-andhoney/&h=351&w=702&tbnid=_yfeSHke2SyAXM& q=australian+honey+production&tbnh=70&tbnw=14 0&usg=AI4_- kQCQnn0qxNI7FyYrta8eL7GwXvXTQ&vet=1&doci d=98eHBh8t19K5PM&itg=1&sa=X&ved=2ahUKEwj sopL445TfAhVWWX0KHXAjCNgQ_h0wE3oECAU QBg
There are two major differences between Manuka honey and angora goats, but …
Having viewed mega-booms in a number of areas including most recently the crypto-currency boombust lead by Bitcoin (I correctly advised my son that prices would tumble after he cheekily gifted me some as a Christmas present last year), I know they are not all the same. The common feature is a mega-wave of supply overwhelming demand but there are other features.
Thankfully the Manuka honey boom doesn't have two features of the Agora goat boom that I saw firsthand as a result of my father's involvement. I also correctly advised him that prices would tumble before they did; but to no avail.
Early entrants in the Angora goat boom were making more money selling progeny than selling mohair. For example, at the peak of the boom in around 1984 dad was selling year-old does for around $1,500 each. I warned him before going overseas in 1984 that he needed to be able to make a living from selling the fibre although even fibre prices fell. 2-3 years later he was lucky if he could sell goats for $20 ahead as dog tucker.
Angora goats were also a tax dodge. "Queen Street" farmers were writing off losses against other income. This didn't end well for many including one I know via other family connections.
Unlike property booms the honey boom isn't plagued by investors buying, but …
The Manuka honey boom also thankfully has one major difference from most property market booms including the Auckland apartment boom and the coastal section market boom last decade.
Investors buying coastal sections were a major part of the mix last decade that isn't the case with Manuka honey. To my knowledge there aren't lots of investors buying Manuka honey to stockpile and sell at a profit later. In some Far North coastal subdivisions, for example, up to 90% of sales were to investors. When the music stopped they were competing with developers to sell sections to the small number of end-users looking to buy.
But while I doubt investors are playing a part in boosting demand for Manuka honey they are playing a part in the supply tsunami. It was the same with the coastal section market boom with a number of people and firms not developers before the boom taking it up in coastal markets to try and make lots of money. Many of these people/firms went belly-up when the music stopped bringing down numerous finance companies with them.
In my days as head of research at ASB in the first half of last decade I provided clients with advance warning that the apartment and coastal property booms would bust. The coastal market warnings continued in the second half of last decade under our own branding. We stopped producing free coastal market reports in 2012 because we got too busy doing pay-to-view work, with the occasional exception. I continue to hear occasionally from people asking if we have updated reports. Many people made use of these reports to either avoid losing money or to make money when the time arrived to buy cheap coastal property a few years ago.
The future of Manuka honey: unknowns, likely outcomes and some possibilities
Being a consumer of Manuka honey I expect it to have a good future. Consumption should increase as more people recognise the benefits it offers and this should be helped if prices fall as a result of what is likely to be a supply tsunami.
How much could prices fall? I don't know because I don't have details on the scales of the local and global supply response nor do I know how much consumption will increase. However, I am certain that current prices will struggle to be maintained as supply winds up. It is highly likely supply increases will significantly outstrip consumption growth.
This is a bit of a self-evident truth. At current high prices the attraction for new supply to enter the market is massive and like clockwork the supply tsunami appears to have started.
Hopefully things don't turn out this dire down the track but it can't be ruled out that an oversupply develops to the extent that marginal production gets dumped and some highly geared new entrants to the market, assuming there are some, get burnt.
There are still quite a few unknowns but I suspect new entrants and existing firms make sure they can make money even if Manuka honey prices fall lots. What does "lots" mean? I'm not sure. Based on other experiences 50% could turn out to be the minimum. How much might falling Manuka honey prices hit prices for other honey? Again, I can't say with any certainty but some impact seems likely.
The use of oil and other by-products of Manuka is a potential, but how will oil prices be impacted by a supply tsunami? As someone at our golf club said to me recently, if worst comes to worst we will have lots of firewood. It shouldn't come to this although it parallels angora goats being use for dog tucker.
From the out start I should have clarified that I'm not an export in honey; rather an interested party. But I am an expert in market behaviour and that is likely to be the key issue on terms of the future of Manuka honey.
A request for honey-related insights etc. for potential use in a future honey Raving
If anyone in the industry or who analyses the honey market has useful insights they would like to share potentially for inclusion in a future honey Raving or on a confidential basis please get in touch. Maybe someone can provide insights that justify Manuka honey escaping the boom-bust cycle repeated time and again in other areas including once a decade or so in the agricultural market.
Denise pointed out that I forgot to include the ostrich boom-bust in the earlier list. In the 1990s I visited an ostrich farm near Taupo but I thought it was a fringe market so didn't look into it further. But an interesting ostrich article was on Stuff in 2016 that confirmed my suspicion.