Will the GameStop saga change the way markets operate? NZ's financial markets watchdog thinks it could; Traders and market watchers consider where to from here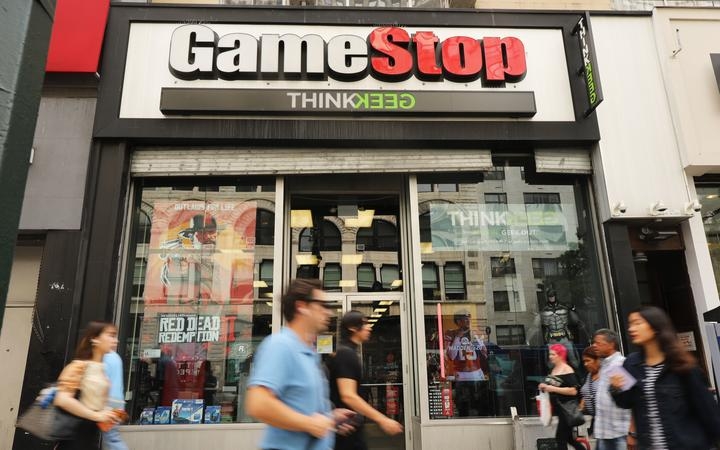 By Jenée Tibshraeny
The Financial Markets Authority (FMA) sees the GameStop saga as more of a game-changer than a one-off event.  
Addressing a financial services sector audience on Wednesday, FMA CEO Rob Everett used strong language to address the issue.
"This weaponised use of options by retail investors may fundamentally change how US markets operate," he said.  
"The power of the crowd should be making hedge fund managers (and regulators) deeply uncomfortable."
Retail traders, who initially came together on Reddit, have been purposefully pumping up the prices of shares that hedge funds have been running short positions on.
The most high-profile shares targeted include GameStop and AMC Entertainment - both listed on the New York Stock Exchange.
While a US phenomenon, thousands of kiwis have been partaking mainly through share trading platforms like Sharesies and Hatch. Interest.co.nz last week reported about 10% of trades (by value) made via Sharesies in the prior fortnight involved GameStop shares.
Infrastructure can't cope
However, orders made by Sharesies and Hatch users have at times not been processed because the US clearing houses the platforms rely on to settle transactions have been overwhelmed.
These clearing houses have intermittently pushed pause on processing orders, as liquidity concerns have prompted their US regulator to require them to hold more collateral.
While Sharesies and Hatch have been copping flak from their users, they've been clear the matter has been out of their control.
Commenting on the situation at a high level, Everett said: "We've recently issued more guidance on this area and encouraged the online platforms to remind their customers of their obligations.
"More work will be necessary from us, from the NZX, and from the providers and advisers in this area to avoid disorderly markets or poorly informed retail investors staring down the barrel of a criminal prosecution."
Tech + lots of cheap money + low interest rates
As for Everett's earlier comment about the GameStop situation "fundamentally" changing how US markets operate, interest.co.nz ran this by a few people with trading experience: Gen X investment banker turned consultant - Raf Manji, Gen Y investment banker turned Bitcoin advocate - James Viggiano, and Craigs Investment Partners Head of Wealth Research - Mark Lister.
All three agreed the movement stemmed from technology giving a broader range of people access to markets at a low cost.  
What's more, all the stimulus provided by central banks and governments around the world means there's more cash in the system looking for yield in a low interest rate environment.
Manji believed the GameStop phenomena wouldn't change markets "at all".
"Markets have always operated like this," he said.
While he noted the short period of time in which GameStop shares have fluctuated was extraordinary, ultimately "prices always go up or down".
Focus on the brokers and clearing houses
Manji said it was the clearing houses, or the engines that process transactions, that needed to be looked at as more people have access to high-frequency trading.
He said the issue was whether share trading platforms were explaining the hurdles that need to be crossed for a trade to be settled - from a user placing an order, to this being sent to an overseas broker, to it then being settled via a clearing house.
Viggiano, who trades Bitcoin full-time now, is critical of how traditional markets operate.
"There are so many layers separating the investor from the actual product," he said.
"Retail investors have to go through all these filters and barriers and don't get a seat at the big boys' table because they're not a big bank…
"There shouldn't be this convoluted stock trading system that's all centralised and controlled by the parties who have the biggest volume through it."
Sharesies and Hatch have explained these layers to their users in writing in recent days. Sharesies on Thursday also hosted a webinar explaining its relationship with its US broker, DriveWealth (which Hatch also uses), and the clearing houses that are being made to hold more collateral.
The FMA doesn't have direct jurisdiction over DriveWealth.  
It and the NZX do however have regulatory oversight over the trading Sharesies does on the NZX. Sharesies does its own brokering for these trades (without the help of DriveWealth), so could be asked by the NZX to hold more collateral if trading volumes spike. Hatch doesn't give users access to the NZX.
Will this self-correct or crash?
Lister didn't believe the current battle between traders taking different positions on stocks would materially impact the market.
He said it was effectively a self-regulating situation - a portion of traders will have their enthusiasm curbed when they inevitably lose money.
He maintained the challenge for the FMA was preventing the masses from being burnt while not deterring them from investing.  
Viggiano feared the abundance of cheap money, coupled with an appetite for speculation enabled by technology, would see the next "crash" scar millennials and Gen Zers in the same way his parents' generation has been put off share trading by the 1987 crash.
He worried traders coming late to the GameStop party are the ones taking on the most risk with the least knowledge.
The movement's "wallstreetbets" masterminds aren't the amateurs they're portrayed to be. 
"Their behaviour is not too far from the behaviour you see on the institutional side of markets," Viggiano said. 
"We need to remember that most of the people on the subreddit are anonymous and some of them have more experience trading sophisticated derivatives like options than the average employee of a financial institution." 
Final thoughts
Asked how this environment affected the way a more traditional fund manager like Craigs Investment Partners invested clients' money, Lister said it remained focused on investing in companies with good fundamentals.
Yet the rise of the platform-using retail investor wasn't something he ignored, as he was wary of how fads could affect share prices.
He noted how the inclusion of Meridian Energy and Contact Energy in major offshore exchange traded funds (ETFs) had boosted these companies' share prices earlier in the year for example.
Looking at the bigger picture, Manji concluded: "We're seeing the outcomes of bad quantitative easing…
"All we've done is create huge liquidity, lower interest rates and funded a massive asset bubble, which was easily predictable."
It's this devaluation of fiat currency that makes Viggiano - a free-marketeer - confident in his view that Bitcoin is the future.
*This article was first published in our email for paying subscribers. See here for more details and how to subscribe.