Grassroots group says "C'mon Stacey"; asks Jones to pull the plug on advertising of high-interest loans to society's poorest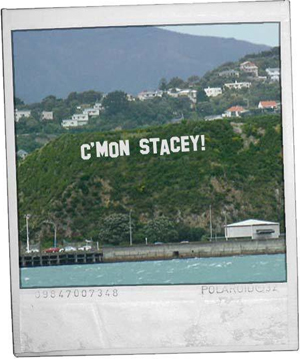 By Amanda Morrall
Rugby league legend Stacey Jones, the controversial public face of Instant Finance, is being targeted in a letter writing campaign designed to raise awareness about debt problems plaguing New Zealand's most vulnerable and financially unstable demographic. 
A grassroots community group, called Debt-Free Newtown, is calling on Jones to withdraw his celebrity endorsement of the high-interest rate lending agency and to lend his support -- and name -- to a more "creative and constructive'' means of helping the poor cope with money problems.
With a formal request having already been rejected by Jones, the group has begun printing t-shirts and posters with the slogan "C'mon Stacey" in advance of their formal launch on June 24, outside Instance Finance's offices in Newtown where they will be asking people to sign a letter asking Jones to reconsider his advertising deal.
Organiser Mark Barnard said it was disappointing someone as high profile and well-respected as Jones would associate himself with a commercial entity that profited from the poor.
"We're saying: 'C'mon Stacey' let's tackle debt and find creative ways to get people out of them rather than bury them in it.''
A good option?
Barnard told interest.co.nz that he had personally spoken to Jones on two occasions, but the sports star was unwilling to bend, reiterating previous claims in defense of the company.
"He still maintains Instant Finance is a good alternative.''
In an interview with TV3 last July, when the issue of his celebrity endorsement was first called into question, Jones said that Instant Finance was a good choice for those rejected by mainstream lenders because it charged much less than other money lenders who dealt with high risk clients with poor credit history.
Under a new penalty system unveiled last week as part of security law reforms, celebrities who make false or misleading statements in the promotion of financial products could be liable for fines as high as NZ$1 million.
Jones could not be reached for comment on Wednesday to comment on the ruling or the campaign against him.
Instant Finance defends Jones
However, Instant Finance CEO Richard de Lautour defended Jones' association with the company and dismissed the campaign as "misguided" and its organisers "sadly misinformed.''
Despite allegations of sophisticated loan sharking by critics and the media, de Lautour maintains his company is among the most socially responsible lenders in operation with conceivably lower rates of interest than banks because it did not charge added interest on skipped or late payments. While the company charges a standard 29.5% interest rate on loans, it also charges a separate administrative fee.
De Lautour rejected criticism the company preyed upon society's most vulnerable, arguing instead that the company served a public need and benefit by providing a financial lifeline to candidates whose only other recourse would be to borrow at exorbitant loans rates of 50% to 100% or higher.
De Lautour dismissed as "nonsense" reports of Jones's association with Instant Finance having trebled company profits, but admitted the relationship had been financially beneficial.
"We have a Kiwi icon and Rugby League player with strong family values who represents all the same values that we espouse in this business. It's not rocket science why we'd want to link up with him.''
He claimed those who would like to see Instant Finance run out of business would do more harm to the individuals they purport to want to help by driving them straight into the arms of unscrupulous money lenders. He said borrowing was a reality of both the poor and middle class and yet debt among the less affluent was portrayed as a dirty game.
"I find it amusing that there's a critical section of society that believes that these people should be denied access to debt like you and I have...From my 35 years experience in this business, there is another group of people further up the so-called food chain that have far bigger problems than my customers and yet they're exempt from these campaigns.
"When someone comes up with the magical ingredients to get rid of the compulsion to borrow money and accrue debt, I'd like to know about it.''
Fellow Debt-Free member Anna Costley said while Instant Finance might be one of the more reputable and responsible lenders of high-interest rates loans, the issue generally warranted greater attention. She said it behooved someone of Stacey Jones' stature to consider the broader social implications of his celebrity endorsement.
"We're not targeting Instant Finance specifically, it's a way of raising awareness generally. And we're also asking why one of our top role models is supporting this. We wonder if he had a full and clear picture of how these loans work, whether he'd still be endorsing this kind of business.''
But Kirk Hope, executive director of the Financial Services Federation (which represents 40 remaining non-bank financiers) said it was the public, particularly financial journalists, who didn't have a clear picture of how these business operated.
He said pending the resolution of systemic social problems, finance companies that operated above board had a role to play in the financial services sector. (See Hope's commentary also on how finance companies' role have a role to play in New Zealand's economic recovery.)
Under the terms of the Credit Contracts and Consumer Finance Act of 2003, Hope said finance companies were obliged to spell out quite clearly the true cost of borrowing, including a full breakdown of fees and interest rates.
"There's a big misunderstanding that finance companies lack transparency but the whole reason features of the Triple C (the Credit Contracts and Consumer Act) were put into place was to increase transparency.''
'Best practices'
Hope said members of the Financial Services Federation (including Instant Finance) upheld best practices.
As an added protection for consumers, Hope said the industry had initiated (together with the Ministry of Social Development) voluntary guidelines on socially responsible lending.
The guidelines, introduced late April this year, are meant to educate people on what to expect from lending institutions, with an emphasis on "more careful consideration of borrower's loan security'' and "increased interest rate transparency.''
de Lautour said most of what was contained in the guidelines (soon to be printed in a second language -- most likely Mandarin), were already in practice at Instant Finance. That included a detailed analysis of a borrower's credit history and their ability to pay back the loan.
He said running costs reflected in the fee that clients were charged on top of interest were high because of the all the time spent researching a client, visiting their home, and explaining to them how to budget properly in order to make repayments.
"We behave in a manner that is more ethical than any bank in town,'' he said.
"For a first time customer to borrow money from us, we'll take security over household chattels, we'll inspect the house so we make a judgement on the demeanour of the household.. all that forms part of the lending judgement and there's a lot of work involved. "
Costley rejected de Lautour's portrayal.
"They (Instant Finance) may have one of the more responsible lending practices but that's not good enough.''
Costley said the truth of the matter was that people with low financial literacy, low income and no savings were getting trapped in a vicious debt cycle that would be hard if not impossible for many to break.
As a consequence, Debt-Free Newtown is looking at setting up a community-based lending agency (financed through donations, grants or other means) whereby the most needy and most worthy could access low or interest free loans. Although still in the formative stages, she said the group was hopeful it was achievable based on the success of a similar model now in operation, the Tauranga Ray of Hope Trust.
Instant Finance fast-facts.

Est.1971

April 2010, Stacey Jones comes on board.

25,000 customers (South Auckland accounts for 40% of business)

Highlights of the 12 months ended 31 March 2010 include;

Net profit after tax of $3.3 million.

17% increase in net loan receivables from $55.4 million to $64.9 million

Commensurate 17% growth in shareholders equity from $18.6 million to $21.8 million.

22% increase in gross instalments receivables from $72.9 million to $89.2 million comprising of 18,756 active loans.

  36% reduction in impaired asset expense from $2.5 million down to $1.6 million.

The Company continues to fund its lending operations through committed funding facilities provided by American based, Fortress Credit Corporation and at balance date, Instant Finance had significant reserves of excess liquidity.
From the Responsible Lending Guidelines
a responsible lender should: 
do their very best to make sure you understand  everything about the loan, including your rights  
and responsibilities, before you sign a contract give you fair terms and conditions, including clearly 
•  explaining interest rates and fe
es make fair decisions about the property being used as 
• security for your loan make sure that any property used as security for your 
•  loan is clearly described in your loan documents and is 
understood by you make sure you understand the risks that come with 
•  having  a loan, and the result of not repaying it, which 
might include repossession or the sale of any property  
you provide as security give you this information at the time you apply for  the loan. 
• repossessing only the property named as security in  
the loan contract 
• treating you and your property with dignity and  
making sure the repossession agents also treat  
you fairly. 
Websites which provide useful information about 
borrowing money: 
www.interest.co.nz
www.sorted.org.nz  
www.consumeraffairs.govt.nz 
www.comcom.govt.nz 
www.fsf.org.nz