Personal finance editor Amanda Morrall finds seven reasons to be happy about the high dollar from a consumer's perspective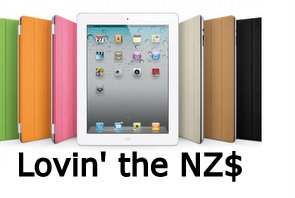 By Amanda Morrall
Guilty consumer indulgences have never felt so good, at least not since the days of disco when the humble Kiwi was pushing US$1.46 and the trade boom was grooving like Travolta on a Saturday night.
The high flying Kiwi, may have the economy in an uncomfortable embrace, but these are happy times for consumers.
I should know. I am basking in the glow of two currency powered consumer transactions (travel and tech toys) and I have guilt written all over my shiny new iPad to prove it.
I'm a genius at rationalising spending, but as this is one toy that might actually serve me professionally as well as personally, it's a guilty indulgence that I can live with, or justify anyway when I look at my diminished bank balance.
Taking into account the exchange rate, the lower price, the fact that I paid 6% GST in Canada, not 15% here, I saved myself around NZ$300.
The racing Kiwi dollar may come with a myriad of risks and stern lectures by some (you know who) about staying put and spending exclusively in NZ on strictly made in NZ products, but the over-valued currency has an upside that many will find too good to refuse.
Here's seven selfish reasons to be happy about the high dollar.
1) Cheap holidays
The global economy may be in store for yet another major after-shock but for now Kiwi travel lovers remain undaunted. 
According to Statistics New Zealand, trips abroad are up 15% in the past two years.
Not only are more Kiwis opting to skip the pond, they're traveling further afield to places formerly too expensive to visit.
Paul Safe, managing director of wholesale travel agency Active Asia, said Hawaii and the United States are particularly popular right now because of the strength of the Kiwi against the greenback. That's followed closely by Asian destinations with China and Vietnam at the top of the itinerary.
Taking into account food prices, shopping and other related travel expenses, Safe says travel happy New Zealanders are saving themselves a bundle. Prices on packaged holidays have fallen about 15% in the last few months.
2) On-line sales
On-lines sales from Kiwi buyers are difficult to track however the numbers are strong enough to put Treasury officials in a sweat.
That's because international purchases made on-line are exempt from GST and duty up to NZ$400 an item. 
In a recent commentary about online sales and the internet, Treasury voiced concerns about declining revenues caused by bargain seeking Kiwis looking to make hay on the high dollar by going on-line for cheaper goods they could import themselves.
Government concerns are understandable, but consumers looking to catch a break won't be shedding any tears. The 15% savings on GST alone is cause for celebration.
3) International assets
A second house in Spain, a cool condo in Dublin's trendy Temple Bar district, yes these too can be yours for a fraction of the price they were pre-GFC.
International financial assets (particularly those in distressed economies) are more attractive than ever given the newfound purchasing power of the Kiwi.
BNZ senior economist Craig Ebert says the manner in which the Kiwi has soared may not be ideal, but it's not all bad news. 
Afterall, "we need to recognise there are some benefits to purchasing power and that sort of thing,'' he says.
Property isn't the only asset that has Kiwi investors looking further afield. International shares bought on the high dollar hold equal appeal.
Investor Association chairman John Hawkins says investors looking to pad their portfolios with a greater proportion of international equities need to be aware of the foreign taxation issues around them.
"There are several ways you can do it and lot of accountants are unwilling to do this kind of work because of the complexity. You can end up paying large accounting sums for a modest amount of investment.''
Investors using managed funds could have an easier time of it because the tax headaches are theirs to nurse, suggest Hawkins.
4) Tech-toys and other imports
If Finance Minister Bill English is to be believed, the high flying Kiwi won't be grounded any time soon. English said Wednesday that he doesn't expect the dollar to fall below .80 cents for at least a decade. That being the case, consumers can expect to see some relief at the shops soon. See Alex Tarrant's story here.
Provided consumers don't flock en masse to on-line ordering, Ebert says New  Zealand importers riding the high dollar will be in a better position to pass on savings to consumers.
"It's something to look out for in the next three to six months,'' he says.
5) International services
Cheap-labour in highly-educated emerging markets has led many companies to out-source to places such as China and the Philippines, however the global financial crisis and the ripple effect it's had on international currencies has levelled the playing field somewhat.
Where specialised services out of the United Kingdom or the U.S. were once a luxury for New Zealanders, the relative strength of the Kiwi has made them more affordable.
"Richer countries are pricing themselves back onto the market now," says Ebert.
Whether local producers will be harmed by increased international competitiveness and to what extent is hard to say, says Ebert.
6) Global expansions
Exporters may be cursing the high dollar but not all of them are hurting.
Ebert says the strong prices for some commodities (dairy, meat, and wool in particular) has buffered the effect of the high dollar.
Businesses looking to grow from the roots up may also have an easier time of it too.
For example businesses in the agricultural sector, looking to purchase farms abroad, will find their purchasing power greatly enhanced.
7) Hotels
I won a hotel lottery of sorts not too long ago when I wound up at five-star hotel in Wellington for NZ$135 a night, normally priced in the NZ$300 range. My good fortune had more to do with internet wizardry (it was an internet roulette deal) than currency movement, however the high dollar has stretched elasticity in the hospitality sector.
You can't beat couch surfing at friends and family for price but for those times and places where that isn't possible, a night at the Hilton may be a fantasy come true thanks in part to a towering Kiwi, dollar.
No chart with that title exists.