Personal finance editor Amanda Morrall refuses to get mad; gets even instead when it comes to getting taxed more for trying to get ahead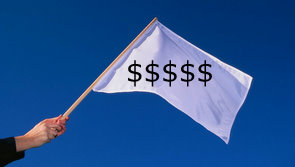 By Amanda Morrall
For the sake of a story, I dobbed myself in today to IRD.
It wasn't intentional. I was on an information gathering mission but in the process of asking a heap of questions, I got nailed.
My new cheery disposition is being tested to the max. I'm smiling right now --- through gritted teeth.
Instead of earning NZ$60 an hour for my passion pursuits outside of work, I will now earn NZ$40. 
Dear God, what have I done? 
History is repeating itself.
I try to work my tail off to get ahead financially, only to have it yanked hard and me dragged back two-thirds of how far I'd hope to go. Believe you me, I am no Penny and Hooper type trustafarian faking my true worth and net worth for a cheaper tax rate, though one day I aspire to earn as much as the good doctors.
The only thing that eases my tax rage, is thinking my money will goes towards a good cause, like helping to rebuild Christchurch or building a cycling lane across the Harbour Bridge.
As I am trying to look on the bright side of life these days, I will focus on the upside of my information seeking mission gone awry.
But first the beginnings of my sordid tax tale.
Last year, in an attempt to pull beyond my pay-cheque to pay cheque existence, I decided to take on some freelance work outside of my regular PAYE job.
I didn't make a fortune but enough to fund a few ski weekends with my sons and indulge in a new pair of shoes. My cool Mary Jane working girl Hush Puppies had past their prime.
My big stuff up was in not filing an IR3.  Having moved from a country where you had to file a return every year regardless, to one where you only have to file if you have income outside of what's paid out by an employer, I got sloppy and let things slide.
For my sins, I now owe $1K in back taxes, money which I should have set aside but didn't. 
The upside of all this is that in my conversation with the nice fellow from IRD who managed to get my IRD number off of me over my hypothetical inquiries about payment for my passion pursuits, is that he reminded me about claimable expenses for the self-employment.
For example, you can write off a portion of your rent, power and phone bill if you have a designated work space at home.
It's all stuff I knew but amid the busy-ness of life as single working mother of two had parked somewhere in the back of my mind.
As I haven't paid my bill yet for my earlier admitted sins, I can go back to IRD and state my case for self-employment deductions, along with documented proof of it.
I have pack-rat tendencies but I don't keep power bills going back two years. Fortunately, the power company does. So too apparently do phone providers. So I can go back and get that information from them and send it to IRD along with my lease showing how much I was paying fortnightly for rent.
The amount I can claim is proportionate to the size of the space I used to do the work. As I didn't have an office but worked at my Last Super-sized kitchen table in my dining room, the allotment is a generous one. 
The exact size specifications are hard for me to measure, given I live in a new city now. This being the case, the IRD advises that my allowance would be no more than 25%. Given my current position, I'll take 25%, thank you very much.
I have some homework to do now but a rough calculation tells me that I'll easily be able to recoup my losses and quite possibly end up in a winning position.
Don't get mad, get even I say.
Here's some links to help you along the way.
Tools for Business - IRD's primer for the self-employed
Relevant tax codes:
IR3  Do you need to file an individual tax return?
IR320 IRD's guide to operating a smart business
IRD365 Do you need to register for GST?
IR289 What is provisional tax and how does it need to be paid?
IR240 What are my tax obligations and what are the consequences of breaching them?