A ceremonial waste of money; Banking on the women's card; Getting paid what you want; Credit card cheque your head policies; Credit rating overrating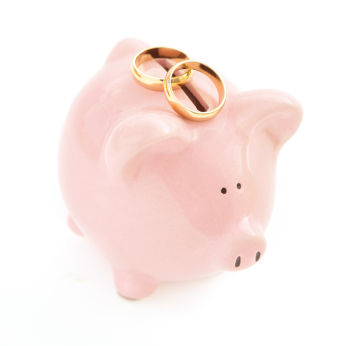 By Amanda Morrall
1) Wedding waste
It's a good thing we don't have many female readers on our site because I'd get panned for uttering the following: Weddings are a waste of money.
I don't know what the average costs is in NZ (a couple of bridal websites speculate it is NZ$30,000) but in the U.K. it's £18,500. According to this yarn by Guardian Money, over '50s asked for their financial advice for younger generations propose cutting the wedding budget in half. They also suggest having fewer kids and not to fritter money away on consumer junk. Sensible advice I reckon. I must be getting old and crotchety. Better backyard wedded bliss than a lifetime of debt and divorce. (Eds. My wife and I married for less than NZ$5k. Made our own clothes. Picked own flowers and played own music).
2) "Hey Ladies!"
There's a fabulous Beastie Boys song from the Paul's Boutique album called "Hey Ladies" which might well serve as the theme song for Westpac Australia's new ad campaign.
In recognition of the fact that women make up a vast and profitable chunk of the economic food chain, the bank has decided to pursue them unabashedly.
One of the first ads off the production line will focus on superannuation, highlighting the fact that 50% of women don't know how much is in their super and worse that 4/5 retire without one.
The bank has even dedicated a position to corner the market for women. Larke Riemer, Westpac's director of women's market, said the bank "had to recognise women's needs and speak to them the way they wanted to be spoken to." (Read the full details on this story from the Sydney Morning Herald).
Westpac NZ has no immediate plans to follow suit.
Gai McGrath, GM of retail banking characterised support for women in New Zealand as "below the line" i.e. through women's business networking functions and support of organisations like Global Women's Network. She said the bank would be building on that approach through money management seminars and sessions aimed at creating and maintaining long-term wealth.
The BB video is below. Walk this way...
3) Get paid what you want
I still remember one of the first jobs I took in journalism. My timing was impeccable. The newsroom was about to go on strike, the managing editor called me into his office and asked me point blank what I was going to do and whether he could count on me to work or not? I was green, young and totally taken aback. What was I supposed to say? Niet comrade, I march tonight.
This fellow eventually got his comeuppance for violating every rule in the good labour relationship handbook.
Hindsight is 20/20 and looking back over my career, I wished I'd done a number of things differently, salary negotiations included. Women are notoriously bad at this.
Here's moneygirl.com with some tips on how to get paid what you want.
4) Check your head before you write a credit card cheque
Because I've avoided the credit market here in NZ like the plague, I've largely avoided being assailed by their marketing campaigns aimed at getting me to borrow beyond my means. Five years ago when I was living in Canada, my letter box was jammed with credit card offers of all manner and the phone calls from telemarketers selling this that and the other thing were unrelenting. It's become so bad there that most of the people I know have those spy-phones so they can avoid being harassed by predatory loan sharks.
I was reminded of it all after reading this column by the Globe and Mail's personal finance editor pointing out the risk of credit card cheques and the how consumers invariably get hosed by this facility. What struck me most about the article was the tone of it...the "we're not going to take it anymore'' attitude, in your face approach.
Banks would do well to heed the message from the streets and increasingly the mainstream financial media that has finally awoken from a very long slumber.
Credit card cheques aren't available in New Zealand. Let's hope they don't make it here.
5) Credit rating overrating
In a similar vein, here's another by youngandthrifty.ca challenging the idea as good little consumers we all need to have credit cards as without them we wouldn't have a decent credit rating.
I must admit that I've had it in the back of my head that I could be causing myself trouble down the road by not having one as I won't have any credit rating in New Zealand.
Fortunately, the new positive credit rating system that New Zealand is shifting toward will factor in other financial behaviours, like prompt payment of rent, phone and utilities bills etc so the banks will have to take on board factors other than card management when judging your worthiness as a potential borrower.
This article I wrote earlier explains what's coming down the pipes and also details how you can check your own credit rating for free.
Happy weekend.