New Zealanders shirking off economic concerns with credit card applications once again on the rise; Baby Boomers leading the charge
By Amanda Morrall
After a cooling off period, New Zealanders would appear to be cautiously wading back into the credit card market with Baby Boomers leading the charge.
Credit bureau Veda, in its latest survey on borrowing trends, is reporting a 6.75 increase in credit card applications for the 10 months ending October, while overall inquiries for credit (including mortgages and loans from finance companies) were up 3.73% annualised for 2011.
As a comparison, overall inquires for October 2010 were down 14.12 percent compared to the same month 2009.
Veda managing director John Roberts said the increasing demand for credit was "in line with a gradual improvement in economic conditions here."
Mortgage inquiries last month were also strong, up 23.35% compared to the previous October, with greater numbers of Gen Y moving or looking to get into the housing market.
Roberts said the jump in numbers was not indicative of a real estate rally but rather a bargain hunting movement among mortgage holders coming off fixed term loans.
But still deleveraging
Overall, New Zealanders are still in deleveraging mode, according to Veda's interpretation of the data.
Demand for hire purchases and personal loans continues to fall as does default rates on bills, both business and household.
Defaults for individuals, were down 25.15% in October compared with the same month last year.  
Roberts, in a prepared release, said it was the "continuing effect of statutory debt not now being able to be loaded as a debt on credit reports" as well as a reflection of lower levels of credit provided to consumers.
Commercial defaults were also down. They fell by 19.83 percent in October 2011 compared with the previous October.
Roberts said "the data tells us that New Zealanders are cautiously moving on from the Global Financial Crisis but they remain wary knowing that the global financial shakedown is continuing in Europe. We are continuing to witness a sharp change in consumer attitude towards credit compared with pre-GFC appetites."
Credit card inquiries by generation. (Graphic supplied by Veda)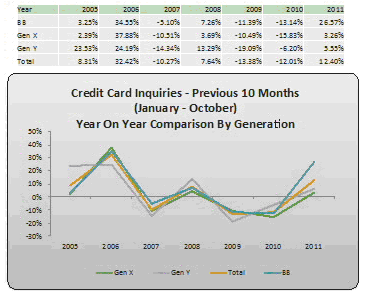 No chart with that title exists.