Don't be an accidental investor; here's five links to get you dialed in and up to speed with your KiwiSaver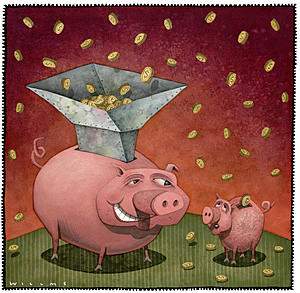 By Amanda Morrall (email)
According to ANZ Wealth, 191,000 KiwiSavers are at potential risk of costing themselves NZ$72,000 over a lifetime of investing by virtue of being stuck in the wrong kind of fund. That's because the majority of new entrants to the workforce get automatically enrolled in KiwiSaver through a default provider and placed in a default fund, unless they specify otherwise.
Default funds are the most conservative funds on the market. That hasn't been such a bad thing over the past few years as the global financial crisis saw equity markets sheared by as much as 40%. Default funds, invested heavily in cash and bonds, turned out to be a savings grace and on average out-performed all other peer groups. Going forward, many fund managers believe investors languishing in default funds won't be so lucky.
Whether or not you believe this, it pays to take a closer interest in your KiwiSaver; who you are with, what type of fund you are in, what that fund invests in, how it is performing and how your provider is reporting that performance and also how that information is communicated to you.
I thought it would be helpful today to post five links that you can bookmark as part of a New Year's resolution to get better informed about what could be your main retirement savings vehicle.
1) Who & What
If you were auto enrolled and put into the care of one of the six default providers and their default funds but don't know who, you can check with your employer or else the Inland Revenue Department to find out the particulars. IRD has a dedicated KiwiSaver website (click here) where you can get a breakdown of your contributions, your employer's contributions and how much the Government has put in. If you aren't already a registered user, the process is relatively simple.
2) How does your fund stack up?
I'm biased obviously but I think one of the best places to get educated about how your fund is doing, relative to its peers, and also how much it charges, is via our find your fund section. If you already know your provider and the fund, you can type it into our search box. If all you know is the name of the default provider, that's okay too. When you land on our find your fund section, the default providers pop up at the top of the queue with their allocated default fund. When you click onto your fund, you'll see a break down of its asset allocation, its performance and fees. And if you want to see how it has fared compared with other default funds, click on the link which says see other similar schemes or funds.
For example, this link shows how much the various conservative funds charge to manage the fund (we call it the expense ratio), how much it has returned over a period of one, two and three years. Please note if you're looking at 1 year returns that's been the most recent year, not the first year after the fund was conceived. Also please note that due to the passing of our colleague, our KiwiSaver data does not include the December 2011 quarter. We hope to update our database very soon.
And while you're at it, check out our performance rankings list. Just make sure you're comparing like with like, so you aren't measuring your default fund against a growth fund, as such a comparison would not be terribly fair or helpful.
3)  Ratings
For a more detailed evaluation of your fund's performance and your provider, research house Morningstar is your next port of call. In addition to their quarterly performance surveys, the firm now does detailed analysis on the six default funds plus Westpac and Fisher Funds Management. These are the provider that currently have the most KiwiSaver money under management although Kiwibank's acquisition of Gareth Morgan Investments will unseat Tower Investments from its six place position.
The potential Morningstar ratings are gold, silver, bronze, neutral, negative and under review. The providers and their funds are evaluated on the basis of five criteria: people, process, performance, parent and price. The scoring system takes into account how the provider and fund do across all five pillars.
Morningstar does not publicly disclose the full details of its analysis on each fund however it does release the highlights. Here's a link to a story I did earlier on their initial report with an interview with co-head of research Chris Douglas explaining the rating system. Their plan is to do this ratings review on a 12-15 months basis or update it is as required.
4) Changes in store
Following National's re-election, some key changes are in line for KiwiSaver. Already, member tax credits (a maximum of $1,043) have been halved (to $521) and effective this April, you'll be taxed on the contributions you received from your employer. The next big change comes in April 2013 when minimum employee and employer contributions go from 2% to 3%.
Here's a recap of the budget 2011 changes as they effect KiwiSaver. 
For other questions you might have check out our Q&A section which answers a range of questions from our extensive readership.
5) Professional advice
I counted more than 200 funds in KiwiSaver. That's from the more than 30 providers operating in this crowded environment. It's a daunting task for first time investors trying to choose. It can be no less confusing for those enrolled in default funds looking to switch out. Also, it's important to keep in mind that KiwiSaver ought to be factored into a broader financial plan that might include other considerations, for example whether that money will be used to buy your first home.
If you don't have the time and energy to do the research and investigate for yourself which provider and which fund is best for you, seeking some professional help is a good idea. That in itself can be a tough call.
Here's some tips from the Institute of Financial Advisors on how to choose an advisor.