In part two of his series on quantitative easing, Michael Coote looks at the 'magic of portfolio substitution; and the ECB's answer to printing money.ing money.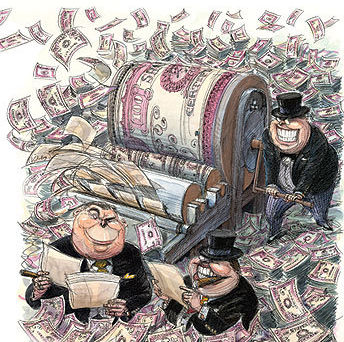 By Michael Coote*

Paradoxically, risky assets like corporate bonds and shares can really take off like a rocket under a QE regime. (If you missed part one explaining how quantitative easing works, click here).
The reason for this ability for corporate securities to increase in value under QE rests on the special combination of effective lower bound (ELB), which ensures cash holdings are not remunerative, with QE's twofold impacts of sucking government bonds out of private investment portfolios and substituting freshly prestigitated cash in their place.
Having sold their government bonds to the central bank, private investors then find that their portfolios have an overweight to cash that is paying them next-to-nothing.
As government bonds have become scarcer thanks to central bank buying, their yields fall and their prices rise, making it uneconomic for portfolio investors to buy more from the dwindling stocks available.
Accordingly, these investors turn to corporate bonds and shares as securities to buy with their unremunerative surplus cash in a "search for yield", and their demand for these corporate securities pushes up prices in the marketplace.
A self-fulfilling prophecy arises, in which investor demand for corporate securities under the impetus of portfolio substitution creates profits that draw in other investors trying to earn more return on their portfolios.
The ECB tries to get too clever by half
Under the Maastricht Treaty, the European Central Bank (ECB) is not permitted to do QE, so has to dream up another way of getting much the same money-printing results as central banks like the US Federal Reserve, the Bank of England, and the Bank of Japan, for whom QE is an allowed activity.
The ECB's answer is long-term refinancing operations (LTROs).
Two massive LTRO tranches were issued by the ECB, one in December of last year and the other in February of this year, in which over a trillion freshly printed euros were injected into the balance sheets of ailing European commercial banks under the guise of asset swaps.
In return for the new euros charged at an interest rate payment of 1% per annum, the commercial banks swapped their debt assets with the ECB on the understanding that the transaction would be reversed again within three years at most.
In other words, the swaps are supposed to be unwound, with the ECB getting back its printed euros plus 1% per annum interest, and the banks taking by return their debt assets the ECB had received as security.
At first the ruse succeeded, and there was a big share market rally that ran from December through to March based on cheap euro-denominated credit and portfolio substitution effects, but across April it has dawned that the LTROs don't really fix anything permanently in the crisis-riddled eurozone, and in fact could make matters far worse as European commercial banks use the printed euros to buy the higher-yielding sovereign bonds of their home countries, including the PIIGS (Portugal, Ireland, Italy, Spain, and Greece).
What appears to be happening, in other words, is that the LTROS are funding convergence of sovereign debt crises and commercial bank insolvency onto the banks' balance sheets.
About the only positive result could be that if countries like Greece exited the euro, then at least their commercial banking systems would be holding most of their governments' debts, which would ease the breakup of the currency union during the course of the huge devaluations that would have to follow.
The being game played out by central banks with QE and LTROs is stumbling towards crisis point, and we could well see before the year is out the portfolio substitution effect goes into reverse as investors prefer to hold cash paying zero nominal interest rates and negative real interest rates to chancing their arm on riskier corporate shares and bonds.
*Michael Coote is a freelance financial journalist whose publication list includes interest.co.nz, the National Business Review, New Zealand Investor, The Press, and the New Zealand Centre for Political Research.