A very veggie x-mas; Pushing sales; 7 habits of highly successful investors; Questioning risk aversion among women; The good, bad and overlooked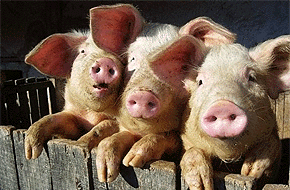 By Amanda Morrall
1) Pass the tofu
Ham could be off the menu this Christmas for all but the most prepared, New Zealand pork producers are warning. Cheap imports into NZ and rising feed prices have driven a 10% decline in the size of domestic breeding herds, the New Zealand Herald reports. Ham lovers are being told to order early to avoid disappointment. Pass the tofu I say. I can't believe the cost of meat in the supermarket. 
2) Soft sales
On a rare trip to the shopping mall recently, I was accosted by a very smooth talking sales agent who captured my hand (literally). Before I knew it, said gentleman was buffing my fingernails, staring into my eyes and casting charm spells like nobody's business. Of course seconds later, he waltzed me over to the cash register and practically withdrew my wallet out of my purse to lock down a sale. He instantly lost it. Consumers can be manipulated but most of us don't like to be bullied into a buy.
Here's 7 paradoxical sales principles from Jill Konrath to help grow your small business. HT to Tony Vidler.
3) 7 habit of successful private investors
U.K. investment blogger Monevator reviews one of his favourite books, Free Capital by Guy Thomas. The book profiles 12 everyday investors, their backgrounds, and techniques for investing. From this Monevator teases out 7 habits of successful private investors. Apparently, having kids and a spouse who doesn't work is a bit of a hindrance to achieving financial freedom at an early age. 
4) Women and risk
New York journalist Helaine Olen, in this piece for The Atlantic challenges the idea that women are inherently more conservative investors because of biology. The argument is that their reported risk aversion has more to do with a disparity in wealth between the genders. Relative to men, women have less to invest and are less confident about future earnings as a way to compensate for potential investment losses. Now this is something I can square with my own observations of women and money because the one's I know earning the big bucks don't bat an eyelash at equities.  
5) Good, bad and overlooked
Regional editors from investment research house Morningstar offer their views on what's ahead for Europe and where investors might find value. The take home message? Judge the individual company on its own merits and valuations, not the region from which it hails. 
To read other Take Fives by Amanda Morrall click here. You can also follow Amanda on Twitter @amandamorrall