In part one of a two part series on gold, Amanda Morrall talks to Socrates Fund Management's Charles Drace about why the best is yet to come when the worst happens
By Amanda Morrall
Three years ago when I interviewed Charles Drace in 2009, the gold specialist fund manager was calling for gold to hit US$5000 - US$7000 a ounce by 2015. At that time gold was selling for around US$930 a ounce. It's gone through some peaks and troughs along the way to reaching its current price of around US$1700.
I caught up with Mr. Drace recently to see whether he's revised his forecasts and to talk about some of the latest events and their impact on gold.
Here's a condensed transcript of our interview above. In the second part which I will post next week, we discuss some practical considerations for investors and the market for gold in New Zealand. For more news and analysis see interest.co.nz gold's section here.
Q) Do you still think we'll hit the highs of $5,000?
A) I'm absolutely certain of it. In fact I think it'll be closer to $7500 but I'd put the expectation for that price out a bit further. One of the dynamics of gold bulllion as a safety investment is extreme problems in the economy. If you look at the long term cycles, we're due to have a depression. We have everything we need to have one. We have the massive debt, imploding financial and economic worlds, we have governments who are totally without any clue about what to do about it (if they could, which I don't they can) I think the debt has gone too far for that. They're printing money and holding off the day of reckoning. You can see this so clearly in Spain in particular. And we see it in Greece and America. Figures out last week from America say as a percentage of GDP America has more debt than Greece. Governments will push out the depression as long as they can but the further you push it out, the bigger the problem will become, the bigger the problem, the higher gold prices.
Q) How long do these cycles last?
The average is 16 years but it's almost never the average. So when the markets and the economy broke down in 1929, it was 1949 before it picked up and we had massive debt in 1929, less so than now but still massive. When the markets broke down in '66/'68 the finish of that cycle was '81/82. It wasn't that long but they didn't have the debt we see now. So I'm thinking instead of the denouement in 2016-2017 it's more like 2020/2022, which is more in line with what we have in the '30 and '40s. Let's just hope we don't have a war like we had back then.
Q) How do these cycles track?
A) It broke down in 2006 and went flat for two years, then broke down again in early 2008 and didn't get back until half way through 2009 then we had a steady climb, which we didn't enjoy any benefit from because our currency climbed at the same time. So there was no benefit for Kiwis. At the end of July/August 2011 it had a substantial drop and it's been going sideways since then. It had a bit of recovery early this year but it couldn't hold it. It's a common thing, these ups and downs. We saw this in the '70s with gold. What was really interesting is that when it finally decided it was going to go up, it went up massively. And that's what I would expect to happen with this cycle given the high levels of debt right now. Then people will buy.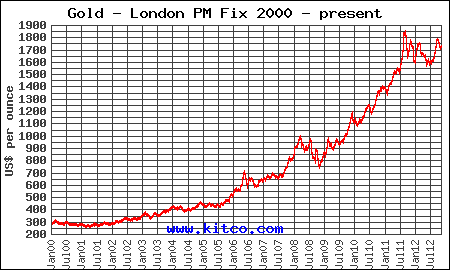 Q) Is now a good time to buy?
A) Yes, I think so. I recently put more money into my own fund because I thought the opportunity was so good.
Q) What about suggestions bullion banks are driving prices down by shorting the market?
A) It happens on a regular basis. You can see this happening at least once a week, they go in and short it massively. You'll have a progressive climb and then this bounce. It'll happen in an hour. It usually happens at the close of the London market. Sometimes they'll do it in the Hong Kong markets too. You can see it going sideways and then there's a a big drop but more often when it comes up they short it like mad which triggers a bunch of trading programmes where we see a sell out, pushing prices down. Then they come back in and buy out their shorts and make money on the way back.
Q) Should investors be concerned about these trading strategies?
A) No, but it does drive you crazy.
Q) How are central banks impacting on gold markets?
A) Central banks are always way behind the times. We had gold climb up in the '70s until 1980s then it kept falling until 2001, until it hit its lowest point US$251 an ounce that's when England sold massive amounts of gold from its central bank. It couldn't have been worse timing. And then right after that gold took off. It wasn't until 2010, two years ago that there recognised gold is in a long term cycle and starting buying again.  Last year, Central banks bought 455,000 metric tonnes of gold, that's the largest central bank purchases since 1964. And this year they're predicted to do 493 tonnes, more than a 10% increase. It's right around the world. You've got China, Brazil, Turkey, South Korea, the Philippines all getting in big time along with Kazakhstan, Russia, Mexico. This will be the beginning of the programme. They'll be buying and buying for years to come.
Q) Consumers make up a lot of demand too. Is there enough to fill demand?
A) While central banks bought less than what's been produced a shortage is going to hit and when it does we'll have a classic supply and demand situation and will see that driving prices even higher. The bullion banks are shorting the market because they don't have enough gold to supply their contracts and all through the '80 and '90s when gold was going down people didn't get delivery on their contracts because they didn't need the gold. (Sources in Switzerland) say the four major bullion banks have only 6% of the gold they say they have. They would have made those contracts when gold was $600 - 700 an ounce now they have to buy it at $1,600 $1700 an ounce, if they can drive the price down even for a few hours, it gives them a opportunity to cut their losses but some day they won't be able to do that. Demand will go up so fast and so far they won't be able to drive the price down. Then you won't have that limit anymore; central banks are like a cap on the market.
Q) How about the fiscal cliff? What effect will that have if it comes to pass?
A) It's a hard one. I don't really know. You get one lot of commentators saying  Democrats and Republicans can't afford to let it happen. I agree with that but that's my opinion. At the moment they're really juggling for position and they're pushing each other as hard as they can. If, for some reason, they refused a compromise didn't happen it would knock several percent off GDP in American which would trigger a world-wide slowdown. What's more likely is they'll come to a compromise and they'll agree on a few issues and put the rest off for a few years. It really depends on how the market sees that. The first thing will be a sigh of relief and you always get this. When central bank in Europe makes a comment about how they're going to save Spain or something everybody breaths a sign of relief and the market goes up and then three of four days later the analysts come out and say actually we haven't solved this problem, and that will have negative effect on the market but it won't have that negative effect on the economy. If they don't come to some kind of terms the risks are just so high and they'll be blamed for it.
Q) )Will this bode well for gold investors?
A) Yes just not right away.
------------------------------------------------------------------------------------------
You can find detailed, up-to-date pricing for gold coins, bars/bullion, and gold scrap, all in both NZ$ and US$, here »
------------------------------------------------------------------------------------------