Before you settle a quake claim, make sure your insurer has included enough for the costs of 'demand surge' says Andrew Hooker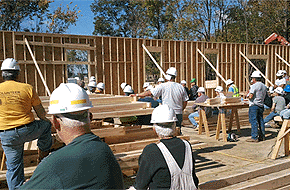 By Andrew Hooker*

Just when we thought we had learnt all the terminology relating to earthquake insurance claims, along comes another one.
It is a concept well known and accepted through the Courts and insurance industries around the world, but which appears to still be a mystery to the New Zealand insurance industry.
The phenomenon is known variously as demand surge, loss amplification or catastrophe inflation.
It is a term that grew out of the 1906 San Francisco earthquake and fire and has been referred to frequently since Hurricane Andrew in 1992. 
In very simple terms, Demand Surge is a result of supply and demand.
As with any product or service, if the demand exceeds the supply, the price will go up.
Following a major catastrophe such as an earthquake or a hurricane, the demand for builders and building materials go through the roof, and significantly exceeds the supply.
That pushes the price up, and therefore the cost to individuals of rebuilding their properties goes through the roof.
This concept is not fantasy. It has been accepted and described by highly respected academics and professionals around the world.
In a leading article by an insurance expert in Australia the author described Demand Surge as follows:
"Demand Surge refers to incremental losses that result from an increase in replacement costs attributable to shortages in building materials and service providers.  For example, when a major hurricane strikes and many of the city's building roofs need replacement or repair, roofers increase their prices and suppliers run low on materials.  The increased demand drives up replacement cost, and therefore increases the losses…"1
This is hardly rocket science, although the analysis of the amount of Demand Surge that might occur from a particular event is slightly more scientific.
But the fact remains, that when calculating the amount to reinstate buildings following such a catastrophe as the Christchurch earthquake, it is important that the concept of Demand Surge be taken account of.  Estimates based on pre-earthquake or even current building costs will be of no assistance to a person who may have to wait for 12 or 24 months before actually rebuilding. 
In a previous article, readers were warned against accepting low-ball cash offers from insurance companies.
And there can be little doubt that the large international insurers and re-insurers who are responsible for settling such claims in New Zealand are well aware of the concept of Demand Surge.
It is therefore of real concern to see insurers repeatedly producing for their customers estimates by quantity surveyors or valuers that are based upon existing or even historical pricing models. Someone who accepts such a cash settlement without including significant allowances for Demand Surge risks being well and truly out of pocket when he or she eventually manages to find a builder to re-build. 
A sceptic might ask whether the well-known insurance philosophy of Demand Surge may be behind the many attempts by insurance companies to cash settle rather than actually re-build.
It may also be suggested that an insurance company with knowledge of Demand Surge that offers to a customer a settlement that does not take of account of Demand Surge is honouring that insurer's obligation of good faith to its customer. 
So how much is Demand Surge?
In a publicly available presentation by a leading insurance brokerage to an actuarial conference in 2010, the experts cited Demand Surge of up to 30% from Cyclone Larry and up to 40% from Hurricane Katrina. This presentation was made to the New Zealand Society of Actuaries, the very people who advise insurance companies on reserving and future costing models.
There appears therefore to be little doubt that the people advising the New Zealand insurance companies on actuarial matters are fully aware of the concept of Demand Surge, and that the insurers calculating the settlement levels for claims and/or the estimates of their future exposure will be fully acquainted with these basic principles.
The customers of insurance companies who have now been waiting more than two years for their claims to be settled become more and more inclined to just take the cash and run.
But before doing so, customers should not hesitate to ask the right questions.
When looking at the proposal from the insurance company, ask to see the calculations for the reinstatement cost.
Ask your insurance company "does this calculation take account of "Demand Surge"" and if not, why not?
Those who accept cash settlement offers that do not properly take account of this well accepted phenomenon risk being significantly out of pocket once they actually get around to rebuilding. 
And the evidence available suggests that the insurance companies know full well that prices will increase significantly as a result of this phenomenon. 
After the earthquake, experienced catastrophe assessors from the United States came to New Zealand and have represented many claimants in their negotiations with the insurance companies. In some cases, the insurance company representatives have criticised these experts, even suggesting that they may be opportunist. But these are the type of people that New Zealand needs.
New Zealand has never seen (and hopefully will never again see) a catastrophe of this level.
If the people of Christchurch are to come through this catastrophe in a financially secure way, New Zealanders need to listen to those who have experience in this area. It is certainly not in the financial interests of the insurance industry to allow the concept of Demand Surge to gain traction.
It may well be that some insurance companies are already taking this into account when making offers. But it is only by accepting the input from people experienced in such situations that the New Zealand public will be able to recover from their insurance companies what they are truly entitled to receive.
-------------------------------------------------------------
1. David Chan, Regional Operations Manager, Guild Insurance
-------------------------------------------------------------
*Andrew Hooker practices as a specialist insurance lawyer in Albany on Auckland's North Shore. He is also director of Claims Information Specialists Ltd, an insurance information website.