Thatcherisms; Words versus action; Working towards financial freedom; Super savers; Irregular income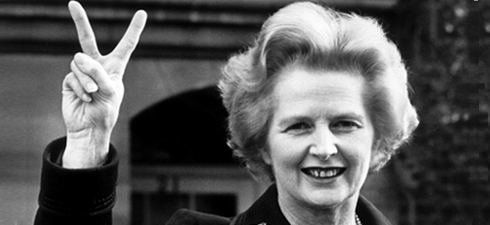 By Amanda Morrall
1) Thatcherisms
The Age Money section, in memory of the recently departed ex British PM, decided to put together a few of dear Maggie's insights and thoughts on money. 
I wasn't a big fan  but would tend to agree with her pearls of wisdom below, except the first one. Changing someone's tyre doesn't cost money and is an act of Good Samaritism nonetheless. I've had at least three people do this for me over the years. Gratitude was my repayment plan. And giving back to others where possible. 
"No one would remember the Good Samaritan if he only had good intentions. He had money as well."
"Pennies do not come from heaven. They have to be earned here on earth."
"I think we've been through a period where too many people have been given to understand that if they have a problem, it's the government's job to cope with it. 'I have a problem, I'll get a grant.' 'I'm homeless, the government must house me.' They're casting their problem on society. And, you know, there is no such thing as society. There are individual men and women, and there are families. And no government can do anything except through people, and people must look to themselves first. It's our duty to look after ourselves and then, also to look after our neighbour. People have got the entitlements too much in mind, without the obligations. There's no such thing as entitlement, unless someone has first met an obligation."
"It may be the cock that crows, but it is the hen that lays the eggs."
"My policies are based not on some economics theory, but on things I and millions like me were brought up with: an honest day's work for an honest day's pay; live within your means; put by a nest egg for a rainy day; pay your bills on time; support the police."
"It's passionately interesting for me that the things that I learned in a small town, in a very modest home, are just the things that I believe have won the election."
"Plan your work for today and every day, then work your plan."
"The problem with socialism is that eventually you run out of other people's money."
"The facts of life are Conservative."
2) Words versus action
If the road to hell is paved with good intentions, the personal finance path is the road less travelled, for much the same reasons.
Those who take this path in earnest distinguish themselves from those who get lost trying to find it typically because they are action based individuals.
Rather than simply talking up their plans to get their personal finances sorted, they take action; i.e. tackling their debt so they can get themselves into a saving position and then investing that money so it can grow their wealth. 
This blog from www.goodfinancialcents.com builds on this theme of words versus action and the importance of understanding the psychological barriers that hold us back from getting ourselves into a superior financial position.
3) Financial freedom
Financial freedom is the nirvana most of us dream of. Having saved enough money to last us till death and having the option of working for a living.
What I have discovered with many of the individuals I know who have found their freedom, is that work can become even more attractive when it's not required of you.
When you have the luxury of choosing whether or not to do something, it gives you the ability to be more actively connected and engaged with that work because you are choosing it.
Financial freedom is an enviable place to be indeed. How do you create the conditions to achieve it? The following, from financiallypoor.com boils it down to two things: 1) working smarter, and not harder and 2) growing your knowledge base - knowledge = money.
4) Super savers
Fairfax writer Richard Meadows profiles two Kiwi supersavers who are well on their way to achieving financial freedom and shares their top 10 tips for getting in a positive saving position. 
5) Irregular income
Adjusting to an irregular income when you continue to have fixed expenses can be tricky business. Here's three tips to smooth out the rough edges via www.thefamilyceoblog.com. 
Like what you've read? Follow me on Twitter @amandamorrall or check out my new blogwww.amandamorrall.com or better yet buy my new book Money Matters and start the personal finance revolution from within.