Fair Play on Fees group says it'll file court proceedings against ANZ next week over 'excessive' fees totaling NZ$250 mln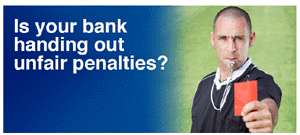 The group pledging to sue banks on behalf of customers over exception fees has named ANZ as the first bank it'll sue, saying it has charged $250 million worth of "excessive" fees over the past six years.
However, Kerri Thompson, ANZ's managing director for retail banking, told interest.co.nz the Fair Play on Fees group's assumption that the type of fees in question only cost banks a few cents each was wrong. ANZ had mathematical calculations backing up the basis of its fees, she added.
And banking industry lobby group the New Zealand Bankers' Association (NZBA) said it expected the case to be "vigorously defended" as Fair Play on Fees pledges to also target the country's other major banks.
New Zealand lawyer Andrew Hooker, spokesman for Fair Play on Fees, maintains of the 24,000 bank customers to have signed up to its action so far, some 11,000 are ANZ customers.
Hooker said additional ANZ customers have until 11pm on Monday, June 24 to sign up and court documents will be lodged on Tuesday, June 25 at the High Court in Auckland. See the full Fair Play on Fees presentation here.
Introducing the lead plaintiff
Hooker said there were ANZ and National Bank fees in question totaling $250 million. The lead plaintiff to represent the bank's customers in the case is Auckland resident Sandra Cooper, whose cleaning business is an ANZ, and previously was a National Bank, customer. Over the past six years Cooper had been 'hit" with about $1,500 worth of default fees.
The case will claim repayment of default fees charged by both ANZ and its former subsidiary National Bank. Cooper said she had signed up for the case because she thought the fees were "totally" unfair.
"There are lots of people living on the bread line in New Zealand that have been ripped off by the banks," Cooper said.
 
She said she hadn't known how big the fees were until the Fair Play on Fees group publicised them. She acknowledged having had overdraft applications rejected by the bank.
"I generally only got hit with the fees when I didn't realise that my account would be overdrawn," Cooper said.
"This means that I was usually overdrawn by only about $50 for a couple of days at a time. So while the interest on the overdrafts was just a few cents, the $15 fee they charged to administer it really stung."
'Their silence says it all'
Hooker said the case was all about the difference between the fees charged by the bank, and the cost to them of managing the default.
"If these fees were fair, the banks would have justified the need to charge their fees by now. Their silence says it all."
Hooker said that over the coming months, proceedings were expected to be filed against the other major banks being ASB, BNZ, Kiwibank and Westpac.
"Customers of all the major banks should sign up because we're looking at cases against them all."
The Fair Play on Fees group also includes Australian law firm Slater & Gordon, and Australian litigation funder Litigation Lending Services. At a press conference launching their action in March the group said they wanted to claim back "excessive" bank default fees from the past six years, which is the limitation timeframe for such action. At the time Hooker said it was New Zealand's largest ever planned class action and banks had been "unlawfully overcharging" Kiwis for many years.
The fees in question
Fees at the centre of the case are what are known as honour or unarranged overdraft fees, dishonour or payment failed fees, credit card late payment fees, and credit card over limit fees. Hooker maintains banks have charged around NZ$1 billion too much for such fees over the past six years.
As for the estimate of the $250 million charged by ANZ, Hooker said this was an extrapolation based on what Fair Play on Fees thinks the market share of ANZ would be based on what the charges are for similar transactions in Australia. Unlike Australian banks, New Zealand banks aren't required to disclose their exception fees. He said successful action wouldn't result in Fair Play on Fees securing the full $250 million because the bank could keep "a few cents" for each transaction.
"The more people that sign up the more money that will get recovered," said Hooker.
Claim the fees only cost banks a few cents 'ludicrous'
However, Thompson said Hooker's claim that the type of fees in question only cost banks a few cents each was wrong.
"We've reviewed our fees and are very confident and comfortable with them," Thompson said. "We think it's a sad day when US style litigation comes to New Zealand. Exception fees are avoidable and the vast majority of New Zealanders do avoid them."
"Yes it's a painful thing that we're going to have to defend it, but we feel very confident that we will defend it and we will be successful."
Thompson said ANZ "definitely" has mathematical calculations backing up the basis of its fees.
"And I don't know how you can come up with a few cents. That's just ludicrous," said Thompson.
"We obviously want to uphold our reputation and we do a lot of work to make sure of that," Thompson said. "As an industry banking has one of the highest customer satisfaction ratios of any industry at over 90%. In the main our customers are satisfied with what we're doing and in the main they don't get charged exception fees."
'We'll review banking needs for all customers'
Thompson said ANZ would "love to" do a full review of banking needs for all its customers. This cost nothing and helped them establish which were the best products for them.
Meanwhile, NZBA chief executive Kirk Hope said exception fees were "usually avoidable".
"Customers concerned about their fees should talk to their bank to make sure they have the accounts and products that suit their needs. If people are looking for an easier way to resolve the issue they should talk to their bank."
Hope said similar action taken in Australia had gone on for a very long time (three years) and remained unresolved.
"The New Zealand banking sector is very competitive and customers have a huge choice. Our banks communicate very clearly on fees, and the vast majority of customers don't incur these kinds of fees. Banks work hard to attract and keep their customers, and will work with them to reduce their fees. This came through in Consumer NZ's survey last year which found 92 per cent of bank customers were happy with their bank," Hope said.
Hooker said he hoped the New Zealand case would get to trial within two years.
Law of contract
Back in March the NZBA said three of the four fees being targeted have been overseen by the Commerce Commission for 10 years. A Commerce Commission spokeswoman told interest.co.nz the consumer watchdog did not know what legislation the legal action would be taken under.
Hooker said it's primarily the law of contract, which isn't a specific piece of legislation, per se.
"The law is clear that a party to a contract cannot penalise or charge a penalty fee for someone who defaults their contract," said Hooker. "If they have a fee that they're charging for the default of the contract, that fee must be an accurate reflection of their actual costs. And we invite the banks to explain to us what their actual costs are when they bounce an automatic payment."
He estimates the actual cost is just a few cents per transaction, not the up to $20 ANZ charges, which is down from up to $30 four years ago.
"The Commerce Commission hasn't been regulating the bank fees. It came to an arrangement with the banks through which the banks reduced their fees. And  I say $15 is still far too much for something that must cost the bank a few cents. So good on the Commerce Commission but they didn't go far enough," Hooker said.

Commerce Commission's 'line in the sand'
In 2010 the Commerce Commission said a late payment credit card fee of up to $15 was likely to be justifiable on a cost recovery basis. At that time the Commerce Commission said it was drawing a line in the sand.
"We have advised the parties (banks) that any late payment fees at or below $15 should not trigger future investigation or enforcement action. Credit card issuers charging in excess of $15 may be liable to further action by the Commission. We expect any credit card issuers charging in excess of $15 to review these fees."
Thompson said the other fees in question, which the Commerce Commission didn't review, are justified in the same way as the credit card fees it did review.
"So we're comfortable that as this case proceeds we'll be found to have been charging justified fees," said Thompson.
In the ongoing Australian case Hooker noted ANZ customers had been awarded the right to challenge the legality of exception fees. However, Thompson said the Australian case was in a separate jurisdiction under separate laws.
25% of any winnings would go to Fair Play on Fees
The parties behind Fair Play on Fees stand to pocket 25% of any of the money won through their action, plus getting Litigation Lending Services' costs of between $3 million and $4 million back.
Although the legal action is being touted as class action, technically it isn't, and this is why the parties running it need as many punters as possible to sign up.
That's because the New Zealand government is yet to pass a specific law enabling class actions meaning our law currently doesn't cater for them.
Rather, customers or investors can take what's known as representative action. This requires investors or customers to sign up individually with a law firm or litigation funder. If an investor or customer doesn't know the action is being taken and that there was a cut off date they had to sign up by, they would miss out.
In contrast under class action legislation the government has considered, a litigant would merely require seven people's support to bring proceedings. The court would then control the litigation and it becomes a class action in the sense that anyone who believes they have suffered loss and meets the criteria becomes eligible to potentially benefit from the litigation. See more in 'Why NZ needs class actions law' here.