Knowing the difference between speed bumps and speed limits; Breaking through resistance; Passion vs sales; Wealth manager hierarchy; Lessons learnt from well behaved investors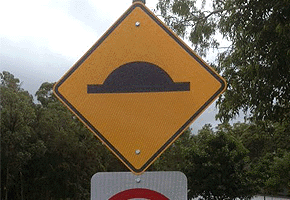 By Amanda Morrall
1) Speed limits and speed bumps
For those of you who missed my column on Wednesday, greetings from beautiful Ubud in Bali. In between gruelling yoga sessions, I am faithfully blogging as Take Five will be coming to an end in the next few weeks. Until then, I want to give you the last few drops of personal finance goodness.
Because it's a bit of a trek from my amazing accommodation in the rice paddies to the yoga studio, I decided to hire a motorbike.
This was a big step for me as last time I rode one in Greece I had a pretty good wipe out on a oil slick.
As my confidence has grown, I've become steadier on the bike and rather than fearing the experience I'm beginning to love it.
Speed limits, like road signs and traffic lights? Optional unless you get busted by the police because they decide they need some Bintang money. I'm not a speed demon by any stretch and given the number of bikes on the road and pot holes there is good reason to go slowly.
But as I spotted from afar today's announcement warning banks of "speed limits" for borrowers and the ensuing challenges for borrowers (as reported here by Stuff) it got me thinking about the difference between limits and bumps and the importance of knowing the difference.
Limits are usually for our own good and warrant compliance but bumps are simply that, bumps. They can throw you off and also be there for your protection but they won't permanently slow you down.
So for first time home buyers thinking it's "heartbreak" city I suggest you flip your thinking on this one. Whatever the restrictions, it doesn't mean you're never going to own a home. It simply means you'll have to slow down for a bit, save more for a deposit and maybe even consider your options.
Yes, it's important to remember you have options and when you stretch the limits of your narrow thinking on this housing situation here, you could be surprised at the alternatives. Don't fret, get creative and think outside the hot box of pressure that says if you don't own an overpriced home in Auckland (or wherever) you're going to perish.
2) Overcoming resistance
For more on breaking through impasse and resistance points, Mark Goulston from the Harvard Business Review talks to Xavier Amador, founder of the LEAP method (Listen Empathise Agree Partner) on how to get employees, customers, or others you work with on side. 
3) Passion vs sales
Here's one that will hit home for those entrepreneurs who are following their passion but disappointed at the financial results.
Some practical, importance and sage advice from Stacey Powell (who writes for Forbes) on sales and marketing as firepower for transforming your passion into something resembling a profit.
4) Wealth manager hierarchy
In case you were curious, here's a ranking of the world's biggest wealth managers as compiled by Scorpio Partnership and reported by Bloomberg.
UBS AG, the Swiss lender shrinking its investment banking business, overtook Bank of America Corp. to win top spot.
5) Lessons from the well behaved
You might think that some people who have done well by investing are just lucky. Whilst a long good run of bull markets might make a difference, persistence, patience and sound judgement are bigger determinants.
For more on the lessons learned from well behaved investors, I recommend you check out Carl Richard's Bucks blog on the New York Times.
For those of you who enjoy the links contained in my column can I make a suggestion in preparation for the cessation of Take Five? Start book marking the ones you like so you can come back to them and keep your personal finance groove on.
Namaste folks.