MBIE discussion document sets out proposals for prescribing the costs of borrowing and minimum repayment warnings on credit cards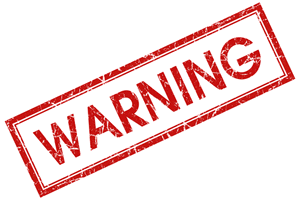 By Gareth Vaughan
The Government is seeking feedback on incoming consumer credit regulations that will prescribe both cost of borrowing details lenders must make publicly available, and what goes in a minimum repayment warning on credit card statements.
This is part of a Ministry of Business, Innovation and Employment (MBIE) discussion document issued yesterday on changes being introduced by the Credit Contracts and Consumer Finance Amendment Act.
The proposed regulations cover:
What information lenders should disclose in relation to costs of borrowing;
What a credit card minimum repayment warning should look like;
How model disclosure statements should be updated to include new key information which must be provided to consumers before entering an agreement. And;
How proportionate rebates should be calculated for extended warranties and repayment waivers when consumers repay early.
From next June creditors will have to publicly provide information about "all the costs of borrowing" in relation to every class of credit contract. This will include credit fees, default fees and interest charges.
Shifting the anchor
MBIE is proposing the regulations require creditors to express fees in dollar amounts where this is ascertainable, detail the formula or calculation fees are based on, or clearly describe how they are calculated. And if the fees vary based on factors such as whether the borrower is new or existing, set out what these factors are. Finally, for each fee the name or category of the fee must be noted if it's not clear.
Following the introduction of minimum repayment warnings on credit card statements in the US, Australia and Britain, the Amendment Act also allows for laws prescribing information that will be included in these in New Zealand. The US and Australian warnings include calculations of the savings made by paying more than the minimum repayment each month. In Britain, however, the minimum repayment warning is a warning statement only, with no calculations.
A calculation based minimum repayment warning quantifies how long it will take, and how much it would cost to pay off an outstanding balance at the minimum amount as compared to the total costs and savings of repaying the balance using a larger monthly repayment, MBIE says.
"Academic evidence suggests that warning statements that include calculated information about the costs of making certain repayment strategies are very effective at changing repayment behaviour. This is because the specified payment strategies, and the dollar figure costs and savings listed, make it easier for the consumer to assess the trade-offs between repaying just the minimum amount and a higher monthly repayment," MBIE says.
"In effect, the warning shifts the 'anchor' from the listed minimum repayment to the larger monthly repayment necessary to repay the balance in a shorter period of time."
Compliance costs?
MBIE says British style written warning statements without calculated information may be less effective at changing repayment behaviour as they don't clearly outline the impact of making a specific higher repayment as compared to the minimum repayment. However, the British type option would have lower compliance costs for credit card providers.
"A written warning statement can be included in the same way on each billing statement, while a calculation based warning requires the credit card provider to include personalised calculations on each statement," says MBIE.
MBIE says the aim of the Amendment Act is to ensure creditors lend to consumers and manage consumer credit contracts responsibly, and to provide improved protection to vulnerable consumers. A parallel but separate process underway has MBIE developing a Responsible Lending Code, the draft of which should be available this month.
MBIE is seeking submissions on the discussion paper by 5pm on Monday December 1.
Commerce and Consumer Affairs Minister Paul Goldsmith says the incoming regulations will mean consumers can get the information they need to make good decisions when borrowing money.
"I welcome feedback on these proposals from borrowers and lenders to ensure that the regulations provide the intended consumer benefits while minimising compliance costs," says Goldsmith.
The latest Reserve Bank sector credit data figures show consumer debt rose 6.7% in the year to September to $14.567 billion.
See interest.co.nz's warning on credit card minimum repayments here.
Here's a US style credit card payment warning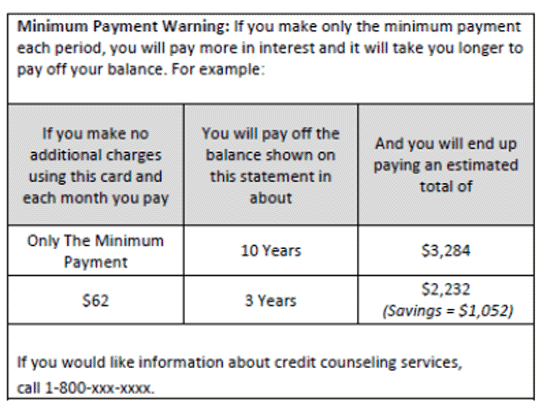 And here's an Australian style credit card payment warning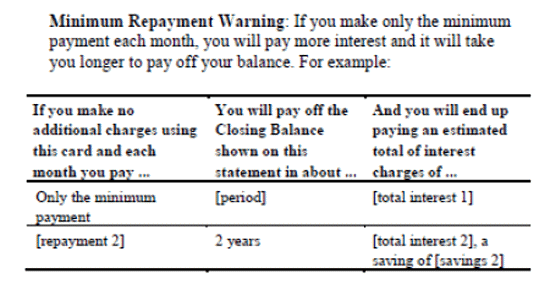 See the full MBIE discussion paper here.
This story was first published in our email for paying subscribers early on Wednesday morning. See here for more details and how to subscribe.