Elizabeth Kerr says the social pressure to keep 'buying up' stops people from utilising their money and time to their best advantage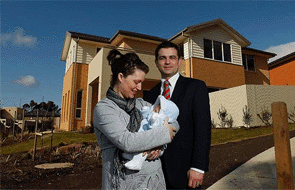 By Elizabeth Kerr
This week I'm talking to you about one of the many stupid things that the middle squeeze do to stay poor – Buying up.
The decisions you make around your home are one of the biggest determinations for achieving any kind of financial independence for yourself.
If home ownership is your game, then the sooner you can pay off your mortgage, the sooner you will have some power for your personal money machine.
You loose this power every time you buy upwards. Buying up means willingly buying a house that is more expensive than the one you currently own.
As an example there was an interesting segment on "Sunday" a few weeks ago about a couple who brought a home in Avondale for $345,000 and sold it 5 years later for $650,000.
That was a great outcome for them - a $305,000 tax free gain.
However they went and spent that money on a bigger home boasting that the gains they made on the sale in Avondale kept their mortgage repayments the same as they were used to. Doh!!
Right then they had an opportunity to make a very big life changing financial decision and they wasted it because they felt they were "running out of space" and wanted a "bigger house".
If I could have stopped the show and re-wrote the rest of the story I would taken the proceeds from the sale of their home and brought a cheaper home than the one they sold, allowing the remainder from the sale to be deposited into their money machine.
Instead they recommitted themselves to another round of mortgage payments further delaying their financial independence and significantly reducing the amount of money their machine will ever be able to produce for them.
Using your home as a money making tool is a really simple idea but the social pressure to keep 'buying up' keeps people from really utilising their number one asset to their advantage.
Buying up is a really common middle squeeze thing to do.
Following significant doses of reality tv and peer pressure they just must have guest rooms, more bathrooms, a two car garage, a place for the kids to play out of earshot, a butlers pantry and a private school zone.
The problem is all this requires going further into debt to afford it.
Without sitting down and working the numbers what they don't realise is that decision is the maker of them financially over the coming decades. Just because they are given the mortgage to afford it over 25 years doesn't mean they should do it. Chances are they will be paying for that larger house when it's just the two of them bumping around long after the kids have left the roost.  
It would be much smarter to get rid of the mortgage and use the extra money to fill up their money machine or sell down and moved to a better house in a cheaper suburb, whilst putting any surplus money from the sale into their money machine.
(Some people are forced to buy up because of a change of circumstance such as work relocation or leaky buildings.  Those sorts of situations require different strategies to get a good money outcome; I'm talking today to those who buy up just because they want to).
"But it's for the kids…"
Kids are often touted as the crutch for moving to a bigger house. "Sophie needs her own room", "The boys are too old to share now", "we want them to go to such and such school so we need to get in zone".
If this sounds like you then stop and really think about it using numbers instead of emotions.
Kids are only with us for such a short time in the scheme of our entire life.
The amount of time that your family home will feel too small is actually only a few precious years between one leaving home and the other finishing school. And there are some real benefits to being in each others presence.   The close proximity of each other means you will know if they are doing drugs, their homework or organising to get up to trouble.
They will also by default come to appreciate their own space and possessions and they might even come to politely respect yours as well.
After all we all managed to grow up in homes far smaller than the average being built now and we're not emotionally scared as a result. I've never met anyone who has attributed their failures in life to having shared a room as a teenager.
As for the school zone issue - The "zone" that your kids need to be in is a home environment that is relaxed and confident and that is something that being money smart does. Kids need parents who can be present and not working themselves to a financial stress induced depression or divorce to pay for things that they don't really need.
That "zone' will be the best predictor for your child's success regardless of what school they attend.
Still lost?
If you've made it this far and you're still not sure what I'm talking about let me break it down for you. This is important stuff here!
Chances are you brought a home and took out a mortgage to pay for it. Over time, all things going well, your house will increase in value and you will be paying down the mortgage. If your house is located in a desirable area with good proximity to the things people like live around -  schools, shops, café's, parks etc. ... then chances are the demand for people wanting to buy in that area will go up, and they may be prepared to pay more for your house than what you originally paid for it.
This difference is referred to as a capital gain - thet is, the amount that you can sell your house for over and above what you paid for it.
Where people go wrong is when they trade their capital gain in for a new home that costs more to own than the current one does.  That is, they "buy up".  
The kiwi dream?
It seems that in New Zealand owning a large home is a symbol of your success. The very rich have large homes and envy is what makes the world go around, so being able to cash in the current house and remortgage for a McMansion is just one step closer to being successful right?
The houses being built these days are some of the biggest houses we have ever seen and begs the question – is all that space even necessary? They dwarf their 10 cent piece sized block, competing against their neighbour's cookie cutter replicas and are so big with their multiple open plan living areas, home office, double garages and a selection of bathrooms that the only time for bothering each other is when passing through the front door.
In my opinion a large home is a canvass for having to acquire more stuff just to fill each room to the brochure style you've come to expect.  
You can't argue with maths and numbers.
Numbers don't lie, they don't manipulate, they are completely unemotional, and they just are what they are. However it never ceases to amaze me how distorted people can become about their own numbers.
How much they really earn, how long they think it will take to pay off their home, how much money they need for retirement or how far they think they can stretch the pension. These things are definite, but ask someone to tell you about their home in numbers and chances are they have no idea. If they did they would probably be smarter about their house purchasing choices.
When you break it down into numbers it just seems so ridiculous to me that someone would want to go to work to pay for extra room which just holds stuff and things – a couch, a bed for guests, an ab-rocker, boxes of old toys and a cupboard full of empty suitcases used barely once a year; or an extra bathroom for which you will sit and stink just the same.
Extra space in my opinion is not worth getting up 5 days a week for an extra 20 years to pay for, regardless of how smelly your teenagers can get. Your car is not going to hug you for parking it in a bigger garage, it doesn't care.
Harness the benefits now
Downsizing your home (or just staying put) is often associated with those oldies who are preparing for their final hurrah, as opposed to young families or people in the prime of their working lives.
But given our soaring property prices at the moment I think it's a perfect time to start harnessing some of these savings in real terms.
Selling your home and moving to a cheaper one brings the following benefits:
1. A debt free home allowing for what used to be trapped as mortgage payment money to be saved and gain compounding interest in your money machine.
2. Regardless of where we sit on the capital gains tax issue – there currently isn't any so this is a great time to secure a tax free chunk of cash to invest.
3. Smaller homes in cheaper suburbs usually cost less in council rates.
4. You will have less house maintenance to do with a smaller house.   It doesn't take as long to wash the windows and clean out the gutters.
5. And in some areas the demand for your home is so high you might get more money for selling it than you ever predicted.
Now I'm not advocating you run out and buy a new house unless moving was on your list of things to do already. I'm just trying to advocate to NOT become trapped by the social pressure to buy up. Bricks and mortar will not make you significantly happier over the long term but being money confident will. The extra space is not worth the financial expense and the opportunity cost to your lifestyle.
Time is your greatest asset when it comes to wealth and if you're spending it upgrading your home you will have nothing to show for it accept a breezy caravan on blocks and shame on you if something goes wrong in the meantime and your luck runs out.
This isn't the end that you will hear of on things to do with housing from me.
The numbers that surround your home can be the maker of your financial independence.
Try to keep your emotions out of it. Keep it simple!