Elizabeth Kerr thinks a good life is getting tangled up with a goods life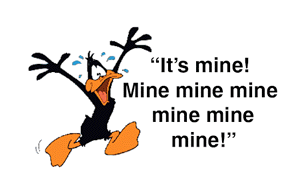 By Elizabeth Kerr
In my opinion there are two types of money writers.
First there are those who write for others in the money business. They try to squeeze as much jargon into their prose as possible to prove their worthiness to hold the pen.
The second types are the touchy-feely money writers - they want you to meditate and hum your way to financial independence; they encourage you to keep money journals and only buy local and organic because sharing is caring.
I intend to cut right down the middle of the two where normal people can understand what I'm saying and confidently move on with their day.
Todays' column seeks to explain entitlement, where you might see it, what to do if you married it and what the antidote is.
We are a society based on entitlement, the belief that we are deserving of individual privileges and special treatment in our lives, and it is this emotion that is getting in the way of our own financial wellbeing.
Have you ever had that conversation with a petulant child about why they must have something?
No amount of reasoning about the inappropriateness of it or the price will make a difference.
In their young minds they must have it – they feel entitled to it.
We don't actually grow out of this behaviour we just change our perspective of what we are entitled to and for many this is a dangerous place to be, especially if they don't have an income which matches their entitlement.   But mostly entitlement gets so tangled up in our lifestyle design that we forget what is important over the long term.
I see it in the office junior who feels that they are entitled to the same privileges and working conditions as the boss. To you I say "rein it in, you are not to be spending your hard earned cash on daily lattes, fancy suits and expensive cars. You need to stop feeling so entitled to the boss's lifestyle because if you do, and I hear you whinging and whining that you can't afford a house or to pay off your student loan when you are in your 30s I'll personally spit on that tacky Gucci bag you brought last week".
I often see it in the mid-tier manager. To you I say "this is always an awkward position to be in because your job is precariously balanced on how well your company is doing. You're not quite a c-level manager and you're no longer on the tools so to speak, so unless you work hard to make yourself extremely useful (i.e. more than just shuffling emails around) then you're the first on the chopping block come the annual cost cutting redundancy measures. This is not a time in your life where you want entitlement to seep in. Do not start buying big fancy houses in the suburbs and upgrading your car for the long commute".
The amount of middle management that own holiday houses never ceases to amaze me. But alas, entitlement creeps in – the lifestyle becomes expensive, money gets pissed down the drain on car parks, lattes, expensive gym memberships, fancy suits and playing in real estate.
Now entitlement creeps in at the top echelons as well. Here your personal lifestyle can get confused with the one your company provides to you.
Client meetings become degustation meals complete with expensive bottles of wine which is fine if you are paying with company money; but the key is to remember when you're not.
Your lifestyle and the one you get to enjoy at work should be kept separate.
Instead, at this level when entitlement creeps in your holiday destinations become further away and business class. Your car becomes a young European, (maybe the spouse as well). Taking your own lunch to work each day is just embarrassing and no one shares stories of weekend DIY at this level…. Oh no… it's all about who you used to finish your extension, pool or holiday home on Waiheke.
It's a real shame really because at this level if you mastered your entitlement emotions it would only take a few good years of this income invested wisely to be able to take early retirement if you wanted to.
No one is immune from feeling entitled to the good life.
When we see something that someone else has and we envy it; it is only natural to search for reasons to justify having it as well.
However we aren't just trying to keep up with the Jonses anymore, we are trying to live like the phenomenally rich we see on tv in the magazines. Our friends then spend their efforts trying to keep up with us.
It's a vicious cycle whereby the so called good life is getting all tangled up with the entitlement to a goods life.
But I've worked hard so I deserve a bit of reward for my efforts!
I agree with you I really do.
BUT you must understand the numbers behind the decisions you are making behind your every day purchases.
If you are absolutely comfortable with needing to have consistent employment for the next 45 years in order to have any shot at meeting your needs in retirement, then by all means don't hold back on the so called rewards.
But if you know this is unreliable or is not your idea of the good life then really think about your lifestyle design.
In my mind until you have identified and planned the following you are entitled to nothing but your non-negotiable needs, Write this down:
You have identified your non-negotiable needs and how much they cost.
You have no consumer debt - personal loans, credit cards, car loans, payday loans, student loans.  Zilch – nada, nothing – this is not up for discussion, if you have consumer debt you are akin to a dodgy motel with a stained mattress.
You have identified your personal savings rate and understand how this affects your early retirement timeline, and therefore your money machine goals. (If its too far away then you know you've got some work to do on increasing your income or decreasing your expenses)
You must have enough money to manage all of your non-negotiable expenses for 3 months in the off chance that your luck runs out and you are left unemployed for any reason.
You are comfortable with all of the above.
So yes, you can spend all the money you want but don't you dare have so much fun and then whinge and whine that you are not getting further ahead, that behaviour really pisses me off!
"Oh oh …. I've married someone who feels entitled to the good life", you say
It is often not numbers that people argue about with their spouse its entitlement.
A clash of opinions about what is appropriate to be spending the money on, as opposed how much everything might cost.  
If this is you, and you're on board with creating your own money machine but your spouse couldn't be more akin to a money sucking vampire, don't freak out just yet.
It's not easy being a money team and everybody is affected by entitlement in different ways.
Sometimes we have to let go and give in to keep the other person happy, and sometimes we don't.
The most powerful tool you have at your disposal is the vision of what achieving your money machine goals will mean for your lifestyle together. After all it is the vision and promise that we hold on to when making everyday financial decisions. When it comes to designing the time-line for achieving these goals you may have to sacrifice speed for just commitment from your spouse.  
Do I have to deprive myself of everything I like?
Now there is every chance that you have been reading my columns and feeling a bit ripped off, like the only way to retire early is to deprive your self of all of the so called good things in life.
Let me be clear that this is all about LIFESTYLE DESIGN.
If you are aspiring to be the person at the end with the most and the best then you will fail because there will always be someone who has more and better than you.  Living according to the money machine ways is about keeping the things that matter to you personally and consciously refusing the things that don't.
I am not advocating the demise of the paper towel or a weekly menu consisting of 100 ways with mince.   I do not want you to feel ripped off all the time.   However feeling poor is less to do with how much money you make, or owning the latest and greatest, and more to do with how you think about your lifestyle.   Those who are successful say that any feelings of loss or deprivation are the furthest thing from their mind and instead they just stay focussed on all of the gains of early retirement and financial independence.
What is the antidote to entitlement?
Gratitude.
Being thankful for what you do have - your relationships, using your talents, being useful, moving your bodies physically and exploring your ideas.
Gratitude lasts longer than the hedonistic high of any purchase you make and costs absolutely nothing.  It's simple no nonsense stuff folks.
You can meditate on this if you are into that kind of thing.