Jenée Tibshraeny investigates what's motivating young people to trade stability for adventure overseas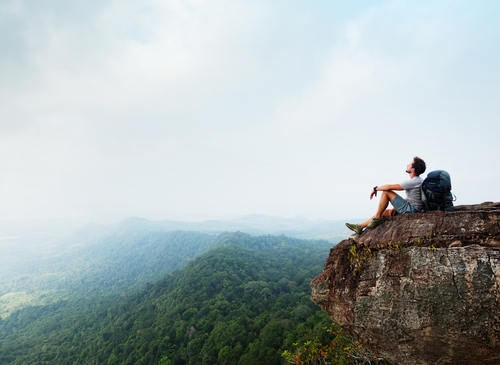 The great overseas experience is somewhat of a rite of passage for New Zealanders.
At some stage during your 20s you take off overseas with the small amount of savings you've mustered, you get inspired by the scale of all the exciting things out there in the big wide world, you relish the opportunities that come your way, and (hopefully) return to New Zealand with a broader mind.
While the fundamentals of going on an OE haven't changed over say the last 30 years, I believe the approaches us Generation Yers have to venturing overseas have. 
Entering adulthood during the Global Financial Crisis (GFC) has broken our trust in big corporations and institutions, and highlighted the volatility of the global economy.
Growing up in the internet age has shrunk the world and made us see ourselves as global, rather than national citizens.
We're willing to sacrifice career advancement for a better work-life balance, we aren't afraid to question authority and want to feel like we're doing meaningful work.
So why should society pay attention to how we Generation Yers view the world?
Well, those of us in our 20s make up 20% of the labour force, we're largely responsible for the $14.235 billion in student debt owing to the Government/taxpayers, and we cost the economy when we take off overseas a few years into our careers, just as our employers get us to a point where they can remove our training wheels.
Furthermore, the ideas, funds, and contacts we gather from our travels will shape New Zealand's future.
So what types of OEs are young people going on today?  
China, Canada and the US becoming more popular than Australia and the UK
Information gathered by Statistics New Zealand shows fewer 18 to 30-year-olds are travelling to Australia and the UK for at least a year, now days compared to the 80s, while more young people are going to China, Canada and the US.
Over 20,000 people in this age range, who were either New Zealand residents or had lived here for more than a year, took off for Australia in 1980, while only 11,326 crossed the ditch last year.
This number has bounced around since 1980, peaking at 21,588 in 2012 during Australia's mining boom, and slumping to 6,000 and 7,000 in the early 90s.
The number of young people headed for the UK has dropped from 6,422 in 1980 to 5,298 last year.
This figure peaked in the late 90s at around 12,000, before dropping off throughout the 2008 GFC, to where it is now.
Conversely, a staggering 1,201 young people moved to China last year – a 75-fold increase from 1980, when only 16 people ventured there. The numbers leaped up in 2003, as China started opening its borders.
The number of 18 to 30-year-olds who have gone to Canada and the US has trended upwards from 1980, with the most growth seen in those moving to Canada.
How the GFC has dictated people's movements
Twenty-nine-year-old business systems manager, Jaime Grimmett, is one of those who travelled through Canada and Latin America in 2011.
She says the GFC has shaped young people's approaches towards travelling. At the start of the crisis, she saw an increasing reluctance among her friends to give up the jobs they'd had for around two to three years, to go travelling.
"The traditional model of packing up and moving to the UK seemed out of reach, jobs seemed hard to find and costs were high", Grimmett says.
So those who were set on going overseas opted for cheaper destinations where you didn't need a job to get by.
"Rather than attempt to relocate life and career to a new location, people began to use the downturn in the economy as a time to opt out of the career ladder for a bit and have some fun", she says.
"Friends began to head to South America in droves, with opportunities for culture, partying, outdoors, volunteering and adventure – all available long-term with a little bit of budgeting.  
"Others have been flexible enough to take up to 18 months with no income and/or multiple six month trips to South America, South East Asia, China and Japan.
"We spent a winter in Whistler for low pay and average living conditions, but the snow was great. The main population of Whistler was Aussie, Kiwi and South African... It's where the traditional OE crowd is going. Easy visas, lots of work in season and a great lifestyle. 
"If people wanted to stay on the career track they went to Australia or stayed at home. A couple of years on, people have started going to the UK and Europe again." 
Borders no barrier to business
Hayden Mazengarb has just returned to New Zealand, having escaped the April 25th Nepal earthquake unscathed, and spent a couple of months exploring Bali and Sri Lanka. He's getting all his ducks lined up to travel to Europe for an extended period of time next month.
The 28-year-old and has put his legal career on hold to see the world while promoting his business – Instabooth.
Mazengarb has created an app which enables people to print photos taken using the popular mobile phone app, Instagram, through a modern photo booth.
He's set up Instabooth photo booths in a number of bars, cafes and venues in New Zealand, and is looking to market the product around the world.
He says borders are no barrier to running this kind of business.
"I have to pay to live somewhere, so I may as well pay to live in a different country. I'm still doing the same thing; whether I'm in Nepal or New Zealand, I'm doing pretty much everything using my laptop", Mazengarb says.
"It really does not matter where you are based; as long as you build your business in a way that lets you run it from elsewhere. It's definitely possible.
"I haven't been able to grow the business too much while I've been away, but I've been able to keep it ticking along nicely."
Mazengarb says there are endless opportunities to do business without selling goods out of a brick and mortar shop.
"A lot of young people struggle to accumulate enough net worth to actually go and buy a business like that."
Furthermore, with house prices so high, he says it's difficult to jump over the traditional first hurdle of buying a house to secure your business against.
Mazengarb doesn't have any concerns about his job prospects when he again returns to New Zealand.
"It doesn't matter where I am. I think I'll be fine… If you're willing to work, there'll always be work."
A career path guided by social conscious, not money
This motto seems to fit the journey Andy Nyce has been on since graduating from the University of Canterbury with an Engineering degree in 2010.
Eager to see the world, Andy spent the next three and a half years volunteering, travelling, and  doing casual and "semi-serious" jobs in various parts of Australia, the US, India, Nepal, and Cambodia. 
After spending a couple of months voluntarily designing, installing and distributing solar lighting solutions for poor rural communities in Phnom Penh mid last year, Nyce landed something of a dream job project managing the installation of large scale solar farms throughout the US.
He says the construction and solar energy industries in the US, which he's been learning more about on the job, are booming. He's certain the experience he's gaining and contacts he's building, make him a better employee.
"From the independence you gain from running your own budget on a daily basis, the leadership skills you have from having to make decisions every single day, and the perspectives you gain from seeing different cultures and how people in the developing world go about their day to day lives... it can't help but change you."
Furthermore, Nyce is confident his experience working on projects 10 to 20 times larger than that he'd have the opportunity to work on in New Zealand, will place him in good stead when returning home.  
But for now, he says making a positive contribution towards society is his top priority.
"Saving to buy a house and starting a family is pretty low on my list of priorities. I live a very basic lifestyle in terms of expenditure. I'm able to save about 60% of my weekly paycheck; but instead of saving for a home, I'm investing it."
Knuckling down to become a part of society, rather than being an onlooker 
Former Newstalk ZB political reporter, Laura McQuillan, 28, is doing things in the reverse order to Nyce.
She's put her established career on hold to support her partner as he pursues his dream of training in Brazilian jiu jitsu – a type of martial art similar to wrestling.
Since settling in Rio de Janeiro in April, McQuillan has started teaching English and learning Portuguese.
She says, "Without fluency in Portuguese, it's very hard to find work, but the English education sector is booming, and it can be a great option for expats starting out here. There is a lot of money to be made for people who are fluent in both languages – especially in the oil and gas industry."
McQuillan plans to get back into journalism once she gets her Portuguese up to scratch. 
"I feel really inspired by the amazing reporting I see here - from local media outlets, freelancers, and international agencies. There are so many interesting stories at the moment, around poverty and extraordinary wealth, abuses of power, and indigenous rights", she says. 
In the meantime, McQuillan says she's learning to keep her purse strings tightened.
"When we first arrived, we couldn't believe how cheap food was – about half of the price you'd pay in New Zealand. But we were thinking entirely in New Zealand dollars at that point.
"Once we factored in that $R1 = $NZ0.45, and Brazilian wages work out to roughly a quarter of what a Kiwi gets paid in a similar role, we realised that while our savings will buy us a lot, any earnings here don't really go very far.
She admits it was scary getting out of her comfort zone and throwing herself into a completely foreign environment, but notes she's not the only one doing it.
"Somewhat surprisingly, New Zealand is just one of three countries that has a working holiday visa deal with Brazil (the others are Germany and France), which makes it easier for under-30s to move here for a year. Just the other day, I met a Brazilian who'd travelled to New Zealand on a reciprocal visa."