Harmoney to launch new product aimed at taking risk out of the borrower/investor exchange as Squirrel Money enters the P2P lending market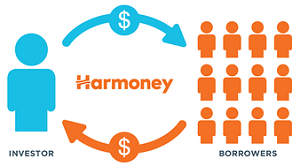 Peer-to-peer (P2P) lender, Harmoney, is set to reward investors for lending to borrowers who buy loan repayment protection.
It plans to launch its Payment Protect product in full at the beginning of next year, having already made it available to borrowers and some investors.
The move comes hot on the heels of Squirrel Money launching its P2P lending service last month, which includes mandatory loan repayment protection for all its borrowers.
Harmoney says borrowers can buy either full or partial Payment Protect, which will cover them if they can't make loan repayments due to involuntary redundancy, bankruptcy, disability, terminal illness, or death.
The fee they pay is calculated as a percentage of the loan amount.
If a borrower repays their loan in full before the end of their originally set term, without having any payments waived, they are rebated pro rata using a formula prescribed by the Credit Contracts and Consumer Finance Act.
Investors, who lend to borrowers with Payment Protect, are expected to have their yields enhanced by 1.82%.
They also earn the Payment Protect fee borrowers pay, and interest (less Harmoney fees and claims).
However, investors have to pay Harmoney a 20% sales commission for arranging Payment Protect as well as a 15% management fee for managing the product on behalf of investors.
Harmoney says Payment Protect is essentially a "waiver", rather than an "insurance" product, with the pricing and benefits to the borrower being similar to consumer credit insurance products offered in the personal loan market. 
It is worth noting Harmoney already aims to reduce risk for investors by using fractionalisation, which spreads their investments over hundreds, or even thousands of individual loans.
Squirrel on the other hand, matches individual investors with individual borrowers. However, when a Squirrel borrower repays their loan, a small portion of the interest paid goes into the Squirrel Money Reserve Fund or Loan Shield. Money in this fund will be used to repay investors if borrowers miss a repayment.