New Zealanders are at the lowest level of debt stress ever on a population-adjusted basis and close to it on an absolute basis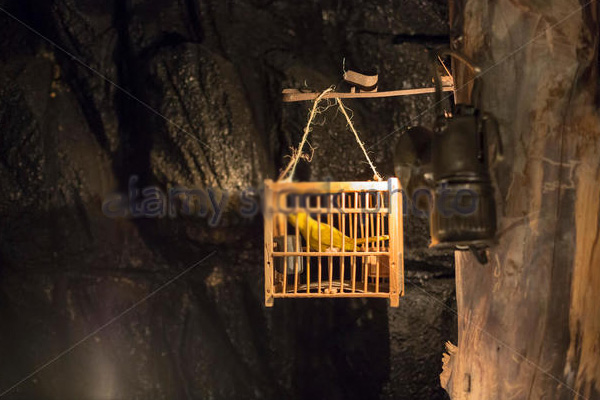 An early warning system exists for monitoring stress in the New Zealand personal debt markets.
It is the data supplied by the Insolvency & Trustee Service (ITS) of the Ministry of Business, Innovation & Employment.
They supply weekly lists of those who file for personal bankruptcy, or file for the bankruptcy-lite process of a "No Assets Procedure". They also record the number of companies being liquidated through their procedures, almost all micro or small business units.
We have been tracking their reports and data weekly since July 2003. That is fourteen years, and long enough to compare where we are today with where we were before the Global Financial Crisis.
In the year to last week, we are now almost at the lowest absolute level of bankruptcies since 2006.
There are seasonal patterns in the weekly data, and processing bulges-or-droughts from ITS occasionally.
But last week, in the whole country, only 49 people came to an unfortunate debt hurdle: 26 declared bankruptcy, 19 filed for 'no asset procedure' and another 4 SMEs were placed in liquidation. In the same week a year ago, the numbers were 42, 20, and 1, totaling 63.
But to iron out the unnatural weekly variability, the most instructive way to assess the trends is on an annual, 52 week basis. It is low, by any measure.
Whatever the issues we may have over income levels, affordability, or poor financial choices, fewer people than ever are unable to handle their financial obligations and need to be tipped into bankruptcy.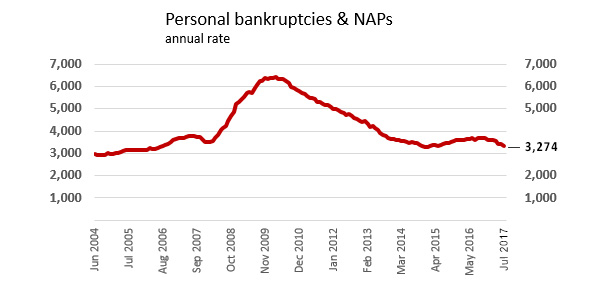 And if we do this on a 'per capita' basis, as the proportion of the population 20 years and older, we are now at a record low.
We have now dipped below 0.1% of the adult population who are forced into bankruptcy each year. It is now down to one person in every 1,053. As far as records go back on this consistent basis, it has never been above one in 1000 before.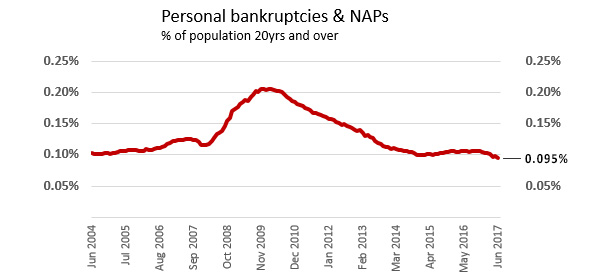 There are no signs of significant personal debt stress in New Zealand at present, and to be fair there hasn't been since 2014.
You can stay up with the weekly changes here.