The Little Black Book of Scams: How to recognise and deal with those smart, friendly, charming and persuasive calls from someone touting a great investment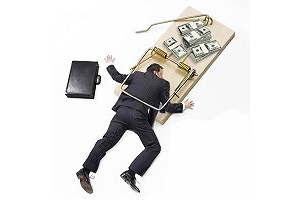 This is the second chapter in the Little Black Book of Scams.
---
Investment scams are becoming more sophisticated.
Fraudsters are smart, friendly, charming and persuasive. Websites look professional and you may even be given an online account showing details of 'trades' you've made.
It can be hard to tell a scam apart from a genuine investment, which is why it's even more important you know what to look out for.
Anyone can lose money through a scam. It's no longer only vulnerable members of the community, such as the elderly, who are being targeted.
In fact if you're an experienced investor, you're more likely to be a target.
In New Zealand it's illegal to sell financial products off the back of a cold call. If you receive an unexpected call about an investment opportunity, hang up straight away.
Don't engage the caller as they'll use their skill to persuade you to part with your money. Contact the Financial Markets Authority (FMA), either online here, or phone 0800 434 567.
Tips to protect yourself
✔ Find out the legal name of the business you're dealing with.
✔ Check that the business/individual is regulated by the FMA.
✔ If the business is not based in New Zealand, find out who regulates them.
✔ Check the regulators' warning lists.
✔ If you have lost money through a scam, you are highly likely to be targeted again – stay alert.
---
*The full booklet is here. This chapter is re-posted with permission. You can also watch a video interview with the Commission for Financial Capability's fraud education manager Bronwyn Groot here.