Harbourside apartment in Auckland's Central Business District sells for $20,000, but there was a catch or two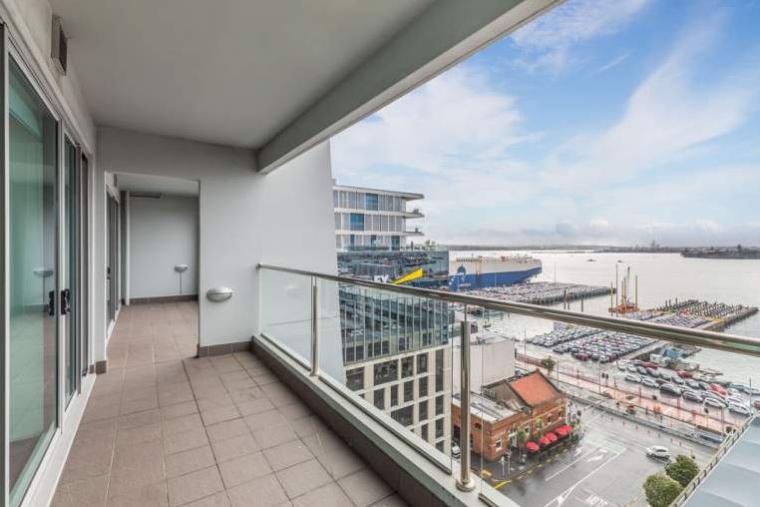 A waterfront apartment in downtown Auckland has sold at auction for $20,000 (yes, that's not a typo - twenty thousand dollars!)
The one bedroom plus study apartment comes with a car park included in the price, and also a spacious deck. It's north facing with uninterrupted views across the harbour to the North Shore (see photos above and below).
It's located on the harbour side of the Scene 1 Building at 2 Beach Road in the CBD, just along from the intersection with the bottom of Beach Road.
According to QV.co.nz it had been purchased for $311,200 in 2002.
When it came up for auction at City Sales' auction room today (July 3) the opening bid was just $10,000. When no further bids were received the auctioneer paused the proceedings. After a brief discussion among the parties, the original bid was increased to $20,000 and the auctioneer announced that the property was "on the market," meaning it would definitely be sold.
When no further bids were received it was sold under the hammer for $20,000 to the only bidder.
There were a couple of issues that would have influenced the price.
Firstly it was on a leasehold title, with annual ground rent of $6745 plus a special levy of $5228.
That would be on top of Operating Expenses (the equivalent of Body Corporate fees, but with a different management structure) of $4417 a year and rates of $1575 a year.
And the building also has remediation issues involving litigation.
The apartment was vacant but the agent who handled the sale, James Mairs, said it would probably rent for about $550 a week.
City Sales' auctioneer Kim Spark said the owner was Australian and had decided to quit the Auckland market.
City Sales promotional material stated: "This apartment is not for the fainthearted but risk takers could be handsomely rewarded."
It also stated that the "Aussie vendor has had enough!"
Details of all the properties offered at the auction and the results achieved are available on our Residential Auction Results page.
The comment stream on this story is now closed.