Housing listings dive at the end of 2019 and asking prices surge to a record national average of over $700,000. In Auckland the average is $940,000. Although it is a sellers market, sellers aren't listing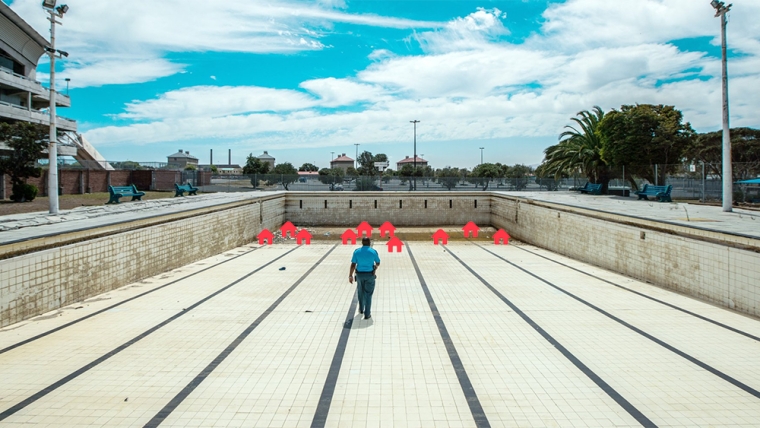 Realestate.co.nz is reporting that December ended with a record low number of homes available for sale on their service - just 18,230 and down by a quarter from December 2018.
The scale of the drought in offerings is sharp, and is a long way from the historic high of just under 60,000 homes listed in April 2008.
In Auckland, the drought is just as severe, with 6,600 listed for sale at the end of December 2019 and also down a quarter in a year. (The historic high was also in April 2008 when 18,260 were on the market.)
It may be a reinforcing situation. "People are often reluctant to sell without having somewhere to go – especially if the rental market in their area is cramped," said Vanessa Taylor, a spokesperson for realestate.co.nz. "This then has a flow on effect with homes coming off the market before new ones go up for sale."
Housing available for sale has been on a downward trajectory over the last decade potentially due to New Zealand's population growth, which between 2008 and 2018 grew from 4,280,300 to 4,882,500. The number of owner-occupied households has risen by +10% to 1,228,500. The number of households rental accommodation has risen by +15% to 675,000.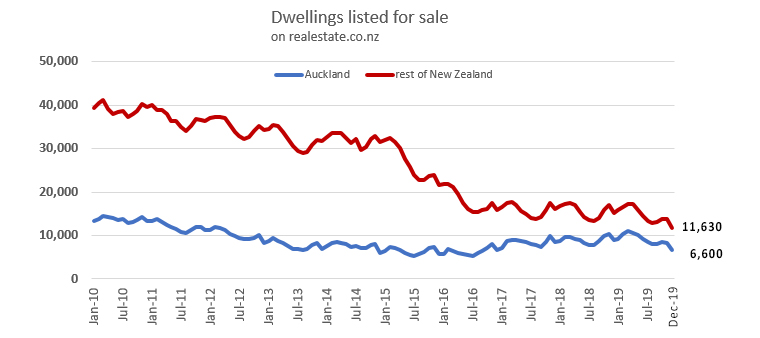 It is clear that the big long-term move is outside Auckland and comes at a time that all the new-build focus by public policy officials has been on the Queen City.
This is now having an out-sized impact on asking prices with the regions seeing substantial rises over the past year.
Five regions set record high asking prices.
Region
Record high average asking price
December 2019
Average asking price
December 2018
increase
Bay of Plenty
$722,106
$652,363
+10.7%
Nelson & Bays
$763,904
$638,230
+19.6%
Southland
$374,636
$309,053
+21.2%
Marlborough
$538,467
$508,482
+5.9%
Manawatu/Wanganui
$450,673
$359,364
+25.4%
Market analysts are hoping high prices entice homeowners to list in January and February.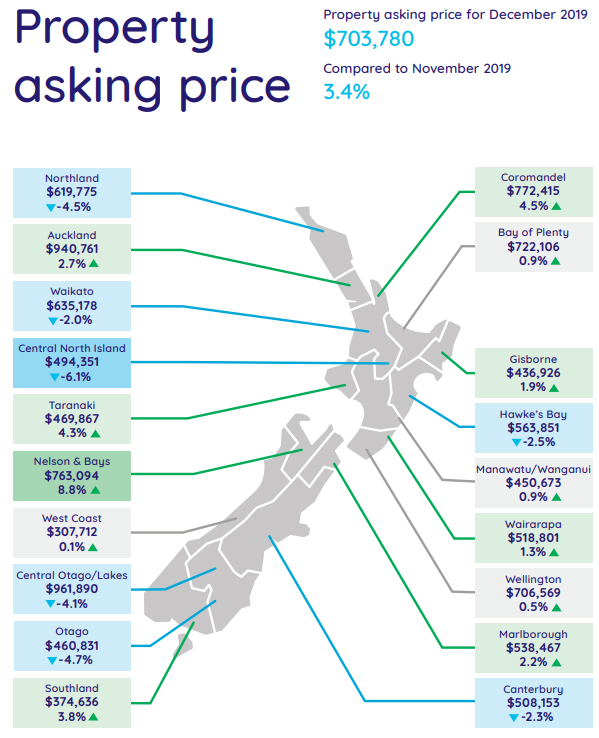 The levels of inventory for sale in Gisborne (5 weeks of current sales), Hawkes Bay (7 weeks), Wellington (6 weeks) and Manawatu/Whanganui (9 weeks) are particulatory low.