It's too early to say if the drop in the number of new homes completed in Auckland in July was the start of a trend or a normal monthly variation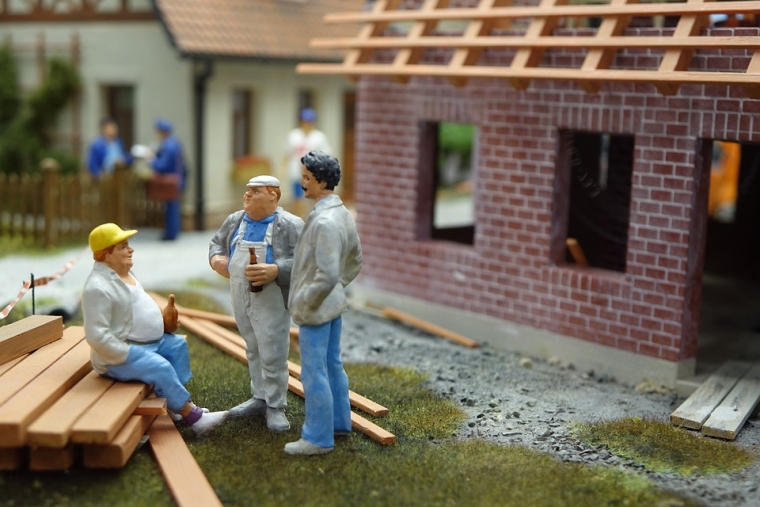 Note: The Code Compliance Certificate (CCC) figure for July that was used in this story is wrong. Auckland Council released incorrect CCC numbers for July and August 2020 and has since corrected the error. The Council's revised figure for July 2020 is 1884. Refer to our story on the September quarter figures for a more complete (and correct) picture of the number of new dwellings being completed in Auckland.
There was a substantial drop in the number of new homes completed in Auckland during July.
Auckland Council issued 697 Code Compliance Certificates (CCCs) for new dwellings in July, down 49% from the 1371 that were issued in June and down 38% from the 1118 that were issued in July last year.
CCCs are the most accurate indicator of new housing supply because they are issued when a building is completed, unlike building consents which are issued before construction starts.
However it's not possible to say if the drop in CCCs issued in July was the start of a trend because the monthly numbers have been unusually volatile this year due to the flow-on effects of the COVID-19 pandemic restrictions.
Monthly CCC numbers in Auckland rose steadily at the start of the year to hit 1344 in March, then dropped down to 910 in April and 691 in May. They then climbed back up to 1371 in June, and dipped again to 697 in July (refer graph below).
CCC issuance can also be particularly volatile in Auckland because of the higher numbers of large multi-unit dwelling complexes such as apartments being built, and these numbers can vary significantly from month to month.
Over the 12 months to the end of July, CCCs were issued for 13,932 in Auckland, up 31% compared to the 12 months to July last year.
Building consents for new dwellings in Auckland have continued to climb strongly over the three months since Level 4 lockdown restrictions ended in April, rising from 894 in April to 1367 in May, 1439 in June and 1569 in July. This suggests developers remain reasonably optimistic about the state of the region's residential property market.
The comment stream on this story is now closed.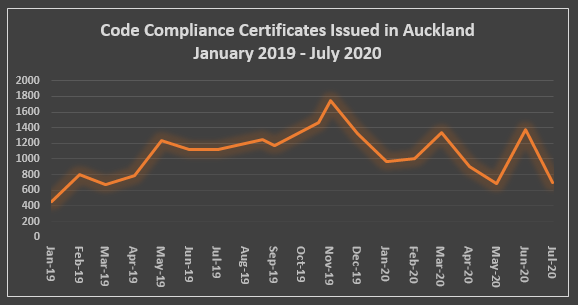 The above graph is for new residential CCCs only.
You can receive all of our property articles automatically by subscribing to our free email Property Newsletter. This will deliver all of our property-related articles, including auction results and interest rate updates, directly to your in-box 3-5 times a week. We don't share your details with third parties and you can unsubscribe at any time. To subscribe just click on this link, scroll down to "Property email newsletter" and enter your email address.