National housing policy: Progressive home ownership for state housing tenants, require councils to open up land for development, reinstate the HLC model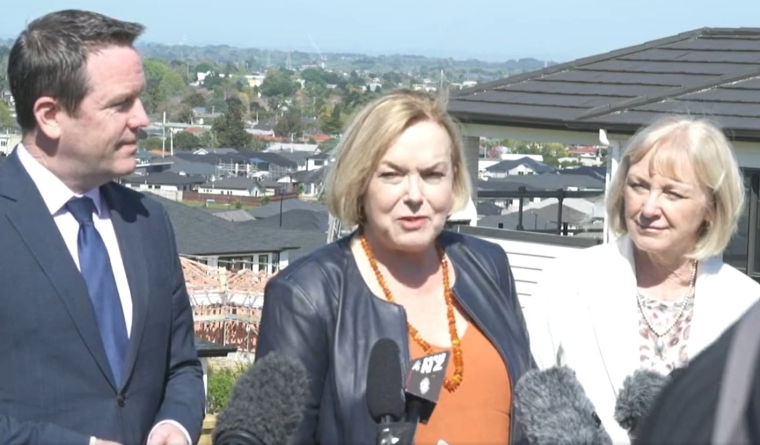 National is pledging to allow state housing tenants with a "good track record" to work towards buying the properties they live in through shared equity or rent-to-buy schemes.
It's also committing to funding community housing providers so they can build more social houses. It wants to set aside $1 billion of funding from the existing Housing NZ borrowing facility for these providers to use.
The Coalition Government has allocated $400 million towards progressive home ownership schemes, not involving public housing. But it only made its first move under the scheme in July, giving two community organisations a total of $23 million to scale up their existing progressive home ownership offerings.
Work is underway to establish an initiative within Kāinga Ora for households with an annual income of under $130,000 to receive shared ownership support directly from the Government. This is expected to be available in early 2021.
Looking at National's housing policy more broadly - it committed to forging ahead with an idea it has already floated to implement a "remind, remedy, remove" three strikes system for tenants with "anti-social behaviour".
Require councils to open land for development
As for upping supply, National said it would pass emergency legislation in its first 100 days similar to what it passed for the Christchurch rebuild. This would:
Require Councils to immediately open up 30 years' worth of growth for urban development in Tier 1 and Tier 2 urban areas. This could be green fields land zoned for residential, urban land zoned for density, or both. The council would retain the ability to decide the mix, but the Government would control the volume they must zone.
Suspend the appeals process so district plans can be completed right away.  
Suspend requirements for infrastructure to be built prior to zoning. If we have 30 years of land zoned for apartments or town houses, it will give people choices on where they add density. Infrastructure can be built as density is built (if necessary).  
Streamline the resource consenting process, including allowing any district council to consent any application.
HLC model better than KiwiBuild
National also said it would redevelop government-owned land to increase housing supply.
It said it would apply the development model it used when it was last in government:
National supports the provision of affordable housing through HLC, the former Hobsonville Land Company.  

HLC redevelopments generally take older, rundown state houses on large sections and replace them with three times the number of warm dry homes, increasing the total number of dwellings by a factor of about three.

Building sector participants are required to build one third state houses for the Government, ensure that one third of houses are sold at affordable prices (with price caps that are the same as the KiwiBuild price caps), with the final third able to be sold at market price.
New planning legislation needs more of a 'development focus'
Finally, National reaffirmed its commitment to repealing the Resource Management Act (RMA).
Its proposal to replace it with two separate laws to manage physical resources such as water and air, and human resources like amenity, heritage and character, is different to that proposed by the Randerson Review, commissioned by the Coalition Government and committed to (at a high level) by Labour.
National said it believed "urban planning legislation needs to have more of a development focus".
"Frameworks must allow human needs, such as the need for housing and the need to move around, to be balanced against any potential amenity, character or heritage values," it said.
The Randerson Review recommends introducing a Natural and Built Environments Act to focus on enhancing the quality of the environment and improving wellbeing. This would include stronger national direction and replace the numerous council plans with a single combined plan for each region. It also recommends introducing a Strategic Planning Act to set long-term strategic goals and facilitate decision-making across the resource management system. 
For more on National's housing policy, see this document.