Although property values are still rising in most parts of NZ, a drop in values in Hamilton and Rotorua may be a sign of waning investor activity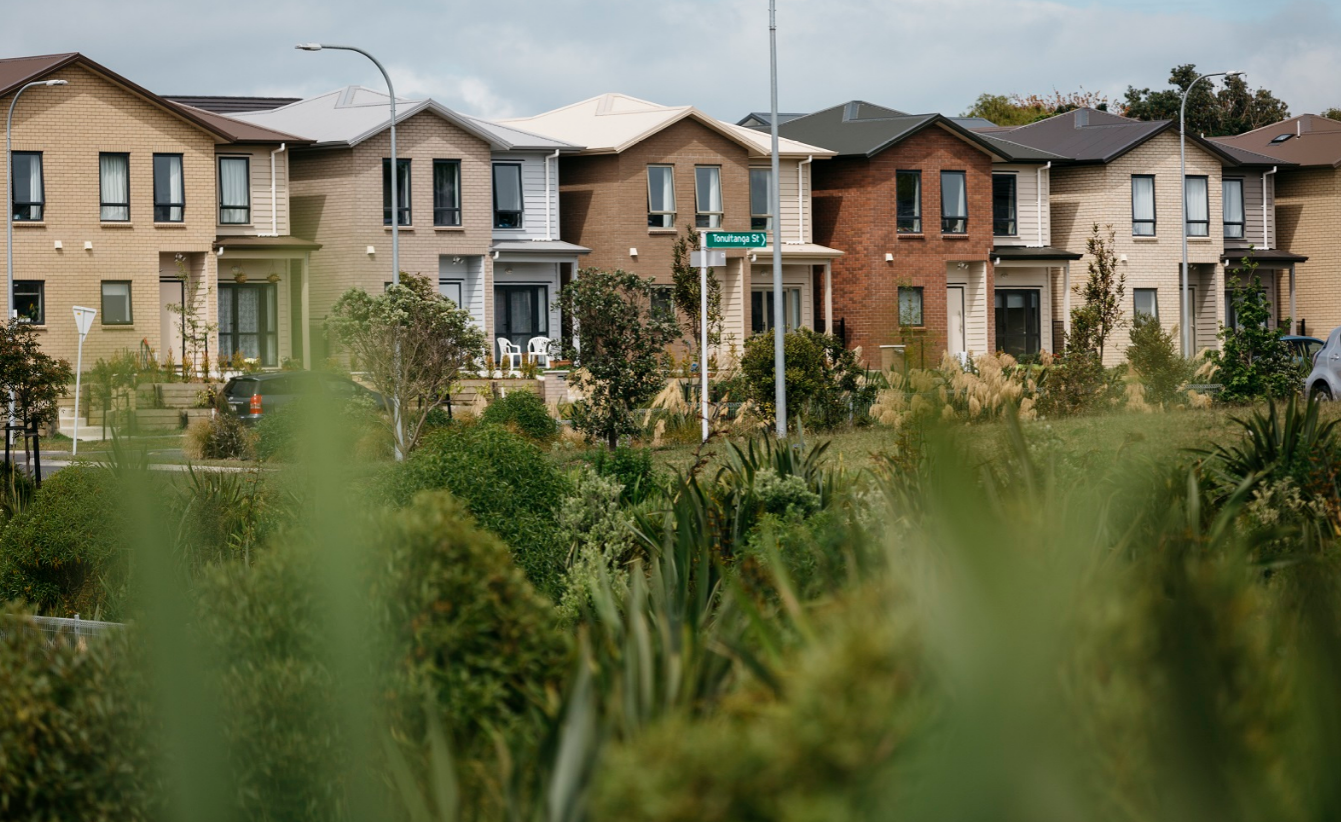 Housing values are continuing to rise at a significant clip, with the average value of New Zealand homes increasing by almost $15,000 in August.
According to the CoreLogic NZ House Price Index, the average value of New Zealand homes was $937,148 at the end of August, up $14,727 compared to July's average value of $922,421.
Over the 12 months to the end of August the average value of all New Zealand homes increased by 27%.
However while value growth remains high overall, the rate of growth has been declining and the latest figures show the first significant signs that values have started to decline in some areas.
The most notable declines are in Hamilton and Rotorua.
In Hamilton the average dwelling value declined from $805,503 in July to $782,774 in August, and average values in the city were 0.5% lower in August than they were three months earlier.
In Rotorua the average dwelling value declined from $650,546 in July to $644,390 in August, meaning average values in August were down by 2.8% compared to where they were three months earlier.
It is significant that both Hamilton and Rotorua have been popular locations for residential property investors in recent years and the recent decline in values in both cities may be a sign that changes to the tax treatment of residential investment properties and to loan-to-value ratio lending restrictions for investors, may be starting to have an effect.
However the latest Covid-19 Level 4 lockdown restrictions severely curtailed real estate activity over the last two weeks of August, making it difficult to pick ongoing market trends.
The restrictions are likely to have seen many prospective vendors postpone the sale of their properties but are less likely to have dented demand from buyers.
That could create a shortage of stock relative to demand, which could help maintain or even increase prices, at least until the market returns to a more normal footing once lockdown restrictions are eased.
The table below shows the average dwelling values in all major urban districts throughout New Zealand, and their change over three and 12 months.
CoreLogic's average values are a three month rolling average, based on sales data over the previous three months.
CoreLogic NZ House Price Index

Three Months Ended August 2021

 

 

Average current value $

3 month change %

12 month change %

 

Territorial authority

 

Far North

613,098

7.3%

25.7%

 

Whangarei

731,063

1.9%

26.2%

 

Kaipara

800,180

9.9%

33.2%

 

Auckland - Rodney

1,231,994

6.1%

24.7%

 

Rodney - Hibiscus Coast

1,197,672

7.0%

23.7%

 

Rodney - North

1,264,084

5.4%

25.2%

 

Auckland - North Shore

1,496,346

4.3%

22.0%

 

North Shore - Coastal

1,710,287

4.1%

22.6%

 

North Shore - North Harbour

1,443,911

6.2%

22.1%

 

North Shore - Onewa

1,219,428

3.4%

21.7%

 

Auckland - Waitakere

1,080,574

5.9%

26.3%

 

Auckland - City

1,579,648

6.5%

25.7%

 

Auckland City - Central

1,334,480

7.0%

22.6%

 

Auckland City - Islands

1,616,712

12.1%

39.3%

 

Auckland City - South

1,436,635

7.0%

26.9%

 

Auckland_City - East

1,979,169

5.4%

25.5%

 

Auckland - Manukau

1,175,631

5.2%

24.8%

 

Manukau - Central

932,876

6.1%

26.9%

 

Manukau - East

1,502,440

4.1%

25.2%

 

Manukau - North West

1,015,193

6.1%

23.4%

 

Auckland - Papakura

926,841

5.7%

25.8%

 

Auckland - Franklin

887,974

7.0%

25.8%

 

Thames Coromandel

1,102,238

8.7%

36.6%

 

Hauraki

629,396

23.7%

37.7%

 

Waikato

677,055

5.5%

28.1%

 

Matamata Piako

642,198

11.2%

21.4%

 

Hamilton

782,774

-0.5%

21.8%

 

Hamilton - Central & North West

731,237

-0.5%

23.2%

 

Hamilton - North East

963,766

0.7%

24.2%

 

Hamilton - South East

723,265

-1.0%

19.8%

 

Hamilton - South West

704,994

-0.6%

22.0%

 

Waipa

816,321

7.4%

25.6%

 

South Waikato

404,238

7.8%

28.0%

 

Waitomo

314,908

-3.2%

23.6%

 

Taupo

785,733

6.7%

34.3%

 

Western BOP

904,741

6.7%

28.2%

 

Tauranga

1,021,021

5.4%

28.0%

 

Rotorua

644,390

-2.8%

19.9%

 

Whakatane

672,528

-0.8%

27.4%

 

Kawerau

410,618

12.0%

31.4%

 

Opotiki

489,143

4.0%

34.6%

 

Gisborne

599,244

1.4%

38.2%

 

Wairoa

350,064

-8.1%

40.8%

 

Hastings

814,682

6.5%

37.2%

 

Napier

827,381

3.9%

34.1%

 

Central Hawkes Bay

545,867

4.8%

26.3%

 

New Plymouth

655,515

3.5%

27.4%

 

Stratford

451,414

2.7%

28.0%

 

South Taranaki

394,799

5.7%

38.6%

 

Ruapehu

370,685

8.3%

38.2%

 

Whanganui

522,220

4.4%

41.4%

 

Rangitikei

451,435

4.4%

41.2%

 

Manawatu

628,138

4.2%

32.3%

 

Palmerston North

725,185

5.9%

39.1%

 

Tararua

449,708

6.9%

52.2%

 

Horowhenua

615,126

5.4%

38.2%

 

Kapiti Coast

919,741

2.0%

36.8%

 

Porirua

953,891

6.4%

37.8%

 

Upper Hutt

892,375

5.7%

37.0%

 

Hutt

939,981

5.5%

36.4%

 

Wellington

1,194,328

6.8%

33.6%

 

Wellington - Central & South

1,126,711

3.7%

27.1%

 

Wellington - East

1,305,567

8.7%

37.3%

 

Wellington - North

1,133,660

8.9%

37.7%

 

Wellington - West

1,372,414

7.3%

36.8%

 

Masterton

631,501

6.3%

42.4%

 

Carterton

681,566

1.1%

38.3%

 

South Wairarapa

820,634

4.5%

44.9%

 

Tasman

793,322

5.5%

22.1%

 

Nelson

804,681

6.0%

21.8%

 

Marlborough

677,987

-0.6%

29.3%

 

Kaikoura

603,438

12.6%

26.5%

 

Buller

276,136

6.7%

33.6%

 

Grey

331,159

15.8%

42.2%

 

Westland

346,037

4.6%

23.9%

 

Hurunui

497,487

0.0%

19.9%

 

Waimakariri

602,588

9.7%

29.2%

 

Christchurch

654,198

6.7%

26.0%

 

Christchurch - Banks Peninsula

701,356

6.5%

30.5%

 

Christchurch - Central & North

759,148

7.3%

24.9%

 

Christchurch - East

504,469

6.8%

28.3%

 

Christchurch - Hills

907,480

8.5%

27.4%

 

Christchurch - Southwest

618,380

5.5%

25.4%

 

Selwyn

719,355

7.6%

26.1%

 

Ashburton

450,596

3.2%

18.3%

 

Timaru

454,610

3.0%

16.3%

 

MacKenzie

629,158

0.9%

7.1%

 

Waimate

366,471

9.1%

28.7%

 

Waitaki

440,272

4.4%

22.6%

 

Central Otago

694,926

3.6%

18.1%

 

Queenstown Lakes

1,391,079

3.4%

23.3%

 

Dunedin

672,058

4.0%

23.2%

 

Dunedin - Central & North

690,983

3.9%

25.0%

 

Dunedin - Peninsular & Coastal

627,171

4.7%

22.4%

 

Dunedin - South

642,154

3.7%

23.8%

 

Dunedin - Taieri

696,549

4.1%

20.9%

 

Clutha

374,121

11.0%

25.5%

 

Southland

428,478

4.3%

14.1%

 

Gore

369,098

9.9%

28.8%

 

Invercargill

441,837

3.4%

21.8%

 

 

 

 

 

 

Auckland Area

1,337,648

5.7%

24.7%

 

Main Urban Areas

1,065,500

5.4%

26.4%

 

Wellington Area

1,065,224

6.3%

35.0%

 

Total NZ

937,148

5.2%

27.0%