House prices now sinking throughout the country with Auckland, Rotorua, Hastings and Wellington leading the way
The housing market downturn appears to have reached a significant milestone with prices in Auckland's leafy inner suburbs and all of the Wellington Region now lower than they were a year ago.
The Real Estate Institute of New Zealand's House Price Index (HPI) declined by 1.9% nationally in April and is now down 3.5% from where it was at the start of this year.
The HPI gives a more accurate indication of overall price movements than either average or median prices, which can be affected by changes in the composition of sales each month.
Of the 24 districts around the country tracked by the HPI, prices were lower in 23 of them in April than they were at the start of this year.
The only district not to record a decline over that period was Queenstown-Lakes, with the Index up 3.2% in April compared to January.
However Queenstown-Lakes may also be at a turning point, with prices in April down 2.5% compared to March.
The slide in prices has been particularly strong in Auckland and Wellington.
In the Auckland Region  the Index declined by 5.4% between January and April with the declines within the region ranging from 1.5% in Franklin to 6.9% in the central suburbs, which includes some of Auckland's most expensive real estate.
The central suburbs are also the only Auckland district to record an annual price decline, with the HPI for the district 1.3% lower in April than it was in April last year.
In the Wellington Region the HPI was 6.2% lower in April than it was in January with the declines over that period ranging from 3.5% in Porirua to 8.7% in Wellington City.
On an annual basis, the HPI for the Wellington region was down 4.2% in April compared to April last year, with the annual district declines ranging from 0.5% in Upper Hutt to 9.4% in Wellington City.
Outside of the main centres the biggest declines in the HPI over the three months to April were in Rotorua, down 7.0% and Hastings down 5.0%.
The table below shows how the HPI has changed in each district over the last 12 months.
The comment stream on this story is now closed.
REINZ House Price Index - April 2022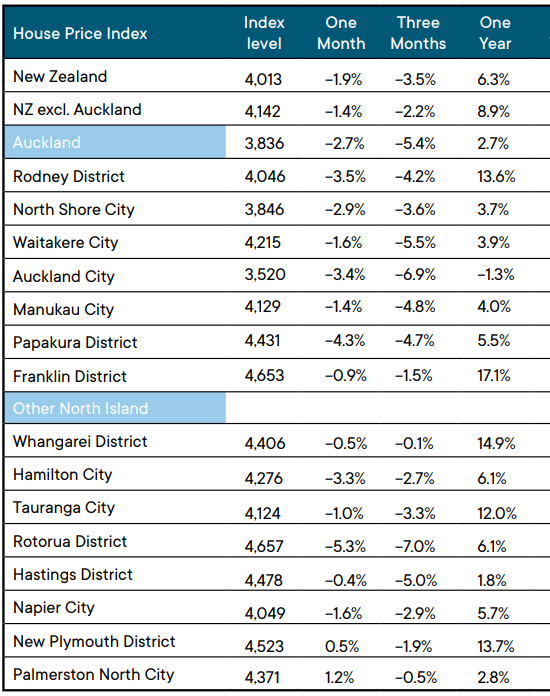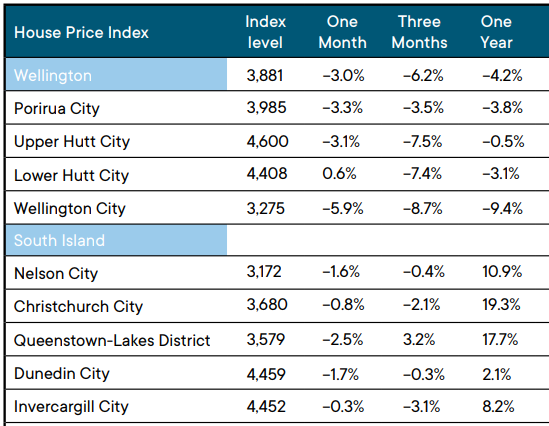 You can have articles like this delivered directly to your inbox via our free Property Newsletter. We send it out 3-5 times a week with all of our property-related news, including auction results, interest rate movements and market commentary and analysis. To start receiving them, register here (it's free) and when approved you can select any of our free email newsletters.