House prices are now declining in all main urban districts according to the latest REINZ sales data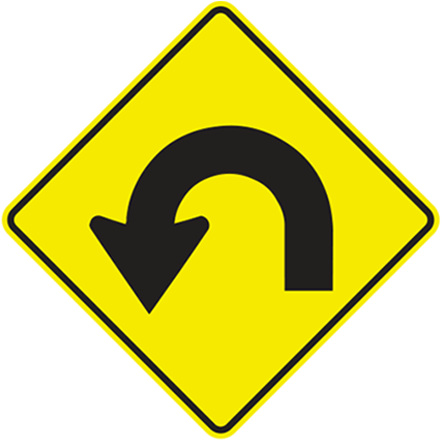 House prices are now declining throughout the country, even in regions such as Canterbury and Queenstown-Lakes where the chilling effects of the current market downturn have been slower to take hold.
 According to the Real Estate Institute of New Zealand's House Price Index, prices across NZ were 5.4% lower in June than in March.
Just as importantly, prices nationally are now just 0.7% higher than they were in June last year, meaning properties are likely to have lost virtually all of the spectacular capital gains they accumulated in the second half of last year.
The REINZ's House Price Index is probably the most reliable indicator of movements in residential property prices because it is compiled from sales made by REINZ members as they become unconditional, making it very timely, and it adjusts for movements in the composition of sales each month.
Other measures, such as median and average prices are also useful, but they can be affected by movements in the composition of sales each month.
For example, if more upmarket properties than usual are sold in a month, that can push up the median price, even though prices of individual properties may not have moved, while an increase in sales at the bottom of the market can have the opposite effect.
The HPI adjusts for those changes and gives a better indication of overall price movements.
The table below shows how much the HPI has changed over the three, six and 12 months to June in the country's 23 main urban districts.
It shows that prices in June were lower than they were in March in all 23 districts as well as nationally.
And they were lower in June this year than they were in June last year in 11 of those districts, which means prices are now lower on an annual basis in many parts of the country.
The biggest price falls have been in Wellington, where the HPI for the Wellington region is down 9.2% compared to a year earlier. In Wellington City it's down 18.1% for the year. Ouch! That big a price fall has got to hurt.
Across the Auckland region prices are down 5.9% over the three months to June, and down 1.7% for the year.
Prices are even falling in Nelson, Christchurch and Queenstown-Lakes - all markets that had until now remained relatively buoyant.
With interest rates continuing to rise and an abundant supply of listings in a market that's only half way through winter, the outlook for house prices doesn't look great.
The comment stream on this story is now closed.
 REINZ House Price Index June 2022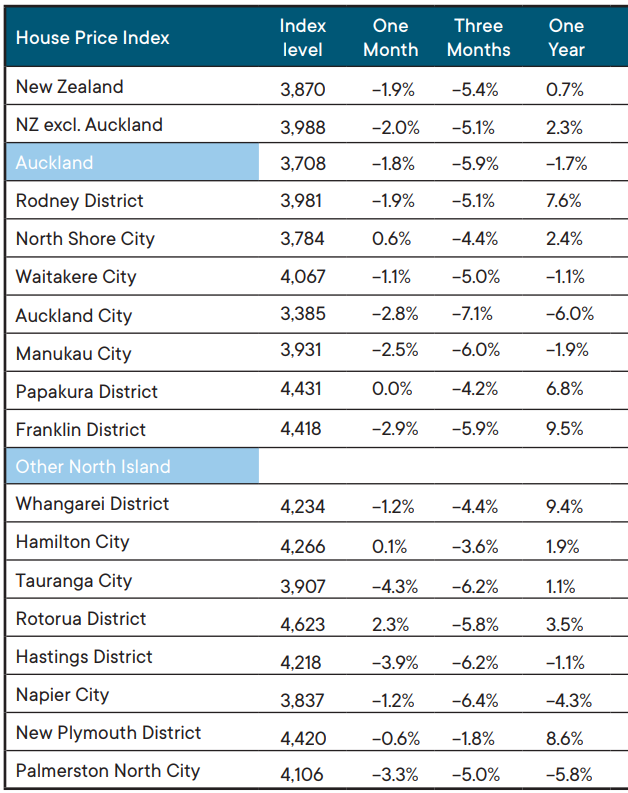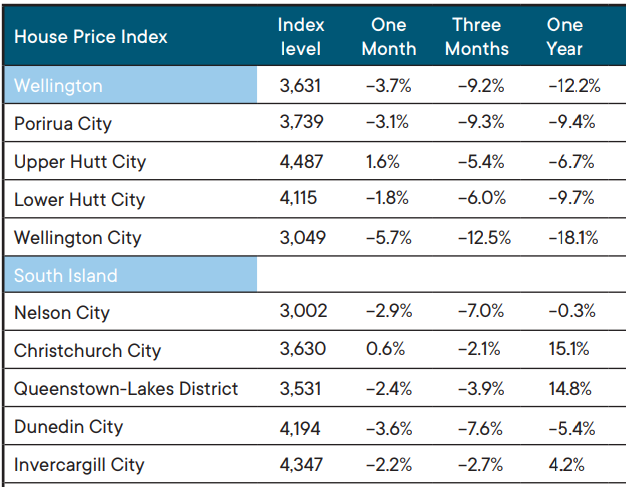 You can have articles like this delivered directly to your inbox via our free Property Newsletter. We send it out 3-5 times a week with all of our property-related news, including auction results, interest rate movements and market commentary and analysis. To start receiving them, register here (it's free) and when approved you can select any of our free email newsletters.