Homebuilder confidence 'moderately negative' says Goldman Sachs in new survey, probably 'overstating' confidence levels
Homebuilder confidence is at a "moderate negative" level, Goldman Sachs says in its new Homebuilder Confidence Survey, but given the normal spring lift in both house sales and building consent activity, the result probably overstates confidence levels.
Goldman Sachs analyst Matthew Henry says the investment bank has initiated the survey this month with the intention of providing an early gauge on activity in, and perceptions of, the residential construction market.
The survey asked New Zealand's 15 biggest homebuilders seven questions and had an 80% response rate, Henry says. The questions cover current new home sales, the level of buyer enquiry, the expectation of sales and pricing for the next six months, as well as seeking comment on observed pressures positively or negatively impacting buyer behaviour.
Goldman Sach's homebuilder index reading for November came in at 44, signalling a moderate negative confidence level given a reading below 50 is negative, Henry says.
"Given the normal spring seasonal lift in house sales and building consent activity this reading likely overstates confidence levels," says Henry.
The divergence in the sub indices was significant with an index reading of just 21 for current sales, 54 for buyer enquiries and 58 for anticipation of stronger sales over the next six months versus the previous six months.
"Observations on factors influencing buyer demand largely focused on the lack of confidence due to uncertainty over economic conditions, mortgage rates and availability, house prices, ability to sell existing homes and the Canterbury earthquake," Henry says.
"The GST increase (to 15% from 12.5% on October 1) was also cited as potentially explaining the softness in October."
Henry says Goldman Sachs' own view remains that New Zealand residential construction is likely to see a "laboured recovery." He cites considerable headwinds from affordability barriers for owner-occupiers, over-leveraged households, a softer outlook for wage growth and negative cash yields and reduced tax efficiency for property investors following changes in May's Budget.
"Whilst we believe current build levels are likely tracking below fundamental long-term demand, we expect this may persist for a considerable period with the broader evidence of household economic consolidation translating into lower household formation."
Building consents down, mortgage approvals up
The most recent building consents figures released by Statistics New Zealand, for September, showed the seasonally adjusted number of new dwelling units authorised, excluding apartments, fell 2.6%. The trend for the number of new dwellings authorised, excluding apartments, has been falling since March 2010 following increases from April 2009. A total of 1,262 new dwellings were authorised in September including apartments, with 60 new apartment units authorised including 50 retirement village units.
The value of residential building consents for September 2010, compared with September 2009, fell by NZ$30 million, or 6.2%, and the value of non-residential building consents rose NZ$108 million, or 42%.
Meanwhile the latest weekly mortgage approvals figures released by the Reserve Bank, for the week ended November 19, show 5,400 approvals valued at NZ$705.6 million. By both volume and value, it's the highest level of approvals since the week ending July 30. However, based on a comparison of the most recent 13 weeks of data compared to the same 13 weeks last year, the volume of approvals is down 23.5% and value is down 26%.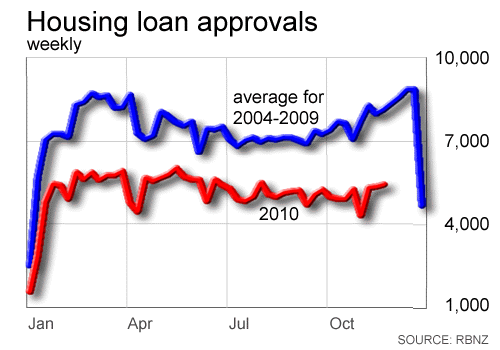 Henry says Goldman Sachs hasn't, at this stage, sought to seasonally adjust the data gathered in its new survey.  It has, however, aimed to cover seasonal influences by asking respondents whether current trends are in line with normal seasonal patterns and comparing other housing data such as house sales and building consents.