NZ Herald, TV3 report "madness" in Auckland rental property market. Really? What are you seeing?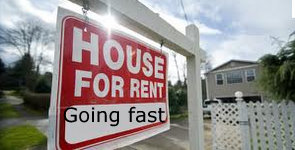 By Bernard Hickey
TV3 and NZHerald have reported this morning "it's rental market madness" in Auckland with queues forming at open homes for established family homes to rent in Auckland.
Two rental property agents in Auckland were quoted as saying landlords returning from overseas had reduced supply and a lift in demand from former homeowners looking to rent was responsible for tightness in the market that was driving up rents.
"An agent who listed a four-bedroom property in Balmoral said he received 200 inquiries on the property before letting it out last weekend," the NZ Herald reported in a front page lead article titled "Rental Market Madness".
A property in Ethel St, Kingsland, attracted more than 200 would-be renters during a half-hour open-home, it said. "It's going to be very easy to rent it. Narrowing down the list of tenants is going to be the hard part, to be honest," landlord Dave Smith told TV3, NZ Herald reported.
Rental agent Darryl Goode was reported as saying it was not uncommon for hundreds of people to register their interest in a property.
"Give me another 10 or 20 three-bedroom houses and I could let them all out in a couple of days," Goode was reported as saying.
Goode said there was a "severe shortage" of stand-alone houses to let in the city-fringe areas, and the market was the tightest he had seen in his 12 years in the industry.
"It's rental market madness. Queues forming even to get into open homes," Adam Hollingworth from TV3 News reported.
The same rental agent, Darryl Goode told 3News he had never seen a tighter market in 12 years in the business.
"There are a lot of disappointed people. If I had another 15 three bedroom houses in Mount Eden I could rent them all this weekend," he said.
Here is more from the NZ Herald article:
Harcourts rental manager Lesley Whiting said her Browns Bay office recently lost to returning landlords about 10 of the 300 properties it was managing, and was currently listing only two rental dwellings.

Real estate agency Crockers recently reported that the average weekly rent for a three-bedroom home in central Auckland was $580 in December, up 16 per cent in a year. For Takapuna/Milford it was $670 (up 26 per cent) and Remuera $690 (up 25).

"It's got nothing to do with landlords wanting to capitalise from the World Cup, but the economic crisis which is forcing more people to come home and stay home," Ms Whiting said. "Who knows how long this is going to last, but it's really reaching crisis point for people looking to rent today."  
But what do the figures rather than anecdotes actually say?
We monitor rental property listings on trademe.co.nz and realestate.co.nz every week. See the interactive chart of our index here and below.
It shows that nationally the number of properties for rent, including both houses and apartments was up from a year ago, not down as suggested in the articles above.
Realestate.co.nz figures are not strictly comparable with a year ago because they have included figures from bookabach.co.nz in recent months.
But Trademe figures show the number of residential properties for rent nationally has risen to 12,113 this week from 10,647 in the same week a year ago.
But something is happening in Auckland, although nowhere near the extent suggested in the TV3 article and NZHerald that followed up (and quoted from) the TV3 article.
Trademe listings figures for Auckland show 3,566 properties listed in the  last week, compared with 3,566 listed a year ago.
Statistics also show rents are not rising nationally and are not exploding to the extent suggested above.
Median rents nationally as recorded by the Department of Building and Housing through its bond registration service have been flat for three years at NZ$300/week. See the interactive chart here.
However, rents for 3 bedroom properties in Auckland have risen from around NZ$430/week in February 2008 to NZ$465/week in January this year.
One issue not mentioned at all in the TV3 and NZHerald articles is that demand for rental properties, particularly multiple bedroom houses for rent in central Auckland for students, is usually red hot at this time of the year as University begins.
What are you seeing?