Auckland heading for housing crisis due to low building consent numbers, workers heading overseas, Labour leader Goff says
By Alex Tarrant
Auckland is heading for a housing crisis, due to low levels of building consents and because New Zealand's skilled labour workforce is heading across the Tasman, Labour Party leader Phil Goff said today.
However, Finance Minister Bill English said later on Tuesday he thought there was still spare capacity in the domestic contruction labour market, and that government was focussed on building skills of young people and the unemployed to meet any future shortages.
English also said government would have an on-going discussion with the new Auckland Council on housing affordability, with the issue of metropolitan urban limits likely to be on the agenda.
Speaking to media in Parliament Tuesday morning, Goff reiterated his comment on Monday that consents were half of what they needed to be in order to meet demand for new homes. Latest figures from Statistics New Zealand showed building consents in December were the lowest for a December month since records began in 1965, down 26.5% from December 2009 to 994.
"That will force up rents at an even faster rate than what we're seeing now. If we're building half the houses we need to, then that will mean a housing shortage and higher prices – higher sale prices and higher rents," Goff said Tuesday morning.
Money "misused" on tax cuts for the rich should have been used by the current government to stimulate the building industry and create a more skilled labour force that would have been able to cope with looming house shortages in Auckland and quake-hit Canterbury, Goff said. 
"We should have our building industry working at the moment, we should have our people in training. Again it's a sad reflection that last weekend 6,000 people – Kiwis – turned up at the Australian jobs expo, wanting to leave this country. Three thousand eight hundred did so in the month of December alone," Goff said.
"I think the way of doing that [getting building work started] would have been to look at how you used the money that was misused on tax cuts for the rich [for instead] generating growth, in generating some housing starts that would have created employment across the board and would have kept our skilled people here in New Zealand," he said.
"We will need them in the next few months. Christchurch will have a skill shortage, Auckland will have a skill shortage, and that means the cost of the homes that will be built, and the cost of rents, will just keep going up."
Stimulus money from taxing the rich?
When asked where government should get the money for stimulating the building industry, and whether Labour would reverse the tax cuts in order to do so, Goff said the cuts would would be well in place by the next election.
"I've signaled the changes that I want to make there that will be fairer. But I can't overturn history," Goff said.
Goff has previously outlined that higher income earners, "well into six figures," would be in line to pay a higher tax rate if Labour got into power after the November 26 election. However, questions are being asked whether this, along with Labour's proposals of targeting tax dodgers, cutting proposed spending on initiatives such as a Navy missile upgrade, and making small changes to property laws, would produce the extra revenue required for its spending plans.
Work force needs training
Government had to get people back into training, Goff added.
"I was down in Christchurch on Friday. The earthquake was five to six months ago, we should surely have been using the Canterbury Polytechnic Institute of Technology to be preparing people with the skills they need to ensure the costs aren't forced up because we don't have skilled or semi-skilled workers to do the jobs," he said.
The reason housing starts had dropped was because the Government did not introduce a "counter-cyclical stimulation in an area that should have been stimulated if we wanted to keep a skilled labour force that we will desperately need in the next six months, as the demand for houses goes up," Goff said.
English - Govt to work on skills, look at housing affordability and urban limits
Meanwhile Finance Minister Bill English said later on Tuesday that, because the domestic construction market had been so flat, he thought there was "still some spare capacity there".
"But in time we would expect skills shortages to re-emerge. That's why we're focussed on the pathways for younger people, and for people on welfare, because those are the two pools of available people who need to be re-skilled to meet those shortages," English told media in Parliament.
"An economy where unemployment is dropping and there's skill shortages is an economy we want to get to as fast as we can," he said.
English also touched on the issue of housing affordability, saying even though prices had been flat, there were still affordability issues. Government would work with the new Auckland Council to look at housing affordability, he said.
"The housing market's going through change, I think that's pretty evident. Peoples' expectations about capital gain have dropped right back," English said.
"I think the tax changes are having some impact, the migration flows are a bit uncertain about who is coming and who's going. We're still, probably, a market where, on the fundamentals, there's likely to be a period of adjustment," he said.
"So in the meantime we want to focus on housing affordability, and the fact is even though prices have been flat in a market like Auckland, it's still very difficult for people to buy into it. It will be an ongoing discussion with the city council up there about what impact they can have on the supply of affordable housing."
"Certainly housing affordability is still a significant issue, even though the market has been pretty flat," he said.
Metropolitan Urban Limits and Housing Affordability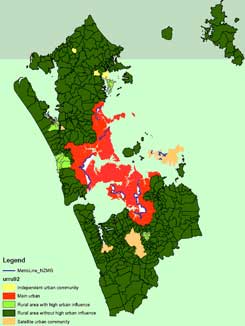 English expected Auckland's metropolitan urban limits would be discussed with the council, and that the council would probably review previous policies from around ten years ago.
The current Auckland Metropolitan Urban Limit was formerly adopted in 1998.
As previously reported on interest.co.nz, Motu economist Arthur Grimes said in 2009 that development in Auckland was a risk of being stifled by high house prices, with current metropolitan urban limit (MUL) policies making houses more expensive. Research Grimes did with Yun Liang in 2007 found that land just inside Auckland's MUL, or growth limits, was valued at approximately 10 times land just outside the boundary.
By changing the MUL framework to reduce land prices, it would be less expensive for businesses to operate inside the expanded boundaries, and lower house prices would mean workers would be better able to afford to live in the city rather than being forced away by high prices, Grimes said in 2009.
He recommended Auckland's growth limits be reviewed in a more flexible manner, rather than having long periods between boundary reviews, especially because of the increase in Auckland's population (38% between 1991 and 2006).
"Auckland is a polycentric city with a population that grew, on average, by 2.2% between 1991 and 2006 (census years), a 38% increase. Simple application of growth limits, with long periods between boundary reviews could, under these circumstances result in considerable inefficiencies and inequities, including problems of housing affordability (Grimes et al. 2007).
Our results therefore imply that growth limits within Auckland should be reviewed in a flexible manner that accounts for the impacts of an increasingly binding constraint," Grimes and Liang said.
See the previous article on Grimes and Liang's MUL study here.
More recently, Environment Minister Nick Smith said poor land planning policies that led to excessive section prices need to be reformed in a Resource Management Act revamp.
MULs were subject to the review, and focussed on in a working paper released by Smith in October last year. See here for Hugh Pavletich's criticism of Smith's announcement last year.
The working paper said MULs were blunt instruments in New Zealand compared to how they were used in other countries.
"They tend to be applied rigidly and do not consider the social and economic benefits and costs of their use. For example, the objective of the Auckland MUL is simply to protect rural and coastal environments," it said in the paper.
"MULs are used effectively as a tool elsewhere in the world (eg, Melbourne and Portland) because they are one part of a broad suite of tools, including ongoing monitoring of land supply, and are kept under review. This is central to their effective use."
(Updates with comments from English, video of English, discussion of metropolitan urban limits, video of Goff)