Trend for new home consents hits new low in April, but decline eases; Only 21 quake consents in 8 mths, Stats NZ says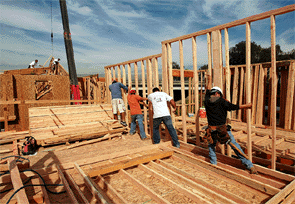 The trend for building consents for new homes hit another record low in April, although the rate of decline appears to be easing, Statistics New Zealand says.
There were 927 new dwellings authorised in April, down 34% from the same month a year ago, figures show.
Stats NZ's trend series for new homes authorised has fallen nearly one-third since April 2010, to the lowest level since the series began in 1982. Economists are warning the slump in building consents for new homes may put upward pressure on house prices, with a shortage of properties becoming apparent especially in Auckland.
"While the overall level of consents is low, with many series still decreasing, there are signs that the decline in residential building consents is easing," Stats NZ business statistics manager Kathy Connolly said.
"When the volatile apartment numbers are excluded, and after adjusting for seasonal factors, there have been increases of more than 3% in each of the latest two months," Connolly said.
Still slow in Christchurch
Seven of the 927 consents in April were for new homes to be built to replace homes destroyed in Canterbury by the September 4 and February 22 earthquakes. That brings the total amount of earthquake-related building consents issued for new homes in Canterbury to 21 since September 2010.
Minister for Earthquake Recovery Gerry Brownlee has told interest.co.nz that building work for new homes can only get underway once land remediation work is carried out in Christchurch. With land there still shifting he was unable to give a timeframe for when that work may be finished. Early government estimates were that 10,000 homes may need to be replaced due to the quakes, although more recent estimates from the industry point higher.
Four of the earthquake related consents in April were for "relocatable units intended to house displaced Christchurch residents," Statistics New Zealand said. These were the first consents recorded for these units, a spokesman for Stats NZ told interest.co.nz.
JP Morgan economist Helen Kevans said the slow rate at which earthquake-related insurance claims were being processed had delayed quake-related consent approvals.
"Earthquake-related rebuilding cannot get underway until claims have been processed by insurers, and this process has been delayed by a lack of information on land remediation, which aims to prevent lateral spreading of any future quakes," Kevans said.
"Furthermore, the official land report detailing which properties have to be abandoned and which can be rebuilt has yet to be released - and it won't be until well after then that rebuilding of earthquake-affected Canterbury gets underway," she said.
Only one region sees growth
Of the 927 new dwellings authorised in April, 893 were for houses, down 32% from April a year ago. The remaining 34 were consents for the volatile apartment unit category.
"Only one of New Zealand's 16 regions (Tasman) had more new homes authorised in April 2011 compared to April 2010," Government Statistician Geoff Bascand said.
"The largest fall was in Canterbury, at 68 fewer new homes, but similar-sized falls were seen elsewhere," Bascand said.
Seasonally adjusted figures show a 3.8% rise in the number of houses authorised in April from March, the second monthly rise in a row.
Including apartment units, seasonally adjusted figures show the number of new dwellings authorised in April fell 1.6% from March.
Under supply?
ASB economist Jane Turner said building consents remained very weak in April.
"Total consents declined 1.6% over the month, although once stripping out the volatile apartment component, core consent issuance increased slightly, up 3.8%. However, the increase is entirely due to a partial recovery in Canterbury consent issuance. Consents for the remainder of the country declined over April. This is a very disappointing result," Turner said.
"We had expected that ongoing population growth and low interest rates would be stimulating building activity (beyond the Christchurch rebuilding requirements). However, the consents data suggest underlying building demand remains extremely weak," she said.
"Given the low levels of construction activity, particularly relative to population growth, the weakness in consent issuance suggests there is a risk that the NZ housing market may become under supplied."
Quake response: From Stats NZ building consent releases:
April: In Canterbury, 28 earthquake-related consents were identified in April 2011, with a total value of NZ$2.5 million. These consents included seven new homes, four of which were relocatable units intended to house displaced Christchurch residents.
March:In Canterbury, about 20 earthquake-related consents were identified, with a combined value of $11 million, including two new dwellings.
February: In Canterbury, 16 consents relating to the previous earthquakes were identified, including three new dwellings. The total value of these 16 consents was $2.6 million.
January: In Canterbury, 30 earthquake-related consents were identified in January 2011, including five new dwellings. The total value of these was $4.5 million.
December: In Canterbury, about 30 earthquake-related consents were identified in December 2010, which included two new dwellings. The total value of consents was $10 million.
November: In Canterbury, there were a small number of earthquake-related consents identified in November 2010. The total value of these was $2.3 million. Two of these were for new dwellings.
October: In Canterbury, a small number of low-value consents authorised in October 2010 were related to the earthquake. None of these were for new dwellings.
September: The earthquake on 4 September 2010 has had some impact on building consents issued in Canterbury, due to factors such as territorial authority offices being closed temporarily. The three territorial authorities most affected were Christchurch city, Waimakariri district, and Selwyn district. Combined, the number of consents issued in September was about one-third lower than the monthly average for the previous 12 months. A handful of consents were earthquake-related (none were for new dwellings), with a combined value of approximately $0.5 million.
(Updates with JP Morgan, ASB comments)