BNZ's Tony Alexander says 'open up the fringes' for affordable housing, but doesn't think Kiwis are likely to vote for the idea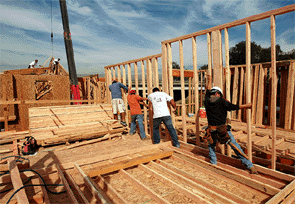 By Alex Tarrant
A strong surge in building activity, a revamp of urban limits and deregulation of the building code over the next two to three years would help eat into a nationwide housing shortage of 45,000 homes, BNZ chief economist Tony Alexander says.
But, despite policy makers being able to acknowledge what policies would help increase the supply of cheaper housing, Alexander believes the market will struggle to build the amount of houses needed, putting upward pressure on prices and ownership further out of reach.

Speaking to interest.co.nz, Alexander said the current shortage of 45,000 homes would be around for "quite a number of years," for a number of reasons.
"Number one: In the past three years the number of people doing construction apprenticeships has fallen 30%," Alexander said.
"Number two: From January 1 next year builders need to be licensed and some of the elder builders are indicating they've decided they're not going to do it.
"Number three: The traditional providers of finance for new subdivisions have been finance companies, and they're goneski as well," he said.
"Number four: Ageing of the population. Old folk do not go and trade the four bedroom house for a two bedroom low maintenance flat. They stay in the house with a spare bedroom for the kids, gym, home cinema, etc, and an ageing population leads to a decrease in the average occupancy rate – you need more houses for the same quantity of people.
"Number five: We've had our economy being tough now for three-and-a-half years, and many people have put off their household formation decisions," he said.
An example, would be a couple who had got married three years ago while the economy was in recession.
"You've had bad news since then so you're still living at home with your spouse with someone's parents. You want to get on with life and I would expect as the labour market improves, a lot of these delayed, frustrated 'home formation people', they will be entering the market to get their own house," Alexander said.
And that would put upward pressure on prices.
See Motu economist Andrew Coleman's views here on why older home owners may not sell their larger homes and downsize.
What to do?
Although low-cost kitset housing which was easy and cheap to build could be an answer, this was not likely to be seen on a larger scale in the New Zealand housing market for some time.
"I don't believe that's what most New Zealanders are looking for. I think one of the things that keeps us here in New Zealand, one of the ways we define ourselves as Kiwis, is that we tend to have a stand-alone house - we're not living in the semi-detached or whatever dwellings they have on Coronation Street in the UK," Alexander said.
"And we don't, for some reason, tend to be supportive of cookie-cutter suburbs like they have in America – all the same houses. Even though sometimes they look the same here in New Zealand. We like them individually designed," he said.
"So while there's always talk, and there always has been for many, many years now, of cheap, kitset housing etc, it tends not to be what we Kiwis want. We look down our nose at these sort of things, we're our own worst enemies in that regard."
'Open up the fringes'
More importantly, in order to make a big difference and radically improve housing availability and affordability, measures such as forcing councils to change land designations from rural to residential –  opening up the availability of land for building on – were needed.
Measures cutting the building code would also help.
"We keep increasing it – insulation requirements, leaky home requirements, earthquake strengthening, all these sort of things, green requirements – you'd have to look at that as well," Alexander said.
"Those are two things I'd throw in there if you wanted to make a radical difference."
But selling the idea of opening up city fringes to the public would prove a hard task.
"I'm a Kiwi as well. I live in the country side and I'm quite happy that I can only see one other house from my place. So do I personally support that? As a pretty straight up-and-down Kiwi, I'd say, not really," Alexander said.
"It would help the situation but, you see, we Kiwis are not going to vote for that. We're concerned about our urban sprawl, we're concerned about the extra roading that would have to be built, the extra rates increases that may have to be there to fund the infrastructure stretching further into the country-side. This is why I don't think it [extention of residential zoning] happens," he said.
In terms of theory, opening up the fringes would be a way of supplying cheaper housing.
"My concern is that we've got younger people, people in the lower socio-economic level, who are going to find housing increasingly unaffordable. Be it ownership or even to rent as well," Alexander said.
"That is going to force government and local authorities to have a look more seriously at issues such as the quality of first homes that get built – the standards that they must adhere to, etc," he said.
See the latest Roost Homeloan Affordability Report here.
For the latest first home buyer affordability report, see here.
Building costs
Another issue in terms of improving the situation was developers' levies.
"Developers have to pay some fairly hefty levies to councils in order to put in place new properties. So again, if somebody says, 'Tony you've got power for a day to do something radical about this, and your sole focus is boosting house supply at the lower end of the spectrum,' it'd be looking at the developers' levies, easing up on the building code, and, much as I personally wouldn't vote for it, making more land available," Alexander said.
However, despite this being what should happen, what would happen was a completely different story.
"I believe, desirable as it may be that we have cuts in developers fees and lower cost housing built, what I believe will happen is that we will struggle to build the houses that the population are demanding, and it would lead to upward pressure on house prices," Alexander said.
'Not ready for high density housing'
Kiwis - namely in Auckland - were also unlikely to change their attitudes toward more medium and high density housing.
"I don't think we are near wanting it. I don't think we are yet close enough to embracing the good urban dynamics you can get from high-density housing in conjunction with stronger local community facilities," Alexander said.
If authorities were going to look at high-density housing, it would have to be presented to Kiwis as a package where people were going to living in cheaper housing closer together, but they would also have closer facilities such as medical, school and shopping facilities.
"You will have better footpaths for going from your high-density housing to your community facilities. It would have to be presented, I think, in that light, whereas generally we just think about it as more people living together with no other change in the community facilities. It has to be sold as a package deal," Alexander said.
"It can be done. I don't see any reason why we can't do that, but it's just going to take time to make people realise it," he said.