Auckland needs cheaper new homes built as affordability worsens, Department of Building and Housing says
Auckland needs more affordable new housing as its population grows, affordability worsens, and rents stay high, the Department of Building and Housing (DBH) says.
In it latest Key Indicator Reports on New Zealand's housing and construction sector released on Tuesday, DBH said Auckland was New Zealand's least affordable city for both home owners and renters. It forecast rents would continue to rise as growth in supply of new housing remained low.
That supply was starting to show signs of life, with the number of consents for new dwellings rising slightly over the past few months.
However, the number of consents for alterations and additions work was rising at a faster rate.  
"This is likely to be a result of the lower overall number of new dwellings being built. People may be making the decision to alter their existing home rather than build a bigger home," DBH says in its Auckland report.
"Overall, pressure in the Auckland housing market for both rental properties and homes to own is rising. With the population expected to grow, Auckland needs more affordable new builds," DBH says.
Rising rents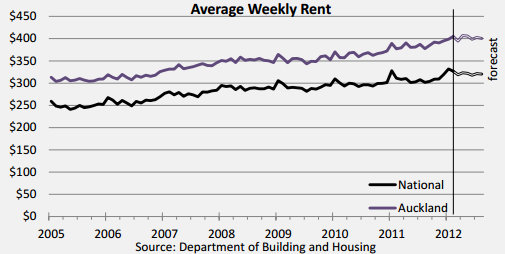 "Weekly rent prices in Auckland are well above the national average. The forecasts show rents in Auckland are expected to remain high," DBH said.
Interest.co.nz reported on March 12 that the median weekly rent for a three bedroom house in Auckland jumped NZ$55 in February to reach NZ$550, the highest since we started tracking data six years ago.
Auckland rental affordability was similar to the national trend although it appeared to have worsened slightly toward the end of 2011, DBH said (see chart below). 
"As with home ownership, the Auckland rental market is also the least affordable in New Zealand," it said.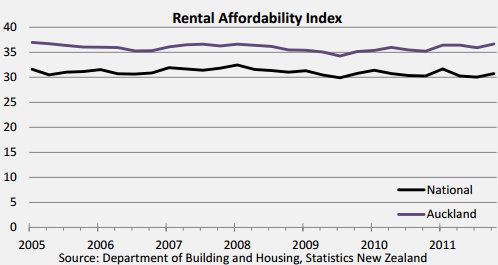 'Told you so'
In its briefing last year to incoming Ministers, the Department of Building and Housing said Auckland needed to allow for more house building on its fringes to help alleviate affordability problems in the city. It also said more townhouses and low-rise apartments needed to be built in the city.
See: Department of Building and Housing recommends policy changes to make it easier to build medium density housing in Auckland to help with shortage, affordability
The Productivity Commission is currently investigating housing affordability in New Zealand, and is due to release its final report this Friday.