Opinion: House prices likely to keep going up this year, but not sustainable in the long-run
By Westpac chief economist Dominick Stephens*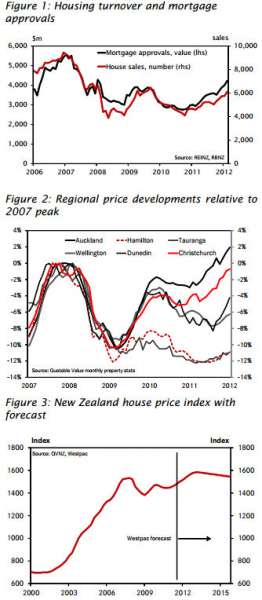 New Zealand's housing market has strengthened noticeably over the past six months or so. House sales are up, people have been seeking more approvals for new mortgages, and house prices are rising.
The Real Estate Institute's measure of national house prices rose 4.3% in 2011, which is very close to the forecast we issued early last year.
The most remarkable feature of the market has been variation between regions. Prices have been rising rapidly in Auckland and Christchurch for some time now. Elsewhere, prices were falling for most of 2011, but began rising modestly towards the end of the year. New Zealand hasn't seen anything like this degree of regional divergence since the 1990s.
From 2000 to 2010 New Zealand's regions experienced housing booms, busts, and blips in more-or-less equal measure, along more-or-less similar timelines.
So what is going on? Are Auckland and Christchurch the vanguard of what is going to become a nationwide burst of house price inflation? Or are we experiencing something more like the mid-1990s, when prices in some regions took off while others languished? And how long will this period of rising prices last?
A local shortage for local prices
Our analysis suggests that prices have been rising more quickly in Canterbury and Auckland because both regions are experiencing local housing shortages. The implication is that other regions will not necessarily follow where Auckland and Canterbury have led. Auckland and Canterbury house prices have built up a premium over other regions in the past year. This premium can be expected to persist until builders correct the local housing shortages.
The genesis of Canterbury's shortage is obvious. The decline in population has been smaller than the decline in housing supply since the earthquakes, leading to a sudden shortage of housing.  
Auckland's shortage has arisen after an extended period of low building activity and high population growth. Over a three-year period to June 2011, Auckland's population increased by seven people for each new dwelling consent issued.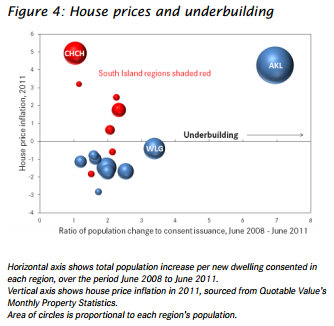 Auckland is actually the only region in New Zealand that experienced significant underbuilding over that three year period. The average number of people per dwelling in New Zealand is 2.5. Roughly speaking, if there are more than 2.5 people for each new house built then a region is underbuilding.
But every region except Wellington and Auckland gained fewer than 2.5 new residents for each new dwelling consent issued over a three-year period. None of those regions underbuilt.
Wellington's population increased by 3.5 people for each new dwelling, so there may have been slight underbuilding. Auckland's population increase of seven people per new house is in a league of its own.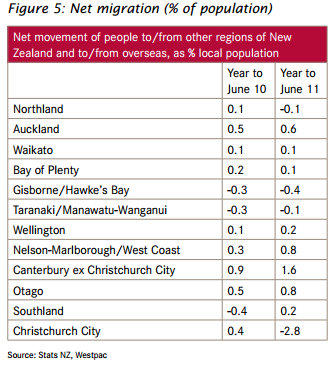 Figure 4 suggests that regional house price performance in 2011 was associated with the degree of underbuilding over recent years, at least for the North Island.
The South Island does not fit the correlation, probably because of the Canterbury earthquakes. In Canterbury's case houses are in short supply because of stock destruction – and Canterbury has the strongest prices on the island.
Meanwhile, other regions of the South Island experienced an unusual surge in population growth soon after the earthquakes, which may account for their slightly stronger prices compared to similar North Island regions.
Figures 5 and 6 illustrate that post-earthquake population movements have been much more important for the South Island than for the North Island.
A little something for everyone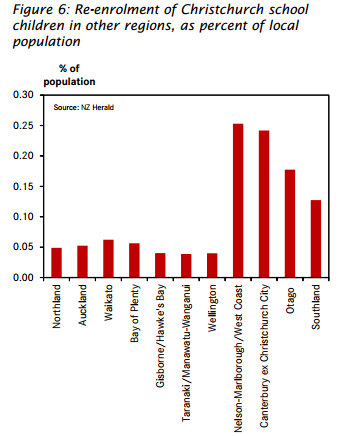 Housing shortages cannot explain the more recent market upturn across all regions in New Zealand, including the North Island ex Auckland. Most regions have no shortage of houses. We suspect prices across the country have received a shot in the arm from low interest rates.
Figure 7 illustrates the very strong relationship between interest rates and house prices in New Zealand. A recent Reserve Bank Discussion Paper found that interest rates were one of the most important factors in predicting house prices.  
We expect low interest rates to continue stimulating the market for the whole of 2012 – the small rise in rates we do anticipate would not be enough to stymie house price increases. Consequently, we are now forecasting 5% house price inflation in 2012.  
Don't get too excited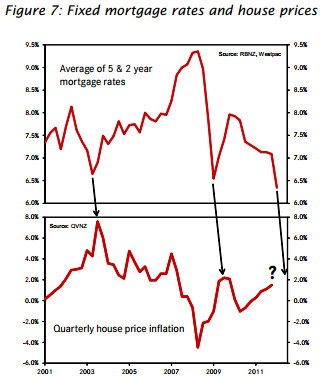 We suspect the current burst of house price inflation will prove temporary, for two reasons.
First, interest rates will not stay this low forever. We expect rates to rise substantially over the 2013 – 2015 period, as the Reserve Bank struggles to contain inflationary pressures arising from the Canterbury rebuild. Higher interest rates would put the brakes on the housing market in short order.
And second, house prices in New Zealand remain stretched relative to incomes.
Those regions experiencing outsized gains at present should be wary of local prices underperforming once the shortage is alleviated. Auckland house prices surged in the early-1990s, but subsequently rose more slowly than other regions of New Zealand. By 2009 the old relativity between Auckland and the rest of New Zealand had been restored.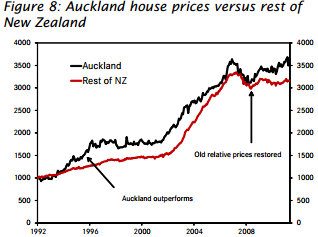 One hopes that if pre-existing relative prices are restored, the adjustment will take the form of slightly slower price gains in Canterbury and Auckland over a decade or more.
But for Canterbury in particular, there is a clear danger of prices overshooting in the short run, only to fall sharply at some later date.
Boiling the available evidence down, we have settled on a forecast of 5% house price inflation for 2012, zero in 2013, and -1% in each of 2014 and 2015.
Our fear is that prices could rise more than 5% this year, particularly if the Reserve Bank dallies on hiking the OCR. And we do use the word "fear", because the further prices rise in the short run, the further there could be to fall over a longer horizon.