Building consents up 33% in April from year ago, boosted by retirement village units; General trend steadily rising over past year, Stats NZ says
The number of building consents issued for new dwellings in April was 33% higher than the same month a year ago, boosted by apartment building for retirement villages, figures released by Statistics New Zealand show.
There were consents issued for 1,230 new dwellings, including apartments, in April, up 33% from April 2011. Excluding apartments, there were 1,092 consents issued for houses, which was up 22% from a year ago.
Of the 138 apartments consented in April, 88 were for retirement village units.
Seasonally adjusted figures showed a 7.2% fall in consents issued in April from March, but this followed a 19.6% rise in March.
"There has been a big increase in the number of consents for apartments this April compared with the same month last year," industry and labour statistics manager Blair Cardno said.
"The trend for the number of new houses, including apartments, has been steadily rising over the last year."
Canterbury
Canterbury consents identified as being earthquake-related totalled NZ$28 million in April 2012, Stats NZ said.
Of the NZ$28 million recorded for April, NZ$18 million was for non-residential buildings, and NZ$9 million was for residential buildings (including 17 new dwellings).
"Since 4 September 2010, there have been more than 1,700 Canterbury earthquake-related consents identified, totalling NZ$381 million. This includes 299 new dwellings, of which 149 were relocatable units. Also included are alterations and additions for residential buildings, nonresidential buildings, and non-building construction," Stats NZ said.
Jumps in Auckland, Canterbury
More new dwellings were consented in 11 of New Zealand's 16 regions in April 2012 compared with April 2011, Stats NZ said. The three regions with the largest increases were all boosted by apartments, as shown in brackets below. They were:
Auckland, up 101, to 360 new dwellings (including 62 apartments)
Canterbury, up 84, to 282 new dwellings (including 20 apartments)
Waikato, up 48, to 152 new dwellings (including 30 apartments).
Four regions had falls of four or fewer consents, Stats NZ said.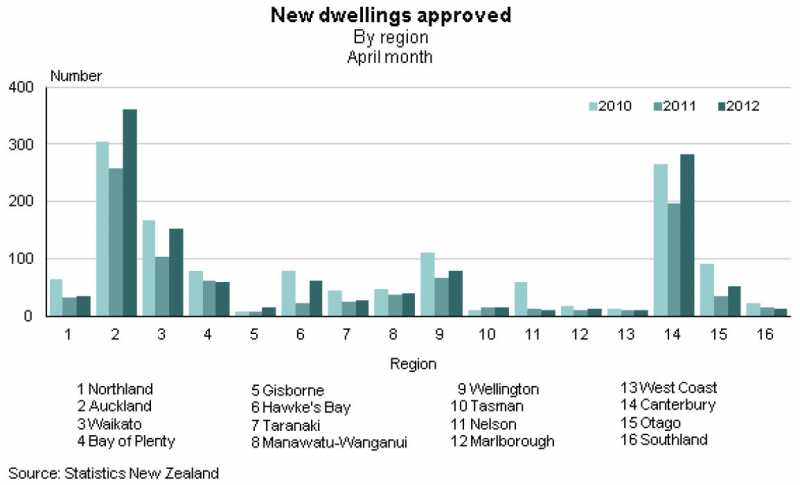 Economist reaction
ASB's Christina Leung:
Residential consents

Residential building consent issuance declined in April, reflecting some payback from the strong increase in the previous month. The underlying trend in dwelling consent issuance remains one of a recovery, albeit at a gradual pace.

We estimate dwelling consent issuance in Canterbury increased by around 4.6% on a seasonally-adjusted basis, indicating rebuilding activity will continue in the region. StatsNZ notes earthquake-related consents totaled $28 million in April, with $9 million of this for residential buildings and $18 million for non-residential buildings. Since the 4th September 2010, more than 1,700 earthquake-related consents have been identified, totaling $381 million. We expect post-earthquake rebuilding will gather momentum later this year. However, two reasonably large aftershocks in Christchurch last week risk hampering this rebuilding process.

Non-residential consents

Non-residential building consent issuance remained weak in April, suggesting non-residential construction activity will remain subdued over the coming months. Concerningly, the weakness looks to be concentrated in private non-residential construction, with consent issuance for offices and retail outlets still at relatively low levels. This is likely to reflect continued caution amongst businesses, as the patchiness of the recovery in demand makes businesses wary about expanding their operations.

Implications

The decline in dwelling consent issuance over April is not too concerning given the robust increase in the previous month. This series tends to be volatile from month to month, and overall the underlying trend in residential building demand remains one of a recovery. Continued rebuilding activity in Canterbury is fairly encouraging, and should help to alleviate the housing supply constraints in the region. We expect post-earthquake rebuilding will ramp up later this year, although the recent aftershocks pose some risks to the rebuilding process. Overall, there remains little urgency for the RBNZ to increase the OCR, and we continue to expect it will remain on hold until March 2013.