Opinion: Olly Newland worries the whole property market is approaching a crisis and sees a large upward burst in prices and rents. Your view?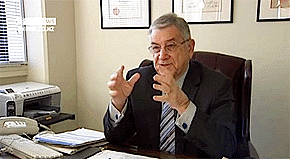 By Olly Newland
It's clear that house prices and rents are rising.
The news media run stories of astounding prices being achieved for what are sometimes old houses in less than mediocre condition.
TV ONE ran a news story on 14 July on how house prices are 'locking out' first home buyers. The suggestion is that the government should intervene to help those who cannot get into the market.
TV3News ran some property expert by the name of Newland (ahem) describing the property boom on the horizon.
Various talking heads were asked 'what should be done?' but had no real solution other than more land should be made available.
I'm sorry to tell you this, but they are all dreaming.
Let me tell you that more land may be the long term solution but it will take many years for ANY benefits to be felt.
What's needed are more dramatic moves that will get results without distorting the market.
For starters, a suggested capital gains tax as some are clamouring for, will have the totally wrong effect. It would drive prices up even further.
If such a tax were to be introduced it would result in a mass withdrawal of property off the market.
Think about it: If you have a property that you are considering selling, would you rush it onto the market if you were going to be slugged with tax?
Of course not.
After all, if you don't sell you don't pay tax. It's a no brainer.
Worse still, those pushing a capital gain tax want to exempt private homes. Well, that's even sillier, because private home sales make up the vast majority of the market.
Under that system we will end up with mums and dads flogging off their houses for tax-free gain ... leaving house prices to continue to rise.
Look overseas if you want proof positive. Some of the countries that already have a capital gains taxes have suffered the worst property crashes. Such a tax does nothing to stop price rises.
Twelve months ago I predicted the coming current rise in property prices and told everyone the reasons why. That some sort of 'mini bubble' was forming has become obvious, as can be seen in this interview I gave to interest.co.nz last December.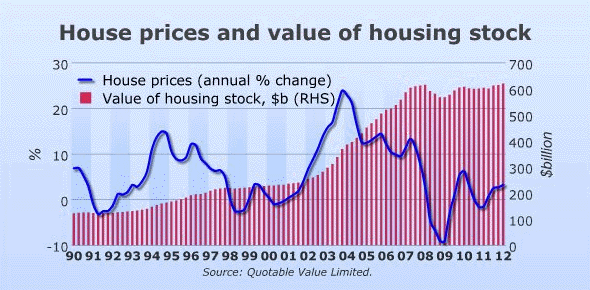 I also outlined the reasons why price rises were inevitable when I spoke to various property investment groups in Tauranga, New Plymouth, and Rotorua in the past months. Regular followers of my commentaries will recognize some of the points I have made earlier. They bear repeating.
The reasons for the current situation are:
1. The extortionate costs of council charges when building or subdividing.
2. Escalating costs of raw materials.
3. The loss of tens of thousands of houses because of the leaky homes scandal.
4. The loss of thousands of houses from the Christchurch earthquake disaster.
5. Slow but steady immigration and increase in population. New Zealand's population is growing by a small percent annually - 1% or so. By itself, that means an extra 40,000 people who will need at least 10,000 houses before actually getting ahead of the current problem.
6. The removal of tax breaks (small as they were) in the 2011 budget was a colossal blunder and I said so at the time. It wasn't so much the money it was the message. The authorities openly stated that they wanted to discourage investment in property. Well, they succeeded didn't they? It discouraged many buyers  from going into the market to provide rental accommodation. (Not to mention the huge fright everyone got from the Global Financial Crisis.)
7. We have GST on every new house or renovation. Think about it: A newly built $500,000 house (the Auckland average) carries a GST content of $75,000!  So why build ? Next door could be a second hand house for sale, GST-free and often loaded with extras.
8. The ongoing effect of historically low interest rates cannot be overstated. So long as these low rates exist they have the effect of providing a hefty wage rise to the mortgage home owners as well as allowing borrowers to borrow even more. These low rates are likely to fall even further which will add more fuel to the fire. The worry that interest rates will rise sharply has so far proven to be an empty threat. Many people are no longer believe this rhetoric.
My prediction that house prices could double again over the next 10 years looks more and more likely as every day passes. Low interest rates are the driving force behind the current the rise in prices, make no mistake. It would take a huge and sustained bout of hyper-inflation in wages and prices to reverse the current low interest rate regime, and that possibility seems as unlikely at present. Indeed, deflation is a greater risk than inflation and the risk of deflation and its consequence is a nightmare that should not be contemplated.
The thought must also haunt the Reserve Bank as well as the politicians. It wouldn't surprise me in the least if these officials are quietly stoking the fires of a property boom in an effort to avoid deflation. Like most of us, they probably regard some inflation (especially in house prices) as a positive thing, whatever the downsteam effects are. The risk is worth it.
9. Low interest rates have another side effect: Depositors now earn almost nothing from their savings. I see this time and again from my advisory clients, where depositors sick of earning peanuts in the bank and are now pouring money direct into property or syndicates with the hope of better security, the hope of capital growth and some (very) minor tax breaks. Of course, what they withdraw from the bank often ends up in someone else's bank account ... and thus the giddy round starts all over again. Commercial property too is showing the effects of low interest rates. Yields are now regularly falling below 6% for average stock. This would have been unheard of few years ago. What is happening is that  commercial buyers are paying ever more for the same cash returns, the consequence of which results in rising prices and falling yields.
Well, some might say it's easy to criticise, but what can be done?
Here are a few ideas:
1. First home buyers should be given a GST rebate on new built houses of up to (say) $500,000. First time buyers only and not repeatable. That would be a good start for those who are trying to get on the property ladder. Australia has something similar and stamp duty is rebated for first home buyers. It's the same general idea and it works.
2. Reinstate the building depreciation deduction allowances - thereby send out the message that being a property owner is no longer a sin.
3. Shake up the costs involved through council and water charges. They are scandalously too expensive and make up a disproportionate part of building costs. (See my article: Who's to blame for the rising price of property?)
4. Give first home buyers a grant towards any low cost home. This would only apply to newly built homes and that, along  with the GST rebate would give a big boost to builders to provide low cost homes. There's the nub of the problem: Builders cannot make a profit on cheap houses. Radical thinking is required to solve that conundrum.
5. Give encouragement to investors to provide more affordable rental accommodation. For those who provide long term accommodation, remove some of the more onerous restrictions of the Residential Tenancy Act. The emphasis is on long term. If tenants could rent for years, free from the threat of eviction, able to call their house or flat a "home", a lot of pressure would come off the rental market. In other countries you can lease a home for years if not decades. Think about it:  If you could rent back your own home (the one you live in) for, say, 30 years and use the money for business or similar would that not be attractive? Such a move would take a lot of pressure of people who currently think they need to buy or face eviction at relatively short notice.
Change of Direction for the Rental market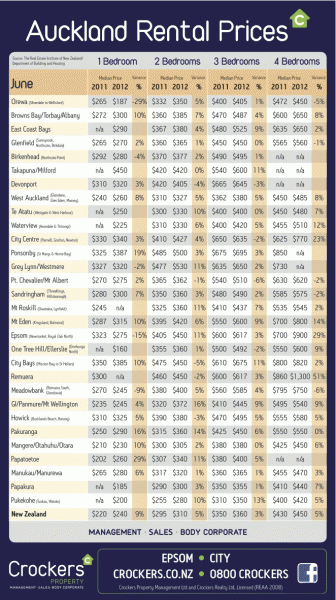 Most observers agree the rental market remained relatively flat during the housing boom  - much to the delight of the supporters of renting versus buying. There is no doubt that during that period renting became increasingly cheaper than buying.
The disconnect between the two types of accommodation in terms of costs became so wide that a correction was inevitable.
And so it came to be.
As properties became dearer, and tax breaks disappeared, the cost of providing rental accommodation dissuaded new investors from entering the market ... hence creating a shortage of rentals.
This trend was greatly exacerbated by the Christchurch earthquake tragedy which in one fell swoop removed thousands of rentals from that area and has resulted in massive rent increases through that unhappy city with the spill over moving to other centres, Auckland in particular.
See property managers Crockers Auckland rental price table for June (right).
And:
Rental property shortage near breaking point (NBR)

Businessdesk: Rents in Christchurch skyrocketed 26% in the past year, while nationally rents are up just 4%, according to Trade Me Property's analysis for the three months ended June compared with the same quarter last year.

At the same time, listings of houses for rent in Christchurch are down 34%, even as demand, measured by the number of inquiries, has jumped 47%. Nationally, listings are up 4% and demand is steady.

"The news for prospective Christchurch tenants is still grim," Trade Me Property head Brendon Skipper says.

The particular "pressure cooker" suburbs of Christchurch are the central city, Linwood and St Albans.

"We've seen the number of properties available for rent in these three suburbs plummet more than 40% on a year ago and, on the flipside, the properties that do get listed are attracting huge volumes of inquiry," Mr Skipper said.

While shortages of houses to rent in the Auckland rental market have hit the headlines in the past, Trade Me found listings are up 20% and demand is down 18%. In Manukau, listings are up 21% while demand is down 4%.

North Shore listings are up 7% and demand down 2% but the Waitakere market is much tighter with listings down 10% and inquiries up 7%.

"Autumn has wound down and the winter hibernation period sees tenants hunker down so we often see listing numbers swell and demand taper off," Mr Skipper said.

Still, one surprise is the increase in listings and reduced demand in central Auckland hasn't led to lower asking rents, he said. Average rents in the city are flat while in Manukau and Waitakere they are up 4% and North Shore's by 5%.

One reason demand has softened in Auckland is that tenants are looking to become home owners, he said.

"Over the quarter, we've seen a 16% increase in inquiries from potential buyers compared to this time in 2011 but they'll be finding the market challenging, too.

"Listings are flat and there's plenty of healthy competition in Auckland, in particular."

Elsewhere in the country, listings in Palmerston North are up 30%, rents are up 3% but demand is down 14%. In Dunedin, listings are up 17%, rents are up 3% and demand is up 4%, and in Hamilton, listings are down 2%, rents are up 1% and demand is up 1%.

In Wellington, listings are up 1%, rents are down 2% – the only major centre to show a decline – and demand is down 4%. In Lower Hutt, where rents are unchanged, listings are up 15% but demand is down 4%.

Mr Skipper said landlords in areas in which listings have shot up "shouldn't panic" because more than half of all rental listings stay on Trade Me for 20 days or less.
Even with the jump in rental prices in Christchurch, it'd be a pretty brave investor who'd buy or build rental property there while the ground is still shaking. The much-talked about re-build of Christchurch is only just starting and the are still years of shortages to contend with.
Expensive rents may be on the way out
Here's a strange phenomenon I have noticed. While rents for average homes are increasing rapidly, rents for expensive properties seem to be falling. Some of my clients complain that top-end apartments and homes which may have been easily let from $1000 per week and upwards are showing weakness.
My own research seems to support the notion that people paying high rents now find that owning is competitive to paying high rents. Hence high priced rentals are tending to remain empty longer, while the pressure on the housing market increases even more as renters move to ownership.
This was proved to me when advising a client about renting out their luxury city apartment. For years it appeared there was no problem to obtain $1,200 per week in rent, and the owner was regularly rushed of her feet whenever it became available.
Recently when it became available again, heavy advertising produced total silence. It wasn't until the rent was advertised at a $850 a week did the phone again start ringing.
Quite a discount.
Summary
The property market is in a state of flux with rents rising rapidly at the cheaper end and pushing people into buying as rents become too expensive.
The pressure on the existing housing stock is at bursting point in the main centres and we could be facing another bubble  - which would be a very unhealthy state of affairs given the weakness of the economy both locally and internationally.
In my view the whole property market is approaching some sort of crisis and I am picking a large upward burst of prices and rents in the next year or two until a new equilibrium is reached. That will hopefully be a situation where, the mix of low interest rates, shortages of housing stock and rent levels reach some sort of balance once again.
Can this be done or will there be collateral damage on the way?
---------------------------
Olly Newland
© July 2012 www.ollynewland.co.nz  Used with permission.