Barfoots sell 920 houses in Auckland in December, average price $624,015 up 8.9% from a year earlier, a rise of $50,944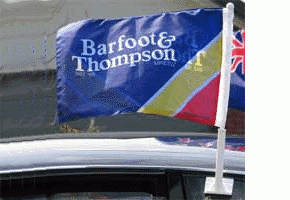 The average price of houses sold by the major Auckland real estate agent Barfoot & Thompson rose by more than $50,000 in December from the same month a year ago to $624,015.
This is an 8.9% gain.
The firm's listings continued their decline, mirroring the broader market measures, making the supply situation very tight. In fact, if you removed the leaky homes from this listing inventory, the situation is even tighter.
There is serious competition in the Auckland market for existing weathertight homes, and demand far outstrips supply.
The level of new listings in December was the lowest for the firm since January 2001 when current records are available. The level of total listings on their books is a similar record low.
Barfoots sold 11,710 properties in calendar 2012, the lighest number since 2005 when they sold 12,044.
Each month the low level of new building consents continue, the pressure rises. November building consent data will be released tomorrow (Wednesday) for November. First home buyers now have limited options in Auckland.
Here is the press release from Barfoots:
The average price of homes sold in Auckland increased by $41,590 or 7.7 percent in 2012 to $584,715 when compared to 2011's average price.

"While this is the highest percentage increase in five years, it follows on three years of average price increases that failed to keep pace with the rate of inflation," said Peter Thompson, Managing Director of Barfoot & Thompson.

"December was another month of strong trading, with 920 sales in the month at an average price of $624,015.

"This was the highest number of sales in a December for eight years.

"The average price achieved remained high, with it being down less than $4,000 on November's all-time record average price of $627,721.

"The average price for each of the past three months has now exceeded $600,000, setting a new benchmark.

"While new listings in December are normally relatively low compared to the rest of the year, this December's new listings at 697 were exceptionally modest, and the lowest recorded in a month for the past decade. They were down 17.6 percent on those for last December.

"It was also the first time in the past decade when we listed fewer homes in a month (697) than the number of homes sold (920).

"At the end of December we had only 3,410 properties on our books, the lowest number since records have been kept, and 10.6 percent lower than we had at the end of November. 

"December's trading followed the same trend experienced for most of the second half of 2012.

"87 homes, or 9.5 percent of all homes sold in December, reached values in excess of $1 million while 42.8 percent of all the homes sold were for less than $500,000, in line with the percentage for this price category in November.

"With new listings and the total number of listings being at all-time lows, and with mortgage lending rates forecast to remain steady for the first half of 2013, the outlook for the early part of this year is for prices to hold on to the gains made in the last quarter of 2012."