Real estate market finishes strongly in 2012, median price $389,000 up 9.6% on same month a year ago, Auckland up $50,000 in a year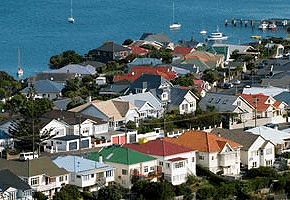 House prices rose another 1.5% in the month to December, reaching a new record median of $389,000 on a national basis, according to data released by the REINZ today.
There were 5,754 residential transactions in December, the most for a December since 2006.
It took 32 days for the selling agent to sell a house in December, one day fewer than in November and three days fewer than the same month a year ago.
The Auckland market median prices rose 10.3% over the year, Wellington prices rose 5.3%, and Christchurch prices rose 8.0%.
Auckland prices fell $5,000 from the record level reached in November.
263 properties were sold in December for more than $1 million, representing 4.6% of all sales in the month.
Sales of houses under $400,000 fell to 51.9% of the 5,754 total sold in the month. This is the lowest level ever for this category, and will clearly fall to below half early in 2013.
Here is the commentary release from the REINZ.
The national median house price reached a new record of $389,000 in December, up almost 10% on December 2011.

Ongoing strong demand drove robust sales volume growth in the residential property market during 2012 with the number of sales up 21 per cent on 2011 and at the highest level since 2007.

The Chief Executive of the Real Estate Institute of New Zealand (REINZ), Helen O'Sullivan, says that despite the strong growth in sales volume, the number of sales compared to the total number of dwellings in New Zealand remains well below the long run average and substantially below the peak volume of 2003 when more than 120,000 residential properties were sold.

" A new record median price and robust volume growth saw the New Zealand real estate market end 2012 on a strong note and positioned for those trends to continue into 2013. The key drivers in 2012 were the Auckland and Canterbury/Westland regions, which together make up over half the real estate activity in New Zealand, where supply constraints resulted in significant price gains that have not been achieved elsewhere. The strength of these two regions is starting to spill over into other parts of the country with Central Otago Lakes and Wellington both seeing more invigorated markets, particularly in terms of sales volumes. "

"A key development during 2012 has been the growth in sales by auction, with the number of properties sold by auction growing by more than two-thirds compared to 2011. The growth in auction sales has been particularly strong in Auckland where almost two of every five sales are now by auction. The trend in auctions is evidence of the continued tightness of some parts of the residential real estate market where demand is increasing, but supply remains constrained."

Sales Volumes

REINZ data shows there were 5,754 unconditional residential sales in December, an increase of 438 sales (+8.2%) compared with the same time last year and a fall of 22.8% compared to November 2012. On a seasonally adjusted basis December's sales were about in line with November and 14.8% higher than December last year. Eight regions recorded increases in sales volume compared to December last year, with Northland recording an increase of 37.2%, followed by Auckland with 18.7% and Central Otago Lakes with 18.4%. All regions recorded falls in sales volume in December compared to November – as is usual due to the short trading month - with Northland recording the shallowest fall of 8.8% followed by Nelson/Marlborough with a fall of 11.2% and Canterbury/Westland with a fall of 11.3%. Auckland and Canterbury/Westland together accounted for slightly more than half of all properties sold in December.

Prices

The national median house price increased by $5,750, from $383,250 in November, to a new record high of $389,000 in December, an increase of 1.5%. Canterbury/Westland's median house price moved up 1.7% compared to November to a new record median price of $351,000, although Auckland's median house price eased by $5,000 to $535,000. The national median house price is up 9.6% compared to December 2011, while the Auckland median price is up 10.5% compared to December in the previous year. For the month of December, Nelson/Marlborough recorded the largest lift in prices for the month with an increase of 8.3%, followed by Central Otago Lakes 5.9%, and Taranaki with 5.4%. Compared to December 2011, Auckland recorded the highest lift in prices with an increase of 10.5%, followed by Canterbury/Westland with 8.0% and Northland with 6.3%. The REINZ Stratified House Price Index, which adjusts for some of the variations in mix that can impact on the median price, is 6.7% higher than December 2011 and eased 0.6% compared to November. The Christchurch House Price Index set another new record high in December and is up almost 12% compared to December 2011.

Days To Sell

The national median days to sell improved by one day in December compared to November, from 33 to 32 days, with the number of days to sell also improving by three days compared to December 2011. For the month of December, and for the third straight month, Canterbury/Westland recorded the shortest days to sell at 28 days, followed by Auckland with 29 days and Wellington with 30 days (also for the third straight month). Northland recorded the longest number of days to sell at 60 days, followed by Waikato/Bay of Plenty with 52 days and Central Otago Lakes with 51 days. Over the past 10 years the median days to sell for the month of December has averaged 33 days across New Zealand.

Auctions

Nationally there were 1,102 dwellings sold by auction in December representing 19.2% of all sales, a slightly smaller proportion than the 20.7% sold by auction in November. For the 12 months to December the total number of auctions reached 11,950 or 16.1% of all sales, compared to 7,101 or 11.6% of all sales for the 12 months to December 2011. Over 2012 the number of Auctions grew by 68.3% with the rate of growth reaching 86.9% in the Auckland region and 33.2% for all other regions combined. Transactions in Auckland again dominated the auction market in December, representing 73.6% of the national total of auction sales. 37.4% of all dwelling sales in Auckland were by this method in December; this was up strongly from the 24.5% of sales by auction in December 2011. Sales by auction in Waikato/Bay Of Plenty accounted for 7.9% of the national total, Canterbury/Westland accounted for 10.7% of the national total, and all other regions combined accounted for the remaining 7.8% of auction sales in December 2012.
Jane Turner, a senior economist at ASB Bank has made the following comments:
House sales dipped slightly in December, down 6.7%, but remain broadly steady on a trend basis over the past few months.  Housing demand has picked up over the 2012 – initially led by Auckland and Canterbury, but there is now evidence of improved housing market conditions in other regions as well. Over the past few months, housing turnover has remained fairly steady.  However, the number of new listings has remained very low (particularly in Auckland and Canterbury) and low supply may be constraining the number of house sales.

The median number of days to sell has remained fairly steady at 36 over the second-half of 2012. The number of days to sell is generally a good guide to the balance between supply and demand, and hence house price inflation.  As an indicator, it suggests the annual rate of house price inflation should stabilise around current levels (currently around 6-7% on a nationwide basis).

Those areas where supply constraints are most acute continue to register stronger increases in house prices. Auckland house prices are up 8.6% on year-ago levels. Auckland prices did record a dip over December, but this follows strong growth over October and November. House listings data indicate new supply remains very low in Auckland and this is likely to continue to place upward pressure on house prices in the New Year. Canterbury prices are up 12% on year-ago levels, having recorded strong growth in house prices over the past few months.  Anecdotes suggest there has been an increase in buying interest in Canterbury, but supply remains tight. House prices have also started to lift in other areas of the country, although to a lesser extent than Auckland and Canterbury.

Section prices have eased over the past few months, after strong increases in August and October. 

Implications

REINZ figures suggest the housing market remained fairly steady over December.  Encouragingly for the RBNZ, it appears the housing market did not pick up any new momentum having stabilised over the past few months.  Nonetheless, new house listings remain at very low levels and the imbalance between supply and demand should continue to underpin further increase in house prices, particularly in Auckland and Canterbury where supply constraints are most acute.

At the December Monetary Policy Statement, the RBNZ commented it was comfortable with recent housing market developments, particularly in the context where credit demand remained subdued.   Nonetheless, the RBNZ was more wary of the risks a stronger housing market could present to monetary and financial stability targets.  There are indications that credit demand has started to pick up.  The RBNZ will be watching housing market and credit developments closely over the coming months.  If pressures were to intensify, the RBNZ may consider the option of using macro prudential tools to ease pressures in the market.   We continue to expect the RBNZ will leave to OCR unchanged at 2.5% until December 2013.