The 'stranglehold' of Auckland's existing metropolitan urban limit must be 'smashed' for housing to be made affordable, Nick Smith says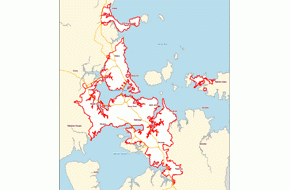 Housing Minister Nick Smith says Auckland's metropolitan urban limit is a stranglehold that needs to be broken if houses are to be made affordable for families in the city.
Speaking on Radio New Zealand Smith said it was very clear the metropolitan urban limit imposed by the previous Auckland Regional Council, which still has real effect, has had a "pretty horrendous effect" on section prices over the last decade.
"The existing metropolitan urban limit is a stranglehold and will need to be broken if we are going to make houses more affordable for families in Auckland," Smith said.
"We've seen section prices growing in Auckland between 10% and 15% per year and the reason why house prices in Auckland are so much more expensive than other parts of the country is not because it costs more for the labour or more for the building materials. The principal reason is that land has become so expensive in Auckland and out of reach for most kiwi families," added Smith.
He cited the Productivity Commission's report on housing affordability, which was released last year, and work by public policy research institute Motu.
"The section price has had a very negative impact on housing affordability in Auckland."
Auckland Council wants to move boundary out over 30 years
In response Auckland Mayor Len Brown told Radio NZ that over the past two and a half years the Auckland Council had been bringing together the Auckland Plan, which reflects what its calls the rural-urban boundary, or RUB.
"And the RUB is what we will extend to over the next 30 years," Brown said.
"The concept of smashing the metropolitan urban limit is an over focus on what is seen as the constraints to enable the release of land, (and) I think it's not helpful. What is helpful is the discussion around our offices (Brown's and Smith's) working together well, government and our council working together well," added Brown.
He said the council's Auckland Plan backs up a vision for the city and talks about the need for a quality compact, urban footprint incorporating greenfield growth, brownfields development and giving people real choice in housing, - be it standalone housing, apartment housing, terraced housing, or flats. The council wants to contain 60% to 70% of new housing within existing urban limits and will issue its draft Unitary Plan on March 15.
"And that quality compact footprint is something that has been strongly backed by the very best of urban, civic city advisers and experts in the world," Brown said. "It's about balance and that's what we're trying to achieve."
Brown said the Auckland Council was rolling out a philosophy behind its Auckland Plan that Aucklanders "overwhelming support" and time was needed to work together.
"We are as focused on affordable housing in our city as anyone is. This is my city. This is our community and our background," Brown said.
'Tools needed'
 However, Smith said his concern was that it would be some years before the council's new RUB would move out.
"And in the meantime we have a stranglehold on land and that is why we need to find some tools to be able to free up land supply," Smith said.
"That metropolitan urban limit, sitting in its current form for another three or four years while the council moves to its new Unitary Plan, I think poses real risks for housing affordability."
He acknowledged that land supply wasn't the only issue, albeit it was the most important one.
 "The government is also doing work on infrastructure costs, on the costs in terms of the productivity of the housing sector, the materials and the compliance costs."
Furthermore Environment Minister Amy Adams had recently issued a "very significant discussion paper" on the Resource Management Act that opened up a number of new tools.
"We will work through those and which of them we need to bring in and at what time to make sure that we do make these houses more affordable," Smith added.
'Auckland's future doesn't have to be LA or Hong Kong'
Smith also said Auckland's future didn't have to follow the "extreme examples" of either Los Angeles or Hong Kong, and he didn't except it would.
"It is going to be a mix of both greenfields and brownfields development that enables us to accommodate the sort of growth that Auckland is likely to get over the next 30 or 40 years."
Although there had been "pretty constructive dialogue" between the Auckland Council and the central government about the development of the Auckland Plan, and about the process of trying to get new sections into supply, there was a "healthy tension" between the two.
"The reality is central government has a bigger responsibility for housing affordability and our councils control the planning and land supply policy," said Smith.
http://shapeauckland.co.nz/?gclid=CL-w1Nv_6LUCFQcipQodBBoArQ