Govt says Auckland would have to double available land to meet its own target of 13,000 extra homes a year for 30 years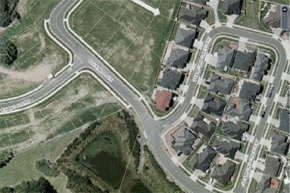 By Bernard Hickey
Housing Minister Nick Smith has released an official report from the Ministry of Business, Innovation and Employment that he said showed it was essential that more land was made available to improve housing supply and affordability in Auckland.
Smith said the report showed reduced land availability and soaring section prices in Auckland over the last decade.
"It highlights that with projected population growth, Auckland will need about 13,000 additional homes per year over the next three decades and that with changing household make-ups, the biggest growth in demand will be for smaller households," Smith said.
The report is part of the Government's response to the Productivity Commission's housing affordability report. It was also commissioned after Smith met with Auckland Mayor Len Brown last month and agreed officials jointly work on gathering information on land supply. 
Officials studied the availability of greenfields land at the three stages of development – sections ready to be built on, land ready to be subdivided and land in the pipeline for future subdivisions, Smith said.
It found the number of new sections available to be built on in Auckland today was 1,900, significantly less than the 15,000 previously claimed by Brown.
The land ready to be subdivided had a capacity of 14,500 sections, compared to the Council's development strategy target of 7 years supply of 32,550 sections.
Land in the pipeline for subdivision has a capacity of 54,500 sections, with the Council's development strategy target being 20 years supply of 103,500 sections.
"This report shows Auckland needs double the supply of land to meet the Council's own targets," Smith said.
"These targets for land supply are conservative in that they also rely on ambitious targets being met through additional housing from intensification. The Government's further concern, detailed in this report, is that Auckland's plan will require the building of 4,000 high-density dwellings every year for the next decade and 10,000 per year after that," he said.
"This compares to 830 higher density dwellings consented last year and an average of 2,674 per year over the past decade."
Smith said officials were cautious that this could be achieved, particularly when previous intensification targets set by Auckland planners a decade ago were not met.
"This report is progress in that we now have Government and Council officials in broad agreement on the actual availability of land in Auckland. We also agree that a mix of new greenfield land release and urban intensification is needed. I look forward to discussions with the Council on their draft unitary plan to ensure these issues are addressed and that the supply of land and housing is increased."
Reaction and elaboration
Smith later told reporters that a request for the government to give early approval for the Auckland Council's Unitary plan was with Environment Minister Amy Adams.  A draft version of the plan is due out on Friday. Adams has rejected the request given the Government is reviewing the Resource Management Act and a proposal for a  independent body appointed by the central government to rule on the plan. 
Labour Housing spokesman Phil Twyford has criticised the government's response as a power grab from Wellington.
Smith described the Metropolitan Urban Limit (MUL) pursued by Auckland councils over the last decade as a failure and more land was needed to be opened up. 
He said this would put pressure on land bankers to sell their sections, rather than waiting for 'easy' profits of capital gains. He said they were just responding to commercial incentives to make a profit.
Smith said he wanted to remove that incentive by insuring land prices did not rise in the way that had over the last decade.
He also rejected suggestions he favoured more urban sprawl, saying the central government supported the Auckland Council's desire for more intensive brownfields developments closer to the centre of Auckland. He said the government wanted a combination of greenfields and brownfields developments.
Twyford said the government's instincts were to deregulate, which risked creating "massive uncontrollable" urban sprawl.
10 key details from report
1. There are just 1,900 greenfield sections in Auckland that are currently ready to build on. There is greenfield land that is ready to be sub-divided and can handle 14,500 dwellings. Most of that land (560 ha) is yet to be subdivided. The biggest chunk is owned by the government at Hobsonville or in 27 blocks of more than 5 ha.
2. The Council's development strategy requires 20 years worth of land supply, but the 14,500 dwellings makes up just 10 years worth of supply.
3. The report says it's not clear that just increasing greenfields land supply on the fringes of Auckland would increase housing volumes because most of the fringe sections are for expensive and largely stand-alone houses. Their sales have fallen from their 2003 peaks. 
4. The July 2012 Auckland District valuation roll found 11,675 vacant residential sections in Auckland, down from 24,100 in 2002. Over that time nominal section prices have doubled from around NZ$100,000 to NZ$125,000 in 2002 to NZ$250,000 to NZ$275,000 in 2012.
5. Vacant section prices within existing suburbs that are within a 20/25 kms radius around Queen St have tripled to NZ$300,000 to NZ$325,000 in that period. 
6. The average number of multi-unit high density dwellings needed to hit the Council's targets need to be triple the number actually consented over the last decade. Tripling that number of consents would require major changes in zoning and planning processes.
7. Statistics NZ is projecting there will be 200,000 more households in the wider Auckland area by 2031, with 120,000 in the old Auckland and Manukau council areas.
8. The number of new dwellings in Auckland with floor area of less than 200 m2 that have received building consent each year has fallen by 80% from 2003. These are the ones needed to cope with smaller household sizes. By 2031, there are projected to be 80,000 more couples without children (+55%) and 72,000 more single-person households (+67%) than in 2011.
9. There are only 150 vacant sections being advertised for sale in the former Auckland, Waitakere and North Shore cities.
10. Auckland Council plans for 400,000 new dwellings to be built over the next 30 years, with 50-60% coming from in-fill or re-development. 60-70% of those would be built inside the 2010 existing urban limit, while 30-40% would be built outside the limit, which is to be called the Rural Urban boundary.
(Updated with detail from report, more comments from Smith, reaction from Labour's Twyford)