Bernard Hickey looks at what the Reserve Bank's Monetary Policy Statement means for mortgage rates and house prices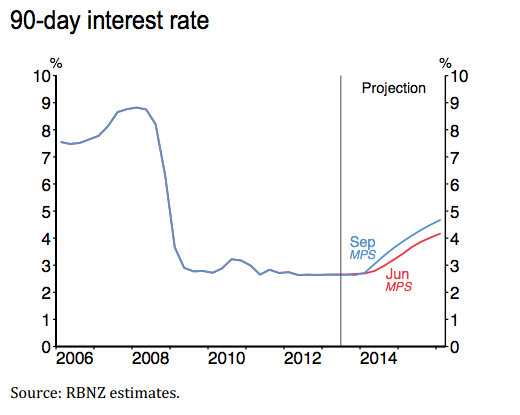 By Bernard Hickey
The Reserve Bank of New Zealand has again held the Official Cash Rate (OCR) at a record-low 2.5% as expected and has repeated its pledge to keep it there for all of 2013. It now expects to start increasing it from mid 2014 and lift it to around 4.5% by early 2016.
The central bank raised its forecast track for interest rates over the next 3 years by around 50 basis points or 0.5%, pointing to a surge in economic growth and some inflationary pressures from the Christchurch rebuild and Auckland's booming housing market.
It said its 'speed limit' on high Loan to Value Ratio (LVR) mortgages that is due to kick in from October 1 is likely to lower house price inflation by around 2.5% and halve the amount of new high LVR lending. It said this allowed the bank to reduce its projected increase in interest rates by about 30 basis points or 0.3%.
What does this mean for rates?
The Reserve Bank is slightly more concerned about inflation and therefore sees interest rates having to rise slightly faster and higher to keep inflation within its target band of 1-3%. It forecast the 90 day bill rate to rise by around 2% to 4.7% by early 2016, which was about 50 basis points higher than in its June forecast. Economists forecast rates will rise around 2% to 3% through 2014 and 2015. 
Floating rates
Advertised floating mortgage rates have been broadly unchanged at around 5.7% since March 2011 and are likely to stay that way until at least early 2014, given the Reserve Bank's comments.
However, borrowers can often get cheaper deals through their brokers because the banks are competing hard for business, particularly for borrowers with more than 20% equity. Banks have increased their low equity premiums for mortgages with less than 20% in recent months.
The Reserve Bank has forecast the 90 day bill rate, which is the basis for floating mortgage rates, will only start rising from mid 2014, and then rise around 2% by early 2016. This suggests a peak for floating rates at around 7.5%.
Fixed rates
Fixed mortgage rates have been rising in recent months and are now at or above floating rates, making the fixed vs floating decision a tough one.
Fixed rates depend more on wholesale interest rate moves rather than the OCR. They also depend on the banks' funding costs on international markets, which have been falling.
The fixed vs floating decision depends on your outlook for the OCR and your personal situation. A flat to falling OCR makes floating more attractive, while a fast rising OCR makes fixing more attractive. Check out our Fixed vs Floating mortgage calculator to get a sense of the costs and scenarios.
In my view, the OCR is flat for now. It may rise next year, but not quickly. That's because the high New Zealand dollar is bearing down on imported inflation and New Zealand's households are very indebted, which means any increase in interest rates is expected to quickly slow activity. 
What does this mean for the property market?
The prospect of lower interest rates for longer is encouraging many first home buyers to borrow and buy, particularly in Auckland and Christchurch where migration and a shortage of undamaged and watertight buildings is putting upward pressure on house prices. Some new building has started in Auckland, but remains below expected demand from migrants from overseas and from the rest of New Zealand.
The Reserve Bank forecast annual house price inflation of 11% and 7% nationwide in 2013 and 2014 respectively, but noted it was seeing initial signs its high LVR 'speed limit' was dampening house price inflation.
Elsewhere in New Zealand, where there is more housing supply and less net immigration, house prices are more subdued, although they are heating up as the Auckland and Christchurch inflation spreads.