Westpac eyes opening of new 'state of the art' Christchurch headquarters in mid-2016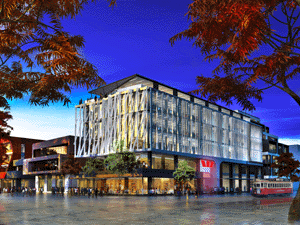 Westpac will move about 450 staff into a new "state of the art" building in central Christchurch by mid-2016.
In a statement the bank said its new Christchurch headquarters would be a "certified Green Star Five," five storey building on the corner of Oxford Terrace and Cashel Mall that's part of the new Central City Retail Precinct. Westpac said the building will be one of the first completed on The Terrace site being developed by Hereford Holdings Ltd, and is being designed by architects Jasmax. Construction is expected to start next August, with the building ready for staff to move into by the middle of 2016.
Westpac will be the exclusive office tenant and there will also be a flagship branch featuring the bank's latest technology.
"Escalators will lead up to the first floor corporate reception with offices above for the corporate and operational support teams. The surrounding development will host a mixture of commercial, retail and hospitality businesses," Westpac said.
"The building is being constructed to the highest standards of the building code and will be seismic grade A quality. Since the earthquake of September 2010 Westpac has been based at Show Place in Addington, across the road from where it built the Westpac Business and Community Hub for dislocated businesses."
CEO Peter Clare said Westpac had committed to returning to Christchurch's CBD last year in line with the Government's redevelopment plan.
"It is important for our staff and our customers to know we are committed to the birth of the new city centre and to Canterbury's future more broadly. I look forward to opening our new premises in 2016," said Clare.
Prior to the earthquakes Westpac's Christchurch headquarters was located at the Canterbury Centre at 166 Cashel Street.
Separately, Westpac says the mobile banking application for watches it said it was close to releasing last month, is now available. Westpac claims it's the first banking app to be launched on a SmartWatch in Australia and New Zealand, "if not the world." The app is now live and available on Sony Smart Watches and links to Android devices.