Auckland Council Chief economist says high net migration will 'significantly bolster' housing demand in the city this year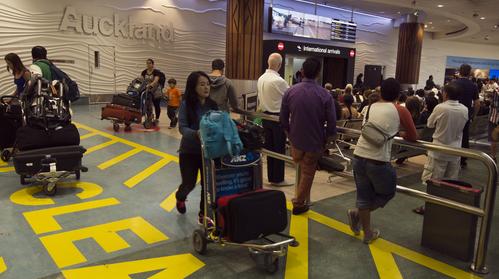 High net levels of net immigration into Auckland are the 'major swing factor' for housing activity and could 'significantly' bolster housing demand in the Auckland region this year.
This is according to Auckland City Council chief economist Geoff Cooper in his latest Auckland Economic Quarterly publication.
Cooper said that in the 12 months to February net migration into Auckland totaled 13,709, which was a decade high.
"The strength of net migration through 2014 will be an important influence on economic growth. The boost to population has immediate implications for housing demand, labour supply and consumer spending and will also put additional demand on the region's physical and social infrastructure," he said.
"...Net migration could prove to be the major swing factor for housing activity in 2014. There were 9785 additional net migrants in the year to February 2014 compared to the previous 12 months, which equates to around 3000 additional households (based on average household size from the 2013 census) or half of the 6361 [new housing] consents issued over the same time period.
"The additional stimulus—if high net migration levels are sustained—will significantly bolster housing demand through 2014," Cooper said.
Although employment growth in the region had become more broad-based, the upswing in housing activity had been key to driving the upturn, he said.
"Housing activity has continued to gain momentum, with volumes of work 17.9% higher year-on-year in the December quarter of 2013."
Cooper said in the first two months of 2014, house price growth remained solid, but house sales continued to weaken due to the Reserve Bank's introduction of 'speed limits' on high loan-to-value lending.
"The LVR limits have significantly reduced demand for housing but solid activity at the upper end of the market has propped up house price growth. Meanwhile, rental inflation remains contained, running at 2.9% in February 2013. High net migration numbers are boosting housing demand and household incomes are also strengthening, but the combination of the LVR limits and rising interest rates will have a dampening effect."
Cooper said there was scope for Auckland households to loosen their purse strings this year.
Stronger wage growth would emerge as the economy strengthened and the labour market tightened, while debt servicing ratios were low compared with the pre-global financial crisis era.
"However, consumers may remain reluctant to supplement incomes by running down their savings or increasing debt levels; and the Reserve Bank, wary of a build-up in debt-to-income ratios, may be reluctant to let them try.
"Household spending has also received a boost from high net migration levels. Assuming monthly net migration numbers average 1000 persons a month for the four months to June, the pick up in net migration over the year to June 2014 would have contributed an additional 0.7 percentage points to nominal retail spending growth (assuming constant 2013 per capita spending levels)."
Cooper noted that the region's unemployment rate dropped to 6.3 per cent in the December quarter, its lowest level since 2008. Employment growth was broad-based with housing activity a key driver of demand.
The strong result came despite a significant boost to the working age population from record net migration numbers and a pick up in the participation rate, which was now back around its long term average rate. The process of absorbing excess capacity that constrained employment growth through 2012 appeared largely complete and job vacancies and surveyed hiring intentions pointed to a further strengthening in labour demand in the near term. 
"Looking ahead, the strong employment growth result for 2013 comes off the back of a particularly weak 2012 outcome (as registered by Statistics New Zealand's Household Labour Force Survey data) and was underpinned by a strong upturn in housing activity and a firming in household spending.
"Excess capacity has now been largely absorbed and businesses have been taking on additional labour to cater for projected demand, but the outlook for employment growth is very much dependent on the strength of domestic activity– particularly housing activity and consumer spending–going forward.
"Three factors which will play a key role in determining the strength of employment and economic activity through 2014 will be net migration, consumer confidence and inflation: sustained high migration levels and a less cautious household sector could drive strong spending and employment outcomes but, with inflationary pressures on the rise, this could well trigger a more aggressive interest rate tightening phase.
"On balance, the outlook is for solid employment growth and a further decline in the unemployment rate through 2014 back towards 5 per cent. However, there are plenty of upside and downside risks to this outlook–both domestic and external," Cooper said.