Cam Preston investigates how IAG uses reinsurance arrangements for its NZ business and raises some key questions for their NZ regulators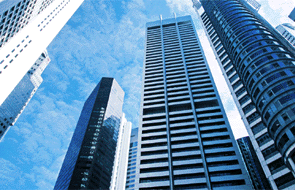 By Cameron Preston*
Heard of the Dutch Sandwich or the Double Irish?
How about the Singapore Sling?
The Sling is more than just a new tax avoidance strategy. The Sling is more sinister.
Its primary aim has been to convince post-earthquake New Zealanders that Insurance Australia Group (IAG) have suffered massive losses from paying out on earthquake claims, and therefore they must, reluctantly, increase their house and contents premiums to remain profitable.
Its structure is simple.
Prior to the earthquakes IAG had setup a captive offshore reinsurer to provide a 'conduit' for reinsurance placement and recoveries.
A 'captive' reinsurer is a reinsurer owned by its parent (in this case IAG), i.e. it is 'captive' to its parent. This is in contrast to an 'external' reinsurer, such as Lloyds of London.
In the case of IAG, their captives took many forms, including captives in Australia, Dublin and Labuan, however all of IAG NZ Division's reinsurance is placed and recovered via a captive based in Singapore - IAG Re Singapore Pte Limited.
The process is simple – IAG NZ Holdings (based in NZ) charges NZer's for insurance, with a significant portion of that attributable to reinsurance costs (reinsurance being the insurance that insurance companies take out for the unexpected, just like you and I).
That money is sent to its captive reinsurer IAG Re Singapore Pte Ltd.
That captive then goes out into the external reinsurance world and purchases reinsurance for NZ.
In the event of a catastrophe, the captive makes a claim to the external reinsurers, and the external reinsurers pay the captive which is passed to IAG NZ Holdings. Pretty simple right?
Maybe not.
The captive is supposed to pass 100% of its reinsurance revenue from NZ onto the external reinsurance world, and likewise after a catastrophe is supposed to pass 100% of the reinsurance recoveries from the external reinsurance world back to NZ.
What appears to have occurred after the Canterbury earthquakes is slightly different for that scenario.
In the latest Singapore Monetary Authority Return for the captive (from the year ended December 2012 – the 2013 return is due for release next month) the Singapore captive has recorded a profit of SG$ 147 mln: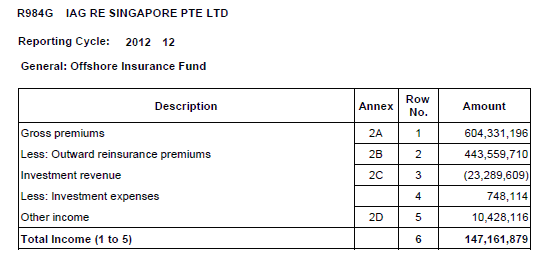 And there appears to be a substantial difference in the revenue (most of which is from NZ) and the outward expense to external reinsurers.
In addition, a review of the captive's balance sheet is even more revealing:

The captive has 'negative liabilities' and total surplus of over SGD 1 bln.
Not bad for a 'conduit'.
Further analysis of IAG Aus Group financial statements reveals that indeed most of the retained profits and equity in the Singapore captive are attributable to NZ's operations.
In fact, according the IAG's Australian financial statements, IAG's NZ division have only every made a small underwriting loss in NZ, which is in stark contrast to their message to NZer's and the NZ authorities in their NZ accounts: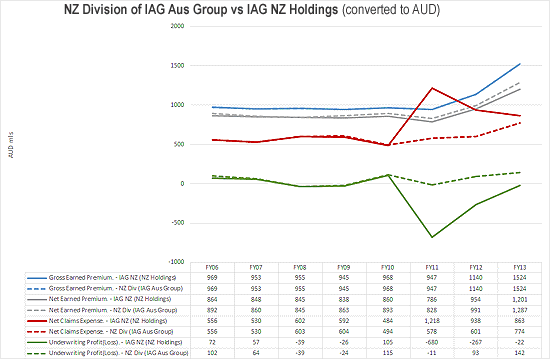 So it appears that IAG NZ had more than enough reinsurance for the Canterbury earthquakes (which is more than what can be said for AMI), however that reinsurance is only making its way back to NZ in the form of more share capital from is Australian owner, and much of it is still in Singapore where it is making profits and attracting Singapore taxes.
So what? – Well the Sling has following consequences for NZers:
1. IAG Group make (not insignificant) profit from the reinsurance expenses paid to Singapore, at NZer's expense.
2. The people of Singapore receive a portion of that profit through Singapore taxes.
3. NZer's lose transparency over where their risk is placed (ie, where it is farmed out to in the external reinsurance world) and whether what NZers pay for reinsurance what it really cost IAG.
4. NZer's risk is concentrated in one offshore entity (even if the risk is nicely diversified from there to the external reinsurance world – it still all has to flow back and forth via Singapore)
5. Reinsurance recoveries are sent to Singapore and then (on paper) converted into share capital from Australia – allowing IAG to:
a. Dodge NZ taxes by accumulating large NZ tax losses, which carry forward into future years; (NZD868mln in 2011 plus NZD314mln in 2012 alone)
b. Report massive losses locally which they use to rationalise near doubling of NZer's premiums
c. Meet the Reserve Bank of NZ's solvency requirements
What is most worrying is that all of this done with zero oversight from NZ authorities.
So the Sling has been incredibly effective for IAG, allowing it to swallow up AMI Insurance and circle Lumley.
The history of all this appears to stretch back to the 1990's, and the personalities involved are almost as interesting as the structure itself.
The Commerce Commission decision regarding IAG was eagerly awaited by this writer.
It poses a key question – Do the NZ authorities have the faintest idea what is going on?
-------------------------------------------------------------------------------
Cameron Preston is a Christchurch homeowner who has longstanding unresolved quake insurance claims.